Jump straight to Webull! Get real-time market data, analysis tools and $0 commissions.
The United States and Canada both share commonalities — including a booming economy and stock market. The Toronto Stock Exchange (the largest in Canada) is the 12th largest stock market in the world.
The Toronto Stock Exchange has a market cap of $3.3 trillion. Through an abundance of natural gas and energy resources, an agricultural market that dominates in the production of wheat and grains and a newly thriving legal cannabis market, more and more investors are looking north for future profits. If you aren't a native Canadian, you may still buy and sell stocks on the Toronto Stock Exchange (TSX).
However, you'll first need to understand the differences between trading stocks in the United States and Canada, as well as select a Canadian or international brokerage firm to help execute trades on your behalf. Before you sign up for an account with a Canadian bank or brokerage firm, make sure you read our comprehensive guide to getting started in international trading.

Best For
Global and Active Traders
Get started
securely through Interactive Brokers's website
1 Minute Review
Interactive Brokers is a comprehensive trading platform that gives you access to a massive range of securities at affordable prices. You can buy assets from all around the world from the comfort of your home or office with access to over 135 global markets. Options, futures, forex and fund trading are also available, and most traders won't pay a commission on any purchase or sale.  
IBKR is geared primarily toward experienced traders and investors but now with the availability of free trades with IBKR Lite, casual traders can also acclimate to IBKR's offerings.
Best For
Access to foreign markets
Detailed mobile app that makes trading simple
Wide range of available account types and tradable assets
Pros
Comprehensive, quick desktop platform
Mobile app mirrors full capabilities of desktop version
Access to massive range of tradable assets
Low margin rates
Easy-to-use and enhanced screening options are better than ever
Cons
Beginner investors might prefer a broker that offers a bit more hand-holding and educational resources

Best For
Canadian Investors
Commissions
Starting at 1 cent per share
Account Min
$0 to open, $1,000 to start investing
1 Minute Review
Questrade, a low-cost Canadian online broker born in 1999, has grown up to become the largest independent fintech in Canada. It provides self-directed and managed investing and trading in diverse asset classes such as equities, bonds, forex, commodities, options, and ETFs. Competitive pricing, ease of use and the availability of multiple trading platforms is a definite boon for those in the land of rad hockey skills, icebergs, and Lake Louise.
Best For
Active traders
Cost-conscious clients
ETF traders
Pros
Cheap commissions, especially ETF purchases
Active trades are entitled to rebates
No annual maintenance fee
Broad range of asset classes
Well-regulated
Practice accounts are available
Cons
Available only to Canadian residents
An inactivity fee of CA$24.95 per quarter kicks in if a trade hasn't been placed in a quarter or the account balance falls below CA$5,000.
Checking account funding takes longer to process
Doesn't offer banking services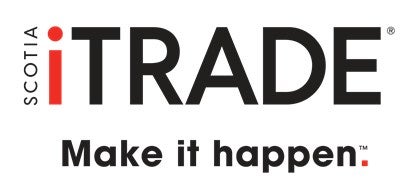 1 Minute Review
Scotia iTRADE is the brokerage arm of Scotiabank, one of the Big 5 banks in Canada. Scotia iTRADE is the result of Scotiabank's purchase of E*TRADE Canada in 2008 that doubled the bank's online investment client base. Since then, Scotia iTRADE has won numerous awards and is ranked as one of the best Canadian brokerages owned by a bank.
iTRADE offers discounted commissions and several high-powered trading platforms for active traders. iTRADE provides free educational resources for novice traders and more experienced traders can benefit from the extensive research facilities of Scotiabank. You can also pay bills, manage and transfer funds and set up and make future-dated transactions, all from your iTRADE/Scotiabank-linked accounts.
Best For
Active traders
New investors and traders
self-directed investors
Pros
Discounted commissions for active traders
Excellent trading platforms
High-quality research from Scotiabank
Practice account
Cons
Annual fee for both registered and unregistered accounts
Premium FlightDesk platform not free of charge
Get Ahead in the Canadian Stock Market
Canadian investors don't want to miss Stocktrades.ca's tools. If you want to increase your returns in an industry plagued with misinformation, Stocktrades' main priority offers refreshing objectivity and offers investors accurate, timely and high-quality investment news and information.
You'll get high quality research on some of the best growth, dividend and value stocks in the country.
Whether you choose Stocktrades' free plan or Premium access, you'll get 40 years of combined self-directed investment experience.
Stocktrades.ca's free plan offers:
Limited access to foundational stocks
Custom model portfolios
Growth stock screeners
Dividend safety screeners
Stocktrades Premium offers full access to the following for a mere $20.83 per month:
Canadian growth stock picks
Canadian dividend stock picks
Annual foundational stock picks
9 model growth portfolios
Dividend safety screeners
Growth stock screeners
Custom research requests
Brand new IPO centre
Q&A section
Access your membership today.
What You Need to Know About Trading in Canada
When you're reading stock quotes on Canadian exchanges, most assets will have prices listed in CAD instead of the USD that's used on the NYSE. Though some trading software programs will allow you to change the viewable currencies displayed, online listings will typically default to listing Canadian securities in CAD. Keep a live currency conversion calculator (like the one available for free at XE.com) to help you enhance your trading and quickly convert prices back to your native currency.
Canadian markets are less liquid
Though the Canadian stock market may expand every day, it still pales in comparison to the market that most American traders are used to. The total market capitalization of the Toronto Stock Exchange is about $2.28 trillion — compare that number to $30.2 trillion in average daily market capitalization on the NYSE alone.
This means that shares of stock are bought and sold much less frequently on the Canadian stock market when compared to the American market. If you're planning on day trading through a Canadian brokerage firm, keep this lower level of liquidity in mind when formulating your trading strategy.
Canadian accounts charge maintenance fees
In the United States, it's pretty uncommon to see a brokerage account charge fees for inactivity or maintenance unless the brokerage firm is aimed only at large-scale professional traders. In Canada, the vast majority of brokerages charge account maintenance fees (sometimes referred to as "service fees" or "annual fees") unless you make a high number of trades or have a very high-value account.
The best online brokerages institute a low account minimum to avoid annual fees, but these minimums may be as high as $5,000 CAD. Don't be surprised when you see that paying an annual fee is basically unavoidable for most people and consider annual fees when you're making your final brokerage decision.
Not every Canadian broker offers the same equities
In the United States, most brokerages offer a host of equity types to maximize commissions and bring in more high-profile traders. It's common for brokerage firms that specialize in stock offering to also give traders the option to trade options, futures contracts, mutual funds, ETFs and even sometimes cryptocurrencies and currencies.
In Canada, offerings will vary significantly depending on the broker, so make sure your brokerage offers every type of asset you want to trade before you open an account or make a deposit.
Canada has different tax-advantaged account types
In the United States, we're used to dealing with multiple account types, from IRAs to 401(k)s to SEP IRAs. When you open an account with a Canadian brokerage firm, you'll usually be limited to two types of accounts: taxable accounts and Registered Retirement Savings Plans (RRSPs).
If you are under the age of 69 and you regularly pay income tax to the Canadian government, you probably qualify to open an RRSP, which is most similar in tax function to a traditional IRA in the United States. If you aren't a Canadian citizen, immigrant or permanent alien, you probably only qualify to open a standard taxable account.
What to Look for in a Canadian Online Broker
Like most brokerage firms in the United States, brokers in Canada often offer free trading and educational tools and suites to help new traders learn the ropes and older traders enhance their trades. Though offerings will vary depending on the broker and its client, the best brokers offer free tools to help traders get ahead of the game.
Support for the assets you want to trade
If you only want to trade Canadian securities listed on the TSX, every stock broker that operates online will be able to execute the trades you're looking for.
However, if you'd also like to trade on other international markets or you're interested in getting started in forex, options or cryptocurrency trading, you'll need to double-check and make sure that your broker also offers these services.
Extended customer service options
Most people don't enjoy racking up hundreds of dollars in international calling fees because of an error on their Canadian brokerage account. Look for an international broker that offers chat and email customer service options in addition to standard calling choices to limit money lost in phone bills.
Account security features
Prosecuting fraud and account mismanagement are very difficult to do across national borders. Look for brokers that offer enhanced security features (like two-factor authentication and reCAPTCHA requirements) to ensure that you are the only one who is able to access and use your account.
Best Canadian Stock Brokers
Not sure where to start? Take a look a the best online brokers in Canada to get started with your trades.
Best For
Access to foreign markets
Detailed mobile app that makes trading simple
Wide range of available account types and tradable assets
1. Best Overall: Interactive Brokers
Interactive Brokers isn't a Canadian-based online broker. Instead, it offers a U.S.-based trading suite with international functionality and capabilities.
With an eye towards professional investors, Interactive Brokers' fees are exceptionally low. You can expect to pay around $0.008 CAD per share for trades of less than 300,000 shares with a minimum commission of just $1 CAD. Interactive Brokers also offers additional discounts for high-volume traders and fees decrease as the volume of the trade increases. Though Interactive Brokers does charge an account maintenance fee for less-active traders that ranges from $10 to $20 per month, this is on the lower end for brokers offering TSX trades.
Though Interactive Brokers is aimed at professional traders, its education offerings are equally useful to seasoned veterans as they are to traders who have yet to place their first buy order. From its complementary "Trader's Academy" to live videos and webinars, Interactive Brokers offers a complete library of outstanding trading resources. Combine $0 account minimums, low fees and stellar trading resources for Interactive Brokers as our top choice for Canadian trading.
Read Benzinga's full Interactive Brokers Review
Commissions
Starting at 1 cent per share
Account Minimum
$0 to open, $1,000 to start investing
Best For
Active traders
Cost-conscious clients
ETF traders
2. Questrade
Questrade is a Canadian broker with over 20 years of history in the investing sphere. Questrade is also one of the only brokers serving Canada that doesn't charge an annual or quarterly account maintenance fee automatically — though you may be subject to a service charge of about $25 CAD if you don't make at least one trade every quarter or your balance falls below $5,000 CAD.
Unfortunately, Questrade's services and platforms are limited only to current Canadian residents. However, if you are located in Canada, you'll love Questrade's $.01 per share trading fees which max out at a total charge of $9.95 CAD for most stocks.
If you're a more experienced trader, you'll love Questrade's trading platforms. In addition to Questrade's standard desktop platform, Questrade also offers a more customizable and advanced IQ Edge platform. Questrade is also one of the few Canadian brokers to offer a full-service mobile trading app complete with charting tools and watchlist options. With upfront pricing, a host of platforms to choose from and access to markets around the world, Questrade is a top online investing option as long as you're a resident of Canada.
Read Benzinga's full Questrade Review
Best For
Active traders
New investors and traders
self-directed investors
3. Scotia Bank iTrade
Scotia Bank iTrade is determined to give you all the tools you need for self-directed investing all on one screen. Their powerful platform seeks to bring education, research and analysis together on a fully customizable market data platform.
With one sign on, you'll be able to access all of your information in a convenient place. Not only will you have your investments at your fingertips, but you'll also be able to pay your bills from your brokerage account, transfer funds between bank accounts, set up future transactions, and more.
You can begin trading for as low as $4.99 and low commission on many of their offered securities.
Scotia Bank also offers traders a high-powered trading platform, free educational resources, easy transfers, a security guarantee, along with special offers and promotions to supplement your brokerage account.
Securities offered include stocks and options, mutual funds, fixed income securities, gold, silver and platinum certificates, and more.
Best For
Self-directed and active traders
Self-directed and active traders Traders looking for reduced commissions
Students
Investors who require linked bank accounts
4. CIBC
CIBC has been serving Canadian clients for over 150 years. They are a popular choice as they offer both banking and investment services that come with their fair share of benefits.
For investments, you'll pay a flat fee of only $6.95 per online equity trade with no minimum. You can conveniently trade from anywhere, using CIBC's desktop platform and mobile app. Customize your trading experience with screeners, technical insight, their morning news call, advanced charting, alerts, watch lists, and more.
You'll also get access to free research and analysis from CIBC's collection of industry leaders.
As for tradable securities, CIBC offers equities, ETFs, options, mutual funds, GICs, fixed income and precious metals.

Best For
Self-directed investors
Active traders
Beginner traders and investors
5. RBC Direct Investing
In the United States, it's common to see major banks pulling double-duty as both a place to do standard banking as well as investment and trading services — think Bank of America or TD Ameritrade.
Canada's primary banking and investing combo is RBC Direct Investing, which is the investing division of the Royal Bank of Canada. RBC claims that it aims to process all account applications within 24 hours of online submission so you can get online faster. RBC Direct uses a flat-rate commission structure; you'll pay around $10 CAD per stock trade in addition to a $25 quarterly account maintenance fee.
If you're a Canadian citizen or you pay income tax in Canada, RBC Direct offers a convenient one-stop-shop to handle all of your active investing and retirement saving options. Its website is simple to navigate and does an excellent job of explaining complicated financial topics in a way that even novice investors can easily understand.
If you're not a native Canadian, you'll appreciate RBC's dual currency feature, which eliminates the need to transfer USD into CAD before you trade. A solid trading feature for retirement investors and international traders alike, RBC Direct Investing offers reasonable fees and no account minimums.
Best For
Canadian investors looking to access U.S. markets
Investors who value platform simplicity
Investors looking to practice their trades using a demo account before committing their capital
6. Qtrade Investor
Qtrade is an online brokerage that focuses on providing a dynamic investing experience for Canadians. Qtrade's website includes a complete suite of education tools for beginning investors to grow your vocabulary and formulate a trading strategy.
More advanced traders won't be wowed by Qtrade's education resources but new traders will love its straightforward explanations and lessons that cut the technical terms and mumbo-jumbo and break down concepts for the uninitiated, a much-needed breath of fresh air for novice investors.
One of Qtrade's most unique offerings is its "young investor" discount commission rates. If you're between the ages of 18 and 30 and you're able to commit to a $50 monthly deposit to your Qtrade account, you'll enjoy $7.75 CAD commissions for stocks and ETF trades and $0 account minimum balances.
You'll also see your quarterly administrative fee waived, which saves most traders around $100 a year. Other investors will pay $8.75 CAD per trade, though you can save around $2 per trade if you make more than 150 trades per quarter or hold over $500,000 worth of assets in your account.
When you combine Qtrade's discount rates for younger investors with its unique education section, Qtrade should be a top choice if you're still learning how to invest effectively.
Related content: Qtrade Investor Review
Final Thoughts
It's impossible to name a single "best" online brokerage for Canadian trading because each of our top five picks has its points of strength and points of weakness. If fees and commissions are on your mind, Interactive Brokers should be your first stop.
If you're searching for a complete suite of advanced trading tools, you'll fall in love with TD Direct. If you're young and hungry for information, Qtrade might be right for you. Before you choose a broker, sit down and create a "wish list" of everything that you want in a broker and arrange your priorities by level of importance to you — this will help you pick the perfect match for your individual needs.
Turn to Webull
0 Commissions and no deposit minimums. Everyone gets smart tools for smart investing. Webull supports full extended hours trading, which includes full pre-market (4:00 AM - 9:30 AM ET) and after hours (4:00 PM - 8:00 PM ET) sessions. Webull Financial LLC is registered with and regulated by the Securities and Exchange Commission (SEC) and the Financial Industry Regulatory Authority (FINRA). It is also a member of the SIPC, which protects (up to $500,000, which includes a $250,000 limit for cash) against the loss of cash and securities held by a customer at a financially-troubled SIPC-member brokerage firm.