Questrade, a low-cost Canadian online broker born in 1999, has grown up to become the largest independent fintech in Canada. It provides self-directed and managed investing and trading in diverse asset classes such as equities, bonds, forex, commodities, options, and ETFs. Competitive pricing, ease of use and the availability of multiple trading platforms is a definite boon for those in the land of rad hockey skills, icebergs, and Lake Louise.
Active traders
Cost-conscious clients
ETF traders
Cheap commissions, especially ETF purchases
Active trades are entitled to rebates
No annual maintenance fee
Broad range of asset classes
Well-regulated
Practice accounts are available
Available only to Canadian residents
Checking account funding takes longer to process
Doesn't offer banking services
Questrade provides both self-directed trading and managed portfolios at a low cost to its customers - but does it live up to its promise? Let's find out.
Who's Questrade For?
Certain investors need a certain type of brokerage. Here's Questrade will work well for:
Active Traders
Low commissions, free trading platform, live U.S. and Canadian data packages and active trader rebates are too good to pass up. For active traders, the firm provides two plans, a fixed and a variable plan. The fixed plan is promoted as the best option for high-volume and options traders, as it carries a commission of only CA$4.95 per trade. The firm recommends the variable plan for traders looking to buy a few shares of expensive companies.
Cost-Conscious Traders
Questrade stands out as a broker that offers competitive pricing and therefore appeals to cost-conscious customers.
ETF Traders
Clients can buy any North American-listed ETF commission-free. There is no maximum ceiling on the number of ETFs you can buy, nor is there a minimum investment amount on the amount of ETFs you can buy.
Questrade's Pricing and Fees
| | |
| --- | --- |
| Security | Commissions or Trading Fees |
| Stocks | As low as $0.01/per share, with minimum and maximum fees at CAD $4.95 and CAD $9.95, respectively. |
| ETFs | Buying is for free, while 1 cent/share fee applicable for selling, with a minimum fee of C$4.95 and a maximum of C$9.95. |
| Forex/CFDs | Spreads as low as 0.08 pips |
| Mutual funds | CAD$9.95 per trade (early withdrawal invites a deferred sales charge |
| Precious metals | US$19.95/trade |
The minimum purchase amount for bonds, GICs, and IPOs & new issues is C$5,000.
A trade in international equities involves a fee of 1 percent of the trade value, subject to a minimum of $195, plus applicable exchange or stamp fees, charged in the currency of the account in which the trade is placed.
Some of the other applicable fees include:
Exchange fees charged by electronic communication networks for U.S.-listed securities and alternative trading systems for Canadian securities.
Administration fees apply when opening an account, closing an account, transfers, and withdrawals, etc.
Questrade's Platform and Tools
Questrade offers three trading platforms:
Questrade Trading

A Mobile Trading App

Questrade IQ Edge
1. Questrade Trading
This is the firm's all-in-one web-based platform. It offers a practice account for free and also offers built-in tools and features such as symbol lookup, alerts, and charting. Research tools available include built-in research, market data, and watchlists.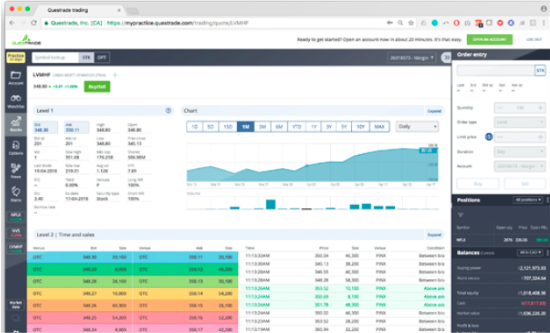 2. Questrade App
The app is integrated with your account and facilitates fast and powerful executions. It also allows multi-leg options trading.
3. Questrade IQ Edge
A downloadable desktop platform, Questrade IQ Edge provides a customizable trading environment and accepts advanced order types such as bracket, conditional, multi-leg options, etc. It comes with advanced tools and features.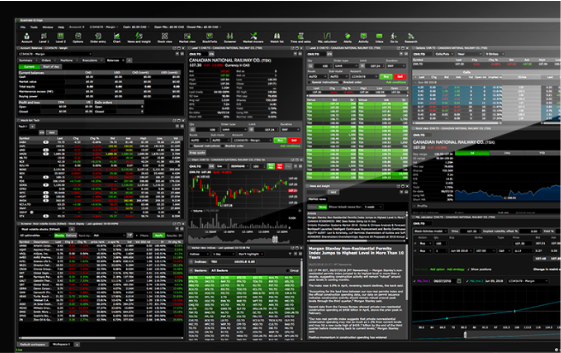 Questrade's Research Offerings
Questrade provides market intelligence supplied by Morningstar. This fundamental research tool includes quotes, news, reports, earnings, filters, and screeners. Research is provided for free in the trading platform.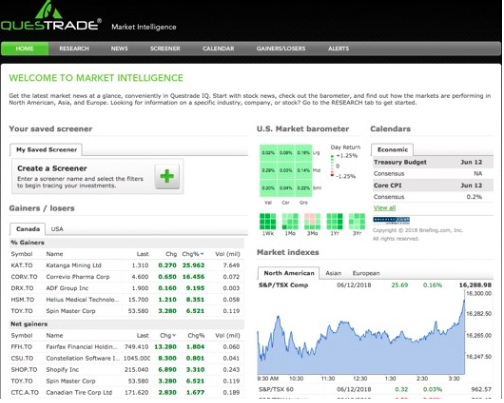 This research is available for active Questrade account holders who use the firm's Questrade Trading or IQ Edge trading platform software and can be accessed using the "Research" tab right in the platform.
The Intraday Trader investment tool scans the markets and helps identify trading opportunities that match your goals.
Questrade also provides its clients with market data, including basic bid and ask prices displayed in the Level 1 quote area of the stock or option quote tab. You can make use of the real-time data available for free with the trading software or opt for a monthly package that offers live streaming.
Questrade's Security
The firm guarantees protection of your account, banking information as well as personal information. A client's account is encrypted and securely stored.
It protects accounts with DigiCert, last login, touch/face ID as well as a PIN.
Questrade is a member of the Investment Industry Regulatory Organization of Canada, or IIROC, and Canadian Investment Protection Fund, or CIPF, that oversee its operations and ensures it meets strict investment industry standards.
The firm also protects the client's account with an additional CA$10 million in private insurance.
Questrade's Customer Support
Questrade offers a secure chat option if you need immediate help.
To speak to a Questrade specialist, choose the relevant option from a drop-down menu, which will connect you with a specialist in that particular area.
The phone number to contact the firm is (888) 783-7866 in Canada.
To send an email, fill in an online form with details such as first name, last name, email address, phone number, and account number, and you'll be contacted by the firm's representative.
Questrade's Tradable Asset Classes
Stocks

International equities

Options

Bonds

Forex and CFDs

ETFs

Mutual funds

Precious metals

GICs

IPOs
Questrade's Ease of Use
Account types for self-directed traders include tax-free savings accounts, registered retirement savings plans, individual margin accounts, forex, and CFDs.
Questrade can also help you build an investment portfolio and then link it to a new account.
Final Thoughts
Questrade is a go-to brokerage for if you're a Canadian citizen looking for the best products and services at competitive rates. Web, desktop and mobile trading platforms and trading tools which come free for account holders, offer a positive product breadth. To top these, commission-free ETF purchases are a key selling point.
Frequently Asked Questions
Does Questrade charge monthly fees?
Questrade offers two advanced packages. The US package is $89.95/month and the Canadian package is $89.95/month.
Submit Your One Minute Opinion