Looking for the best day trading courses? Try Benzinga's Proprietary Options Trading Service and get SMS & Email alerts.
Whether you're new to day trading or you've been trading for years, few things will help your career quite as much as holding a current and comprehensive education on full-blown trading strategies. The best day trading courses for beginners do more than teach you to day trade—they help you achieve financial independence.
Luckily, you don't need to go back to college and begin a new degree in economics to learn to trade effectively. There are a number of reputable day trading courses taught online, each one aimed at a specific niche audience and which also offer their own unique teaching style.
The best day trading courses available now
Warrior Starter, Warrior Pro, and Warrior Inner Circle – Best For New Day Traders
Learn How to Trade Stocks – Benzinga (This is us, intro level Course)
One Core Program – Beginner to Advanced Traders
Eagle Investors – Beginning to advanced traders
Investors Underground – Mentorship Available
Zen Trading Strategies – Beginners who want to create their own algorithms
Silvia Bellrock: The Bellrock Accelerator – All trading levels
Fast Lane Traders – Technical Analysis
UC Trading – Prop Trading Education
Best Online Day Trading Courses
Now that you know what makes the best possible trading course, let's dive into some great options for beginners.
1. Warrior Starter, Warrior Pro, and Warrior Inner Circle from Warrior Trading
Warrior Trading offers comprehensive course packages that cater to numerous skill levels.
Warrior Starter is a great beginners class that gives you access to their chat rooms, real-time trading simulator, and core starter courses for one month. This option is great for those on a budget and who want to learn about financial markets, how to read trading accounts, an intro into fundamental and technical analysis, to learn about the psychology of trading and more.
The next level of class, their most popular choice, is Warrior Pro. Warrior Trading provides students with their core trading system, giving you access to the chat room, real-time trading simulator, small group mentoring at six times per week, and their masterclass suite of courses all for three months. Of the classes, you'll get access to their starter course, day trading course, advanced large cap course, swing trading course, options course, and cryptocurrency course.
If you're ready to take your skills to the next level, Warrior Trading created Warrior Inner Circle which is accessed by application only. You will get one year of access to their chat room, real-time trading simulator, small group mentoring six times per week, and their masterclass suite of courses. Finally, you'll also get one-on-one mentoring sessions of an hour each.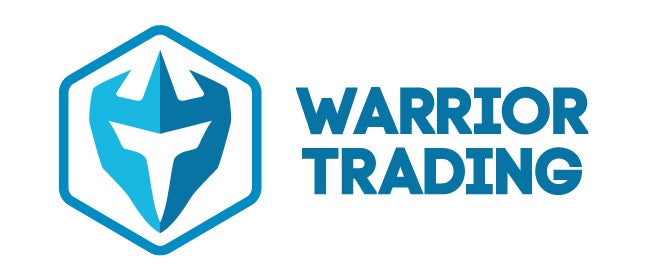 1 Minute Review
Warrior Trading is a 1-stop-shop for new and seasoned traders. Accredited by the Better Business Bureau with an A+ rating, it offers educational courses, resources and community support to help you attain success as a day trader. To date, the platform boasts an impressive following of over 500,000 active followers and 5,000 premium members.
Best For
New day traders who don't know where to start
Active day traders who seek mentoring
Individuals seeking supplemental income
Those looking to trade and work on their own terms
Aspiring full-time traders who want to generate a full-time income
Pros
Large community of traders
Extensive educational materials
Provides structured trading methods
Group trader mentoring
Cons
Minimal focus on longer-term trend trading strategies
Not suitable for investors with low risk tolerance
Expensive compared with books or free websites/blogs
2. Learn How to Trade Stocks
Who's it for? Beginning to advanced traders
Price: $47
Benzinga's signature course, How to Read Charts and Make Trades, will teach you the basics so you understand how to read charts and make winning trades in the market through simple, actionable strategies.
You'll also learn about why you should trade, how to pick a broker, trading strategies, price studies, technicals and indicators, how to develop a strategy and trading plan and learn about trading psychology. The class can help you be successful in a step-by-step format.
Master stock market investing with insider tips from a top instructor and experienced trader.
3. Asia Forex Mentor – One Core Program
Who it's for: Beginner to Advanced Traders
Price: $997
Ezekiel Chew the founder at Asia Forex Mentor isn't your typical trainer. He is a recognized expert in the finance industry where he is frequently invited to speak at major financial events. His insights into the live market are highly sought after by retail traders.
Ezekiel is considered to be amongst the top traders around who actually care about giving back to the community. He makes six figures a trade in his own trading and behind the scenes, Ezekiel trains the traders who work in banks, fund management companies and prop trading firms.
His highly regarded One Core Program teaches you how to trade not only forex but also stocks, commodities, crypto and more. To Ezekiel, it doesn't matter what vehicle it is. It's about trade selection and having various option opens up the best of the best trades.
The One Core Program covers the unique way of how he read the charts with a combination of price action and others. His 16 high win rate strategies that work in every move the market makes. The highly popular Road to Millions formula that turned many new traders into full-time traders. The business behind trading, trade management methods, proprietary point calculation system and many more. It's no wonder why the One Core Program is considered as one of the best trading courses around.
4. Eagle Investors
Who's it for?: Traders of any skill level
Price: Free; Silver, $27 per month; Diamond, $87 per month
Eagle Investors is not so much a course as it is a method for trading. Anyone who registers for Eagle Investors can use a free account, Silver or Diamond plan to access alerts and trading information. The site is filled with data and statistics, including an education section for new traders. You can invest using alerts Eagle sends you, and you are free to chat with other traders in one of many chat rooms.
The idea behind Eagle is that you get alerts that can spur growth in your portfolio. Plus, you can share your investing ideas with others. Even though this isn't a course, you can teach yourself how to trade, learn from the best and continue learning with every new alert.

Best For
Experienced Traders
1 Minute Review
The internet contains a massive amount of knowledge. However, the valuable information it offers is often scattered and unorganized. As a result, it is hard to find transparent, helpful companies, especially when it comes to trading. Eagle Investors describes itself as the New Age of Investing and Trading. The company's server and diverse array of chatrooms are monitored and curated by its team of professionals. Verified traders on the site give you real strategies with what they claim is a proven track record of success within the stock, options and crypto markets.
Best For
Beginning investors
Experienced traders
Pros
Free membership
Comprehensive educational program
Low fees for a high-quality platform
Easy application process
Great customer support
5. Investors Underground
Who's it for? Beginning to advanced traders
Price: Monthly memberships start at $1,247
Investors Underground offers a basic and advanced trading course, but the crown jewel of the platform is its ongoing education program IU Elite, which offers a month-by-month subscription package. IU Elite packages come with both courses and also include daily stock watch lists, a library of video lessons to supplement course material and a host of Q&A webinars.
What really sets IU Elite apart is its emphasis on helping students use their teachers and one another to grow and become better day traders. Students who miss the cooperation-centric learning model of traditional collegiate courses will love Investors Underground's community support network, which allows those who have questions about subject material to create a forum topic to request community support or speak one-on-one with a moderator.
The platform also offers individual coaching from teachers and mentors as well—making it an excellent choice for both new traders who are looking for a little more hand-holding.
6. Zen Trading Strategies
Who's it for? Beginners who want to create their own algorithms
Price: $597.00
The Zen Trading Strategies Masters Course in Automated Algorithmic Trading provides you with the exact processes, methods, beliefs, tools and automations to create the opportunity for financial and lifestyle freedom. You don't need any programming knowledge to started.
Zen Trading believes the course will pay for itself exponentially. It shares some of the knowledge applied by some of the most successful traders of all time.
The course outlines how one trader took a $5,000 investment and turned it into more than $10 million. You'll learn how to create your own profitable algorigthms with its plug-and-play tools, and you can see your trades directly on the Tradingview chart.
The course will show you how to backtest any trading idea and automated every detail of the process. You will be able to automated your trading the same. day.
As an extra special bonus, Zen Trading created an exclusive Masters Course In Automated Algorithmic Trading Telegram group for all of the traders in this program, so you'll get support throughout your trading journey.

1 Minute Review
From proven, prebuilt strategies and indicators to professional consulting for advanced traders who build their own trading scripts, Zen Trading Strategies offers services for algo traders of all skill levels. With free trials, tiered pricing options, and a wide variety of plans, this company aims to offer something that fits every budget and every trading style.
Best For
Investors who are new to algo trading and want to learn the ropes without losing money in the process.
Algo traders looking for customizable trading scripts to use in any financial market.
Scalpers, day traders, swing traders and other higher frequency traders who want access to hundreds of indicators, including automated trading indictors.
Pros
4 regularly updated, customizable trading strategies that can be adapted to any timeframe or asset.
Unlimited backtesting, performance monitoring, and strategy development
Indicators that can be synced to live exchanges to automatically place orders for you.
Comprehensive master course in automated algorithmic trading
Tutorials, explainers, and other helpful resources that make algorithmic trading accessible at all skill levels
Optional VPS alert service so you don't lose money due to servers being down.
Trading consulting service to get expert feedback and recommendations on your own trading strategy
Cons
Currently only compatible with TradingView
7. Silvia Bellrock: The Bellrock Accelerator
Who it's for: Anyone looking to learn about trading
Price: $900 (discounts are often available)
At the aforementioned $900 price tag, the Bellrock Accelerator Course offers a wide range of benefits that go far beyond many other courses. When you take the Accelerator Course, you study via Podia, and you also receive updates to the course as they are released. With lifetime access, you can review and study the content as much as you need.
The beauty of the Accelerator Course is that Silvia teaches you how she entered the market, how she gained success and how she maintains that success. You can start from the ground up, learn at your own pace and continue investing in any style you please.
You might also invest in her Pro or Inner Circle services that offer stock tips, webinars, personal meetings and more.

1 Minute Review
When Silvia Bellrock began helping clients, her vision was to give new and aspiring traders easy-to-follow trading strategies that were usable in every market situation. Relying on a combination of technical and fundamental analysis allowed Bellrock the ability to routinely find 100% movers. Her strategies are great for part-time traders and for those who do not want to spend all day looking over stock charts. In Bellrock's words, "Life is too short for that."   
Best For
Novice and intermediate traders
Pros
Personal attention
Rich content
Daily posts of analysis, trade ideas and trade alerts in real-time with entries, stop losses and targets
Cons
Newer service so it lacks a long documented history of success for subscribers
8. Fast Lane Traders
Who's it for: Beginners who want to learn the markets and how to invest profitably
Price: $97.99 per month; 30-day free trial
Fast Lane Traders is a 4-module trading course that compresses several years of learning into a short timeframe. You learn how to:
Read charts
Check indicators
Handle technical analysis
Buy stocks or crypto and when
Turn a profit with your portfolio
When you register with Fast Lane Traders, you also get access to:
The day trading chat room on Discord
Real trading strategies
Actionable alerts
Videos you can watch and rewatch at any time
9. UC Trading
At UC Trading, there is a mentoring program that helps you learn the futures market for a reasonable price. For 1499€., you learn:
Strategies to increase profits
Developing that strategy to meet your need
How to predict how the market will fluctuate
Prop trading information
You will also receive 1-on-1 coaching that will help you hone your skills. This is the perfect time to ask questions and learn from your mistakes. Through 3 phases, you will learn more and more about becoming a day trader, how to trade futures, how to execute trades and how to become an independent trader when the course is complete.
Moreover, you gain access to a Discord server that allows you to participate in the UC Trading community, helping you learn more about trading. Plus, this access remains long after you finish your coursework, ensuring that you always have a place to go for trading information and strategies.
Characteristics of a Great Day Trading Course
Not all online courses are created equal. You're likely asking yourself, "are day trading courses worth it?" And, you would be right to do so. However, there's often quite a gap between, say, the best free day trading course and a professional stock trading course.
Unfortunately, unlike a university course, be extra careful when signing up for online courses to make sure that the class is legitimate. Look for these four characteristics before you sign up:
1. Taught by a professional
The best day trading courses are taught directly from the source—trading experts. Whether the course instructor is a professor of finance or a trader with ten years of experience, only consider taking courses from professionals within the field.
For example, Warrior Trading is run by a professional. Therefore, every Warrior Trading webinar is taught by an expert who actually made their money doing what you want to do. The same can be said for Investors Underground, BearBull Traders, etc.
In making the right choice, you ensure that you're receiving only the most accurate and up-to-date information.
2. The course offers educational support tools.
You may run into a concept or lesson you don't understand. The best day trading courses offer a number of student support tools, from tools to contact the professor to an online forum where students can congregate and share information. Research these tools before getting started. Yes, you may feel you've found the best options trading course, but a class that's "all talk and no tools" is practically useless.
3. The course covers the specific topics you're interested in
The best day trading courses deal with specifications and attempt to appeal to a niche audience. Some day trading courses aimed at beginners may only teach the very basics, while others aimed at more advanced traders can cover more complicated topics.
Carefully read the course description before you sign up and make sure that it's what you're looking for. Stock market courses should cover investing on various stock markets. However, certain courses may not have descriptive titles, leading you to register for a class that, for example, teaches you to trade futures. You wanted to learn about barebones stocks. Don't fall into the trap of thinking all investor education is the same.
4. The claims the course is making are reasonable
A teacher or course that claims to be able to teach you how to make millions day trading or who offers a "guarantee" that you'll see a certain amount of money from trading is more than likely trying to scam you. Yes, stock trading courses for beginners are intended for those with little to no experience. However, we all have common sense. If it sounds too good to be true, it probably is.
Find the Trading Course That's Right for You
Not every class will be the right fit for you. Finding the best trading courses and an instructor that you "click" with (and whose teaching style you find engaging/easy to understand) is one of the most important things you can do to improve your chances at trading success. Looking for more courses? Check out the best technical analysis courses and the best online finance courses now.
Don't be afraid to reach out to the instructor before signing up to ask a few questions—most instructors are happy to talk to potential students to gauge what they're looking for in a course, and you'll get a more intimate look at the course's focus before spending money.
Look to expand your general investing skillset? Check out Benzinga's top picks for the best online brokerages for stock trading, the best day trading chat rooms and online investing courses.
Frequently Asked Questions
How can I learn day trading?
The best approach is to go with one course and learn the techniques. You can move onto others after testing it to expand your knowledge.
Answer Link
Is day trading difficult?
Successful day trading requires understanding market psychology, experience, skill and proficiency.
Answer Link
How much do stock trading courses cost?
Stock trading classes vary in price and scope. Some are free, some are paid, but you must choose the course that suits both your budget and needs.
Answer Link
Master the art of trading with Benzinga's signature course, "How to Trade Stocks." Learn how to read charts and make winning trades in the market through simple, actionable strategies.
You'll learn from the following modules:
Why Trade?
Picking a Broker
Trading Strategies
Price Studies
Technicals and Indicators
Developing a Schedule and a Plan
Trading Psychology
Get Benzinga's actionable stock trading advice for only $47 and see your income skyrocket!