FREE Trial with Benzinga Pro happening right now!
Unfortunately, going back to school isn't an option for everyone. Whether you're raising a family, don't have the money for tuition, or simply don't have time to take a break from your career to continue your education, there are so many reasons why you may not want to enroll in college again. Sure, great courses are out there, but where can you find them?
Thankfully, there is an alternative—online investment courses are affordable, easily accessible, and allow you to learn to invest in your own time and within the bounds of your schedule. We've reviewed some of the best online investing courses you can enroll in today, and we've included some additional tips on how to identify a great course.
The Best Online Investing Courses
Based on the criteria above, here are the top online investing courses. Be sure to check out prices/tuition, any additional books you may need, and any special required equipment before you enroll.
1. Warrior Starter, Warrior Pro and Warrior Inner Circle from Warrior Trading
Who's it for? Beginners to advanced students
Price: On sale
Warrior Trading offers comprehensive course packages that cater to numerous skill levels.
Beginners can start with the Warrior Starter pack, granting access to chat rooms, core starter courses, and their real-time trading simulator for one month. This pack is perfect for those on a budget and who seek to understand financial markets, how to read trading accounts, an intro into fundamental and technical analysis, to learn about the psychology of trading and more.
Their most popular pack is Warrior Pro, which provides students with their core trading system, their real-time trading simulator, access to the chat room, small group mentoring at six times per week, and their masterclass suite of courses all for three months. The classes include a starter course, day trading course, advanced large cap course, swing trading course, options course, and cryptocurrency course.
Their final offering is the Warrior Inner Circle. You can only access it by applying and, if accepted, you get one year of access to their chat room, real-time trading simulator, small group mentoring six times per week, and their masterclass suite of courses. Finally, you'll also get one-on-one mentoring sessions of an hour each.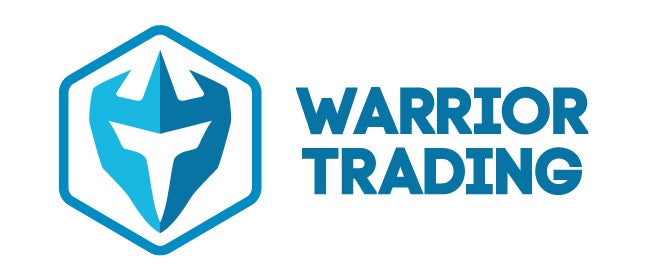 1 Minute Review
Warrior Trading is a 1-stop-shop for new and seasoned traders. Accredited by the Better Business Bureau with an A+ rating, it offers educational courses, resources and community support to help you attain success as a day trader. To date, the platform boasts an impressive following of over 500,000 active followers and 5,000 premium members.
Best For
New day traders who don't know where to start
Active day traders who seek mentoring
Individuals seeking supplemental income
Those looking to trade and work on their own terms
Aspiring full-time traders who want to generate a full-time income
Pros
Large community of traders
Extensive educational materials
Provides structured trading methods
Group trader mentoring
Cons
Minimal focus on longer-term trend trading strategies
Not suitable for investors with low risk tolerance
Expensive compared with books or free websites/blogs
2. How to Trade Stocks
Who's it for? Beginning traders
Price: $47
Let the experts at Benzinga prep you to trade stocks in just 7 modules with its How to Trade Stocks online course. You'll learn how to read charts and make winning trades in the market through simple, actionable strategies.
The course will take you through the process of how to trade stocks from start to finish. Get started by learning why trading could be right for you, and move on to developing your personal strategy and trading plan. You'll be prepared to meet the market after you learn how to choose a broker, and use technicals , indicators and price studies.
Master investing in the stock market with lessons from a top instructor and lead trader.
3. One Core Program by Asia Forex Mentor
Who it's for: Anyone
Price: $997
The One Core Program was created to help traders invest in foreign currency, but it is a program that you can apply to any asset. Managed by Ezekiel Chew, the One Core Program from Asia Forex Mentor teaches you how to think about investing in a new way.
Consider this "paradigm shift" a re-education in trading. Anyone can use the One Core Program to learn about investing, broadening their horizons or simply learning the basics.
One of the modules is known as the "Road to Millions" which helps you think about building wealth and increasing your net worth. Yes, it would be lovely to change careers and work as a trader, but how will you plan for the future? Asia Forex Mentor helps you change your focus, plan for the future and see the market in a new light.
4. The Investing and Trading Library from TD Ameritrade
Who's it for? Investors of all levels
Price: Free
Available on brokerage platform and online. If you have an account open with TD Ameritrade and you haven't been taking advantage of its extensive investment and trading resource library, you're seriously missing out.
The investing powerhouse offers a wealth of easy-to-understand and comprehensive trading and investing education guides, how-to videos, and tutorials. Quizzes, vocabulary dictionaries and a mobile app that allows you to take your learning on-the-go.
You learn how to trade stock and move to more specific guidance on trading strategies, options, and forex trading, TD Ameritrade's investing and the trading library is just as useful to the seasoned stock trader as it is for the novice who's just opened his first IRA. The best part? It's all completely free—all you'll need is a current account with TD Ameritrade.

1 Minute Review
This publicly listed discount broker, which is in existence for over four decades, is service-intensive, offering intuitive and powerful investment tools. Especially, with equity investing, a flat fee is charged, with the firm claiming that it charges no trade minimum, no data fees, and no platform fees. Though it is pricier than many other discount brokers, what tilts the scales in its favor is its well-rounded service offerings and the quality and value it offers its clients.
Best For
Novice investors
Retirement savers
Day traders
Pros
World-class trading platforms
Detailed research reports and Education Center
Assets ranging from stocks and ETFs to derivatives like futures and options
Cons
Thinkorswim can be overwhelming to inexperienced traders
Derivatives trading more costly than some competitors
Expensive margin rates
5. Zen Trading Strategies
Who's it for? Beginners who want to create their own algorithms
Price: $597.00
The Zen Trading Strategies Masters Course in Automated Algorithmic Trading provides you with the exact processes, methods, beliefs, tools and automation to create the opportunity for financial and lifestyle freedom. You don't need any programming knowledge to get started.
Zen Trading believes the course will pay for itself exponentially. It shares some of the knowledge applied by some of the most successful traders of all time.
The course outlines how one trader took a $5,000 investment and turned it into more than $10 million. You'll learn how to create your own profitable algorithms with its plug-and-play tools, and you can see your trades directly on the Tradingview chart.
The course will show you how to backtest any trading idea and automated every detail of the process. You will be able to automate your trading the same. day.
As an extra special bonus, Zen Trading created an exclusive Masters Course In Automated Algorithmic Trading Telegram group for all of the traders in this program, so you'll get support while investing online and throughout your journey as a trader.

1 Minute Review
From proven, prebuilt strategies and indicators to professional consulting for advanced traders who build their own trading scripts, Zen Trading Strategies offers services for algo traders of all skill levels. With free trials, tiered pricing options, and a wide variety of plans, this company aims to offer something that fits every budget and every trading style.
Best For
Investors who are new to algo trading and want to learn the ropes without losing money in the process.
Algo traders looking for customizable trading scripts to use in any financial market.
Scalpers, day traders, swing traders and other higher frequency traders who want access to hundreds of indicators, including automated trading indictors.
Pros
4 regularly updated, customizable trading strategies that can be adapted to any timeframe or asset.
Unlimited backtesting, performance monitoring, and strategy development
Indicators that can be synced to live exchanges to automatically place orders for you.
Comprehensive master course in automated algorithmic trading
Tutorials, explainers, and other helpful resources that make algorithmic trading accessible at all skill levels
Optional VPS alert service so you don't lose money due to servers being down.
Trading consulting service to get expert feedback and recommendations on your own trading strategy
Cons
Currently only compatible with TradingView
Good Online Investing Courses Have:
All online investing courses were not created equal. Learning about stocks can be complicated, and you can't learn how to become an investor unless you find the perfect class. While different investment classes will likely have a different area of focus, materials, and price, the best online investing courses all share these three common characteristics.
Realistic claims: Before you enroll in online stock market training, read the course description—it should list the skills or trading techniques you'll learn by working your way through the course material. If investment courses include unrealistic claims (like you'll be learning a "secret technique" investing insiders have been suppressing or the course guarantees that you'll make a certain amount of money through trading), the course is more likely a get-rich-quick scheme than a reliable educational resource.
Remember, if it seems too good to be true, it probably is.
Comprehensive prerequisite list: Stock trading courses aren't good for much if you can't understand the material. Before you sign up for a course, check the prerequisite list; some courses will require students to have completed other specific classes, and some will list a set of basic skills that the student should have before signing up. Stock market classes often require more work than you might've thought. You can't become Warren Buffett overnight.
This is not a money grab—these types of regulations are set into place to help students choose the right courses and get the most out of their time in the virtual classroom, so make sure you heed them.
Beware of stock market courses that offer to teach highly advanced or "little-known" investment strategies without a comprehensive list of prerequisites. Stock trading classes cannot teach you anything that the industry doesn't know about. You, however, might be new to certain concepts, and you want to land in day trading classes that are on your level.If you're a total beginner, sign up for an entry-level course first and move onto higher levels of instruction after completion.
Accessible instructor: We all run into snags while learning—even the most diligent of students will likely run into a segment or concept that's a struggle. Because you're taking an online course, you can't walk to your professor's office and knock on their door. This means it's especially important to choose a course with an instructor that makes him or herself easily available.
Look for trading classes that offer one or more contact methods to speak to the instructor and send him or her an email introducing yourself and asking a question about the course. The best online instructors will be happy to meet you and share their insights—and you can gauge how easily accessible they are. Be patient, though, because a good online trading course puts quite a lot of demand on the instructor.
Find Your Investing Courses
It's never too late to learn more about the ins and outs of investing. The key to learning on your own time is to set a schedule and choose stock courses that pique your interest. Don't be afraid to test the waters with other teachers, investment professionals, and advisors. Find the best way to learn about investing for you. When you step outside of your comfort zone, you never know where your newfound knowledge may take you.
Frequently Asked Questions
What are some free investing courses?
Investing Basics and The Investing and Trading Library are great free courses.
Answer Link
Master the art of trading with Benzinga's signature course, "How to Trade Stocks." Learn how to read charts and make winning trades in the market through simple, actionable strategies.
You'll learn from the following modules:
Why Trade?
Picking a Broker
Trading Strategies
Price Studies
Technicals and Indicators
Developing a Schedule and a Plan
Trading Psychology
Get Benzinga's actionable stock trading advice for only $47 and see your income skyrocket!