IBM's Ginni Rometty On Warren Buffett: Investors Are Free To Speak For Themselves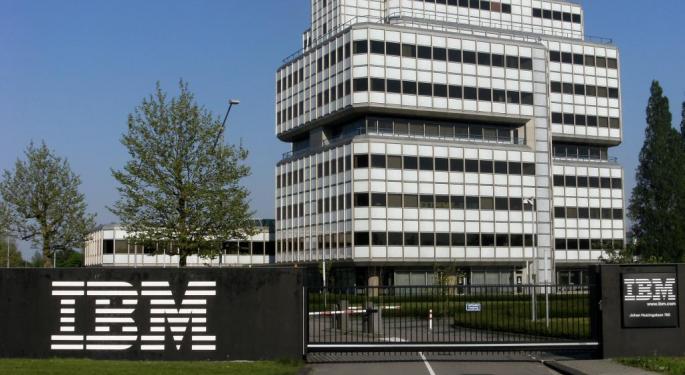 Billionaire investor and large International Business Machines Corp. (NYSE: IBM) shareholder Warren Buffett surprised the Street earlier this year when he sold around one-third of his approximate 81-million-share stake in "Big Blue."
He explained that IBM's status as a "big strong company" remains unchanged but over the past year it started facing new and "tough competitors" -- selling points that IBM CEO Ginni Rometty naturally disagrees with but isn't bothered by.
IBM continues to divest many legacy businesses while simultaneously creating new ones, Rometty explained during an interview with CNBC's Jim Cramer. In fact, this is a key component of what made the company great over its 100-year existence as a public empire.
"It is always about moving to where the profit and the value is, and what that does for an investor is that always gives us the ammunition to reinvent ourselves, those profits do, and then with that, continuously raise your dividend," Rometty said.
Today, IBM boasts a strong balance sheet, plenty of cash on hand, and a 4 percent dividend yield. But Rometty didn't comment on why she thinks Buffett didn't find these attributes attractive enough to maintain his large stake.
In fact, all she said was that every investor is free to "speak for themselves" and she is "very appreciative of all our investors." Nevertheless, she appears undeterred to proceed with conquering the "viciously competitive environment."
Related Links:
Tech CEOs Descend On The White House: Who Won't Be There?
IBM's Rethink On Remote Working — A Taste Of Things To Come?
By Mark Ahsmann (Own work) [CC BY-SA 3.0], via Wikimedia Commons
Posted-In: Big Blue CNBC Ginni Rometty Mad Money Warren Buffett Jim CramerMedia Best of Benzinga
View Comments and Join the Discussion!