IBM's Rethink On Remote Working — A Taste Of Things To Come?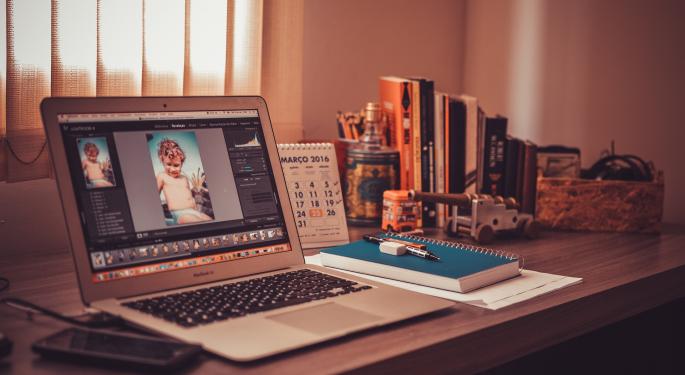 International Business Machines Corp. (NYSE: IBM), which is considered one of the pioneers of the concept of remote working is having second thoughts. The company, which once had 40 percent of its 380,300 employees working from the comforts of their home, recently issued an ultimatum, asking telecommuting employees to either revert to a regional office or to leave the company.
Singing A Different Tune
The rationale given for the decision? A move into a company office will improve collaboration and accelerate the pace of work.
This has been an about face for the company, which thus far had sung the virtues of remote working, given that it markets software and services that facilitate an "anytime, anywhere workforce."
This move is not without precedence.
Companies Have Second Thoughts
Yahoo! Inc. (NASDAQ: YHOO) said in February 2013 employees can no longer work from home — an announcement that came at a time the company was struggling. The decision to scrap the work-from-home option was done with the objective of according importance to the two c's, namely communication and collaboration, which require all employees be present in offices, a memo from CEO Marissa Mayer said.
Later in October 2013, HP Inc (NYSE: HPQ)'s Meg Whitman suggested that wherever possible, employees should work at the office, according to AllthingsD, quoting an internal memo. Notwithstanding the desire to have its employees within the premises, HP reportedly doesn't possess the wherewithal to accommodate all at offices.
Best Buy Co Inc (NYSE: BBY) also terminated its flexi-working policy called Results Only Work Environment in 2013, making it as an option based on a conversation between employees and the manager rather than as a right.
The Wall Street Journal report that broke the news on IBM's telecommuting policy indicated that about 2,600 people in the company's marketing department and an unknown number of employees in IT, procurement and Watson-related departments were told in February they might have to work in one of six U.S. cities, namely Atlanta, Austin, Boston, New York, Raleigh and San Francisco.
If they weren't falling in line with the diktat, the company gave them the option of seeking jobs elsewhere.
What prompted IBM to give up on a concept, which it pioneered and nurtured for long?
IBM's financial health, without any doubt, is failing. The company's top line has been trending southward for 20 straight quarters now.
Now, that raises the question of whether recalling remote employees to offices in any way boosts productivity and in turn performance.
Remote Vs. At-Office Working
Less than 3 percent of the over 120 million U.S. office employees work from home, according to Business.com, quoting Global Workplace Analytics. Redesigning workspaces, with open-office designs, unencumbered by walls and cubicles has served to increase productivity. Some of the virtues of working from office are the 100-percent engagement it brings about, effectively nurturing common goals, values and creative and innovative energy.
Meanwhile, remote working, though bestowing several advantages such as home-office tax deductions and convenience, has its demerits as well. Most often, employees lack the discipline and motivation to keep them going when they work from home.
Forbes contributor Larry Alton quoted a few studies that found telecommuting increasing productivity of employees:
Ctrip.Com International Ltd (ADR) (NASDAQ: CTRP)'s co-founders, in a study, found that remote workers made 13.5 percent more calls than those working from office, which would translate to a full day's work in a given week.
A 2016 survey of American remote workers showed that 91 percent seem to think they are more productive when they work from home.
Best Buy's ROWE program showed a 35 percent jump in employee productivity.
Giving reasons as to why allowing the flexibility of working from home is not rampant, despite the professed benefits, Alton said the evidence of effectiveness is still limited. Moreover, differences in individuals, in terms of their will power, motivation, etc. precludes the universal adoption of the option. In most self-reporting surveys, remote workers tend to inflate productivity statistics. Additionally, not all jobs can be done remotely.
Whatever the arguments, there is a definite shift in stance in employer's take on allowing the flexibility of working from home. Gone are the days when employers were merely content with saving on overhead costs. As creativity, innovation and cohesion evolve as new mantras for supremacy, corporations can afford to take the risk of losing out on some disenchanted workers for the benefits bestowed by working as an unit by being present physically close to each other.
Related News:
Are You Selling IBM Just Because Buffett Trimmed His Position?
Jim Cramer Shares His Thoughts On IBM, Oclaro And Johnson Controls
View Comments and Join the Discussion!
Posted-In: AllThingsD Business.com Global Workplace AnalyticsEducation Entrepreneurship Top Stories Media General Best of Benzinga