Barron's Recap: Seeking Higher Returns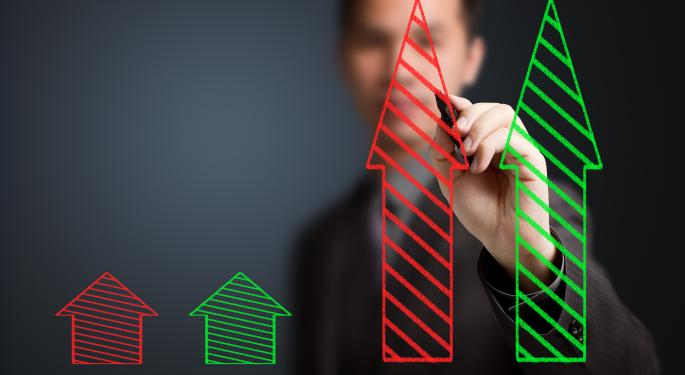 This weekend in Barron's online: why wealthy investors are taking on more risk, as well as the prospects for Barrick Gold, Scripps Networks Interactive, Computer Sciences and CST Brands.
Cover Story
"Seeking Higher Returns" by Karen Hube.
Top wealth-management firms are urging investors to leave their defensive positions in cash, bonds and large dividend-paying stocks and to take more risk, says this week's cover story in Barron's. They increasingly recommend such investments as stocks in troubled nations such as Spain.
However, it is the wealthy clients of those firms who are driving the change. A recent study cited in the article indicates that they are now more interested in asset growth than asset preservation. In short, they are tired of not earning a decent return. "Everybody is moving up the risk curve," one expert says in the article.
See the article to discover how methods for mitigating overall portfolio risk have become more complicated and unpredictable. See how the sentiment has changed among America's top 40 wealth management firms, and some of the investments that have caught their eye recently.
Like the wealthy investors and their managers, the article looks beyond stocks to alternative investments such as bond funds, private equity, and even buying up bundles of "bad" mortgages at steep discounts. "We can only hope that an unexpected storm blowing in doesn't drive investors back down the mountain of risk," says Barron's.
The article also includes a look at the top 40 wealth-management firms in America.
See also: Adaptive Value Investing for the Long-Term Investor
Feature Stories
"Barrick Could Be a Gold Mine for Contrarians" by Andrew Bary says that after being plagued by missteps, the world's top gold producer, Barrick Gold (NYSE: ABX), could attract activist investors and its shares could double.
Sandra Ward's "Scripps Has Its Own Dramatic Story Arc" points out that cable network Scripps Networks Interactive (NYSE: SNI), with its popular shows about cooking, homes and travel, is an ideal way to play a global economic recovery. See why it should keep both viewers and investors happy.
In "An Inexpensive Way to Play the Cloud," Jack Hough makes the case for IT services provider Computer Sciences (NYSE: CSC) to gain 25 percent or more as the company cuts costs and rationalizes its business mix. In other words, it is an example of growing by shrinking.
CST Brands (NYSE: CST) is boosting sales and profits at its convenience stores, points out David Englander's "A Good Deal at the Corner." See why the shares of this recent spin-off from Valero Energy (NYSE: VLO) could rally 20 percent.
"From Moscow via Moldova to Manhattan" by Bill Alpert focuses on the U.S. prosecutors trying to seize millions of dollars in posh New York City real estate they say are bought with laundered rubles linked to the death of Moscow lawyer Sergei Magnitsky.
In Steve Garmhausen's "Risky Business," Scott Wolle, manager of Invesco's Balanced-Risk Allocation fund, is profiled. See why Wolle does not invest directly in any securities, but instead uses derivatives to get at the return of various asset classes.
Lawrence C. Strauss's "Why a Pro Likes Apache, Southwest, and Kohl's" is an interview with John D. Linehan of T. Rowe Price, who does share why he likes Apache (NYSE: APA), Southwest Airlines (NYSE: LUV) and Kohl's (NYSE: KSS).
The story of American health insurance is clearly not a story of intelligent design, posits "The Evolution of Cost-Plus Health Care" by John Steele Gordon. Evolution has no foresight.
"No Time Like the Present" is an editorial commentary by Donald J. Boudreaux suggesting that though the incomes of ordinary Americans have grown slowly, that has been offset by declines in the prices of many consumer goods.
See also: The Latest Microsoft CEO Search Scuttlebutt
Columns
Columns in this weekend's Barron's discuss:
Time magazine's take on the stock market's prospects
Fed Chairman Bernanke's swan song
The pricey shares of Netflix (NASDAQ: NFLX)
An initial public offering for Twitter
Whether wearable computing is a viable business
New products from TradingView and StockCharts.com
To whom the new Apple (NASDAQ: AAPL) iPhones may appeal
The advantages of multi-manager funds
Whether the bond sell-off can be blamed on exchange traded funds
What the president and sequester doomsayers got wrong
Dividend hikes from Philip Morris International (NYSE: PM) and others
The contenders to be the new Fed chief
At the time of this writing, the author had no position in the mentioned equities.
Posted-In: apache Apple barrick gold Barron's Ben Bernanke computer sciencesBarron's Media Best of Benzinga
View Comments and Join the Discussion!