Benzinga's Bulls & Bears Of The Week: Apple, Facebook, Nike, Tesla, More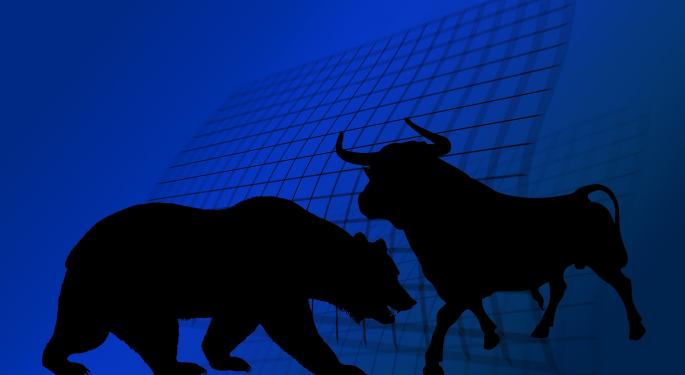 Benzinga has featured looks at many investor favorite stocks over the past week.
Bullish calls included the iPhone maker, a sportswear leader and a semiconductor giant.
Bearish calls included a social media giant, an electric vehicle leader and a struggling retailer.
The turn of the calendar page marks not only the end of summer but a reminder that midterm elections are only about two months away. The Nasdaq pulled back more than 2 percent in the past week, while the Dow Jones industrials and the S&P 500 were essentially flat.
Benzinga continues to feature looks at the prospects for many investor-favorite stocks. Here are just a few of this past week's most bullish and bearish posts that may be worth another look.
Bulls
"Morgan Stanley Raises Apple's Price Target On Video Optimism" by Wayne Duggan shows why one top analyst was bullish on Apple Inc. (NASDAQ: AAPL) ahead of the iPhone event scheduled for Sept. 12.
In "What The Kaepernick Campaign Means For Nike," Brett Hershman examines what the latest controversial moves from Nike Inc (NYSE: NKE) could mean for its shareholders.
Jayson Derrick's "Pros: Cisco Isn't Getting The Attention It Deserves" shows why Cisco Systems, Inc. (NASDAQ: CSCO) has been flying under the radar but may be poised to rally.
See what has attracted one analyst to Broadcom Inc (NASDAQ: AVGO), according to "Broadcom Is Baird's New Top Large-Cap Semi Pick" by Shanthi Rexaline. Is it a value stock or a growth stock?
In Hannah Genig's "Raymond James Upgrades UPS On Underappreciated Outlook," see what is being overlooked about United Parcel Service, Inc. (NYSE: UPS), according to one analyst.
Also have a look at "New Class of Migraine Drug Creates Four-Way Pharma Development Race."
Bears
"Trader: Facebook Shares Are 'Technically Damaged'" by Jayson Derrick shows why even after a more than 15-percent fall in the past three months, Facebook, Inc. (NASDAQ: FB) investors may want to hold off and wait for a better entry point.
In Elizabeth Balboa's "Goldman Sachs Reinstates Tesla's Sell Rating, Cites Debt Maturity, Looming Competition," see what an impending surge in electric vehicle supply could mean for Tesla Inc (NASDAQ: TSLA).
Rite Aid Corporation (NYSE: RAD) is in a difficult competitive position and likely will continue to struggle, according to Wayne Duggan's "Goldman Sachs Bearish On Standalone Rite Aid."
In "Southwestern Energy Is More Capital-Intensive After Fayetteville Shale Sale, BMO Says In Downgrade," Hannah Genig looks at what prompted a bearish call on Southwestern Energy Company (NYSE: SWN).
Shanthi Rexaline's "BMO Switches Tracks On CSX, Citing Lower Visibility" examines what it is about CSX Corporation (NYSE: CSX) that sent an analyst to the sidelines.
Be sure to check out "Netflix: A Bull-Bear Debate" as well.
At the time of this writing, the author had no position in the mentioned equities.
Keep up with all the latest breaking news and trading ideas by following Benzinga on Twitter.
Posted-In: Media Trading Ideas Best of Benzinga
View Comments and Join the Discussion!