New Class of Migraine Drug Creates Four-Way Pharma Development Race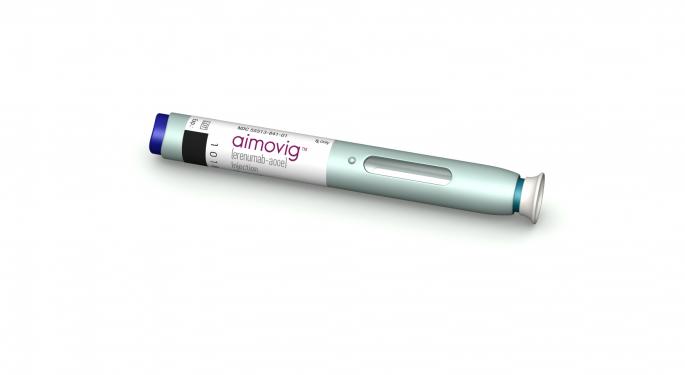 Migraines — a neurological condition often characterized by intense, debilitating headaches — can last anywhere from four to 72 hours, affecting a patient's quality of life.
Until recently, there was no specific treatment for migraine, although symptom-alleviating options such as beta blockers, antidepressants and even Botox were invariably used by affected individuals. Some of the symptom relievers have concerning side effects, especially on the cardiovascular system.
That changed with the May 17 FDA approval of the migraine drug Aimovig, developed by Novartis AG (ADR) (NYSE: NVS) and Amgen, Inc. (NASDAQ: AMGN).
Aimovig, a preventative treatment option for migraines, belongs to a class of drugs called calcitonin gene-related peptide — or CGRP — inhibitors and antagonists.
CGRP is a member of the calcitonin family of peptides that exist in humans in two forms: alpha and beta. It is synthesized in neurons in brain as well as the spinal cord and acts as a vasodilator, widening the blood vessels. This makes nerve cells more sensitive to pain, and the peptide is released duing migraine attacks and cluster headaches. making the nerve cells more sensitive to pain. It is released during migraine attacks or cluster headaches.
How CGRP Antagonists Work
CGRP antagonists work by blocking CGRP-receptors. The CGRP monoclonal antibody functions by binding itself to the target molecule or its receptor, thereby inhibiting it and preventing a continued reaction.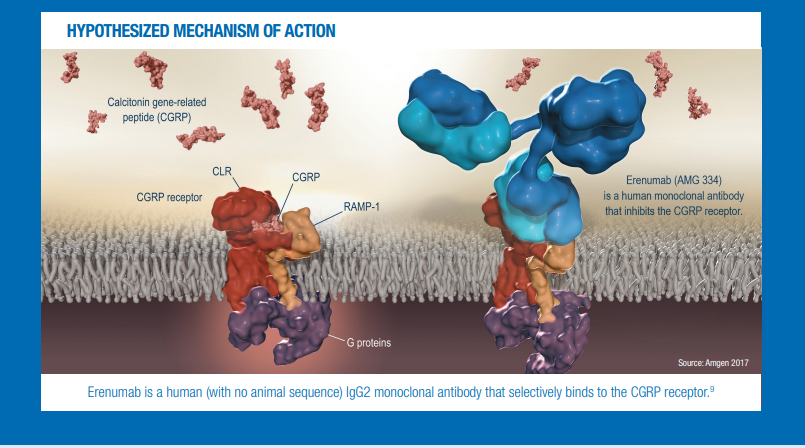 Infographic courtesy of Amgen.
Amgen, Novartis Win The Race
The Amgen-Novartis combo is the first to bring CGRP-based migraine therapy to market. The FDA greenlighted Aimovig 70mg or 140mg, chemically erenumab, to be administered as a once-monthly self-injection using Amgen's SureClick autoinjector.
A late-stage study dubbed LIBERTY that evaluated Aimovig showed that patients taking a 140mg dose had about three times better odds of having their migraine days cut by half or more relative to a placebo.
Aimovig targets the CGRP receptor and not the molecule per se, and is priced at $575 per month, or $6,900 annually.
European Union approval came on July 30.
Aimovig seems to have had a strong offtake since its launch in May, according to Biopharmadrive. Prescriptions for the drug have surged to 10,000, with about 3,000 patients starting on the drug by the 10th week of sales.
Teva Waits In The Wings
Teva Pharmaceutical Industries Ltd (ADR) ADR (NYSE: TEVA)'s BLA for fremanezumab is before the FDA.
The original PDUFA date for fremanezumab was extended by three months in May, with the revised date set for Sept. 16. At that time, Teva said there was no additional data request from the FDA.
Apparently, the FDA was unhappy with the manufacturing conditions at one of Teva's South Korean partners.
Teva discontinued the Phase 3 study of fremanezumab for cluster headaches after a pre-specified futility analysis of the study revealed the primary endpoint might not be met.
Cluster headaches differ from migraines in that the former affects one side of the head and results in intense pain, while the latter causes throbbing pain, with symptoms manifesting as nausea, vomiting and sensitivity to sound and light.
Notwithstanding the hiccup, Teva reportedly is working overtime to bring the drug to pharmacies by mid-September. This is one of the two pipeline candidates the Israeli drug company is banking on to salvage it from the debt burden it is saddled with following its purchase of Allergan plc (NYSE: AGN)'s generic unit.
If not by mid-September, Teva hopes to begin commercializing the product candidate before the end of 2018.
Eli Lilly Plays Catch-Up
Eli Lilly And Co (NYSE: LLY)'s galcanezumab, a CGRP antagonist targeting the molecule, was found effective in treating patients with episodic and chronic migraines who previously failed to respond to two or more preventive therapies. The findings are based on three Phase 3 studies: EVOLVE-1, EVOLVE-2 and REGAIN.
Eli Lilly expects the FDA to vet its migraine treatment candidate, which is also a once-monthly, self-administered injection, in the third quarter of 2018.
Alder Biopharma Trails Competitors
Alder Biopharmaceuticals Inc (NASDAQ: ALDR) is developing eptinezumab, a monoclonal antibody administered via infusion, as opposed to the self-injection mode offered by competitors.
Eptinezumab is being evaluated in multiple, randomized pivotal Phase 3 studies.
Alder announced in top-line data from the PROMISE 1 study in late June that showe the study met the primary endpoint of highly statistically significant reductions in monthly migraine days.
See also: Sympathy Move: Portola Upgraded After Competitor Reports Sour Data
Market Opportunity For CGRP Antagonists
Amgen, with its first-mover advantage, certainly has its nose ahead of the pack. Estimates by GlobalData, a data and analytics company, show that Aimovig is likely to be the market leader in Europe, with estimated sales of $325 million in the region by 2026.
This new class of drugs is estimated to have a market potential of $4.5 billion in 2020, which is forecast to grow to $6.9 billion in 2025, according to Investor's Business Daily, which quoted Leerink estimates.
CRGP antagonists, which boast a multibillion-dollar opportunity, could initially be the domain of early movers, although analysts believe there's room for all four pioneers to thrive and grow.
FDA approvals for the remaining three products could be de-risking events for the respective pharma companies. It remains to be seen if these can emerge from the FDA process unscathed to take advantage of a major market opportunity.
Related Link: Affimed Shares Soar On $5B Collaboration With Roche's Genentech
Aimovig product photo courtesy of Amgen.
View Comments and Join the Discussion!
Posted-In: Aimovig Biopharmadrive GlobalDataBiotech News FDA Media Trading Ideas Best of Benzinga