Benzinga's Bulls & Bears: Looking Back, Looking Forward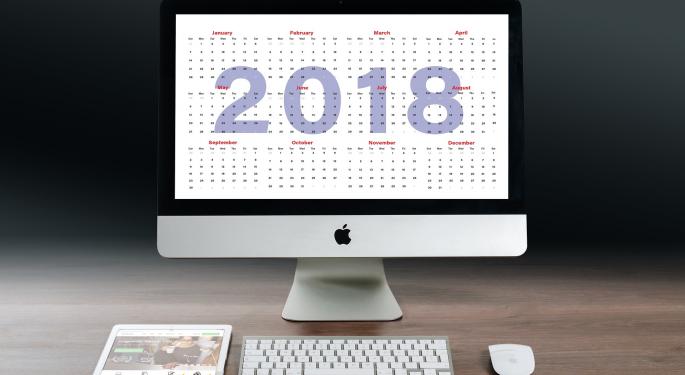 Benzinga has featured a look at many investor favorite stocks over the past week.
Some recent posts took a look back at the past year.
Many others were forward focused, including forecasts for the top tech darling.
The end of the year is nearly upon us. As it does every week, Benzinga has continued to feature looks at the prospects for many investor favorite stocks. The days leading up to Christmas offered time to reflect on the past year and to look forward to the coming one.
Here are a few of this past week's posts that may be worth another look.
Looking Back
"The Companies That Led 2017's Biotech Rally" by Shanthi Rexaline looks at the biotech stocks, from Alnylam Pharmaceuticals, Inc. (NASDAQ: ALNY) to Vertex Pharmaceuticals Incorporated (NASDAQ: VRTX), that fared well this past year.
In "AMD, Fitbit Top List Of Robinhood Broker's 'Most Traded' Stocks Of The Year," Jayson Derrick shows that Ford Motor Company (NYSE: F) was popular in one trading app.
Shanthi Rexaline's "7 Best Marijuana Stocks That Blazed A Trail In 2017" offers a look at how GW Pharmaceuticals PLC (NASDAQ: GWPH) and several others in this "sunrise industry" have fared this year.
Be sure to check out Bitcoin Bulls And Bears Battle It Out as well.
Looking Forward
Wall Street is pushing extremely hard for bitcoin exchange-traded funds, according to Elizabeth Balboa's "What Will Be The Biggest Story For Bitcoin In 2018?" What's next for the wildly popular cryptocurrency?
In Shanthi Rexaline's "Oppenheimer Serves Up 29 Top Stock Ideas For January," see why this top analyst likes Home Depot Inc (NYSE: HD) and many others now.
"Here Are Jefferies' Top 13 Tanker Picks For 2018" by Wayne Duggan shows why things are turning around and looking up for Scorpio Tankers Inc. (NYSE: STNG) and a number of its peers.
In Elizabeth Balboa's "Wells Fargo: 27 Stocks To Play Real Estate In 2018," see why Crown Castle International Corp. (NYSE: CCI) and many other REITs could be big winners for the coming year.
And expectations specifically for investor favorite Apple Inc. (NASDAQ: AAPL):
The iPhone maker is a top pick for the new year at this investment banking giant, says "Why Apple Remains Morgan Stanley's Top Pick For 2018" by Jayson Derrick. The firm cites better than expected growth in China.
Jayson Derrick's "Gene Munster On Apple's 2018 Outlook" reveals why this analyst-turned-venture capitalist remains bullish on the Cupertino, California-based tech giant for the long term.
In "The 2018 Tailwinds That Keep One Analyst Bullish On Apple," Jayson Derrick shows why yet another Wall Street analyst expects nothing but further upside in the stock in 2018.
Also see "The 5 Types Of Financial Resolutions" for the new year.
View Comments and Join the Discussion!
Posted-In: Alnylam Pharmaceuticals Apple Bitcoin crown castle international FordMedia Trading Ideas Reviews Best of Benzinga