Bitcoin Bulls And Bears Battle It Out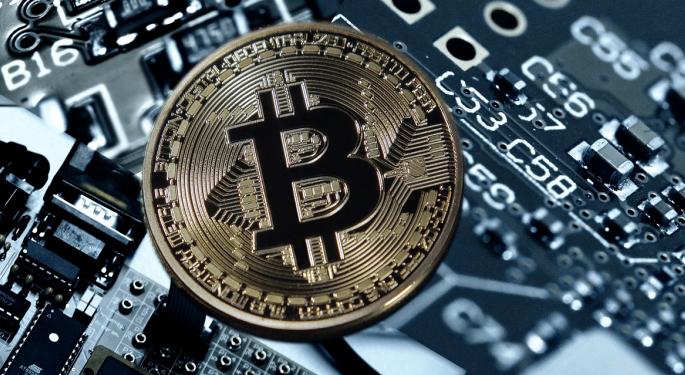 All speculative bubbles come to an end. Whether the speculative bubble in bitcoin has burst for good, though, remains to be seen. Last week's price action is flashing warning signals that a short-term—or even the final—top has been made in what is supposed to be in the next "asset" class.
Since so much media attention has been paid to the cryptocurrency craze, Benzinga decided to devote an entire PreMarket Prep broadcast to the topic. On the Dec. 19 show, the team assembled bitcoin bulls and bears and let them battle out in an open forum.
Bulls...
At the top of broadcast, long-time bulls Jeff Goldman and Michael Graub discussed crypto mining and the fundamentals of the currency and reasons for its astounding run. Both investors have a cost-basis much lower than bitcoin's price of $13,000 at time of this writing.
Graub went as far to say that "bitcoin is another asset class called digital assets, like precious metals, stocks, real estate or bonds." Goldman approaches the instrument as trading vehicle that offers volatility extraordinaire, which every trader wants, as opposed to the low-volatility stock trading environment.
Related: The Bitcoin Regulation Conundrum, Explained
...Bears
Next came the bears. Joe Saluzzi of Themis Trading and Jim Angel, associate professor at Georgetown University shared their extremely bearish views. Saluzzi attacked the issue from a fundamental standpoint (how can one trade bitcoin if you can't even fairly value it?) and expressed his concerns regarding the "difficulties in regulation" surrounding cryptocurrencies. The bears simply stated BTC's lack of regulation will lead to its downfall.
Angel called bitcoin a "cyber-libertarian pipedream" and reiterated he believes its lack of regulation will lead to its unraveling.
Kris Nelson, COO of Social Reality Inc. (NASDAQ: SRAX), countered these arguments by noting the lack of regulation should be construed as a positive. Nelson stated that for market enthusiasts who believe markets should be the determining governance, "Crypto is the best place to be, because it is truly controlled by the market itself."
Related: Why The Bitcoin Bubble Is Different From All Other Bubbles
The GBTC
On the back-end of the broadcast, Michael Sonnenshein, Grayscale's director of business development, who is behind the Bitcoin Investment Trust (OTC: GBTC), fought back for the bulls. According to Sonnenshein, the BIT product was created at the urging of "accredited" investors that crave long-term bullish exposure to the currency.
He was joined by one of bitcoin's harshest critics, Peter Schiff, CEO and chief global strategist at Euro Pacific Capital, who called the rally "fraudulent," and comparable to the Beanie Babies craze in the early 1990's. He went to call bitcoin, "the biggest bubble that I have ever seen."
Bitcoin's Crazy Week
Aside from the expert commentary, it's worth examining the price action in bitcoin this week and its implications moving forward.
According to coinmarketcap.com, its all-time-high was reached Dec. 17 at $20,0089 and posted its all-time closing high the previous day at $19,497.40. Similar to stocks and futures, that peak at whole numbers 20,000 may have marked its upside capitulation, perhaps signalling a test of $10,000 on the horizon.
Market structure expert and PreMarket Prep cohost, Dennis Dick marks the "blow off top" on Dec. 8. On that day, just as numerous retail accounts that were cleared to trade after signing up after Thanksgiving, bitcoin surged from its intraday low of $14,336.90 to $18,353.40. On that chaotic day, one exchange printed over $19,000 due to lack of centralized market.
Another ominous factor for bitcoin is that the "little guy" is "all in" after succumbing to all the bragging by its relatives at Thanksgiving dinner. Just as the "little guy" is getting in, the early "big money" is getting out. In fact, Litecoin founder Charlie Lee says he sold all of his holdings in the cryptocurrency. He cited a "conflict of interest" with him holding Litecoin and making public comments.
Related: What Will Be The Biggest Story For Bitcoin In 2018?
The Futures
With both major futures exchanges (Chicago Mercantile Exchange and Chicago Board of Options Exchange) up and running with products on bitcoin, the "big" money has come in as sellers, not buyers. In other words, at this time, the pent-up demand for hedge funds and institutions to enter the market has not come to fruition. However, that doesn't mean they will not emerge at much lower prices.
Listen to the broadcast and you can render your own opinion.
Goldman sums this week's action the best: "All the cryptos definitely got ahead of themselves in the last few weeks. This feels like a much warranted correction. The real test now is if they start to fill in the pullback or continue lower. The bottom line is this sector is volatile...and will always be volatile."
Graub echoes the same sentiment: "Welcome to Bitcoin-We are back to prices from less than 30 days ago. HODL means 'Hold on to Dear Life' and if you didn't participate in the FOMO (fear of missing out) over the past few weeks then you 'understand bitcoin.' If you bought then you got caught up in the FOMO. This is the dip I have been talking about for 30 days."
View Comments and Join the Discussion!
Posted-In: Cryptocurrency News Short Sellers Education Commodities Forex Events Top Stories Best of Benzinga