Market Sees More Than 50% Retracement After Geopolitical Tensions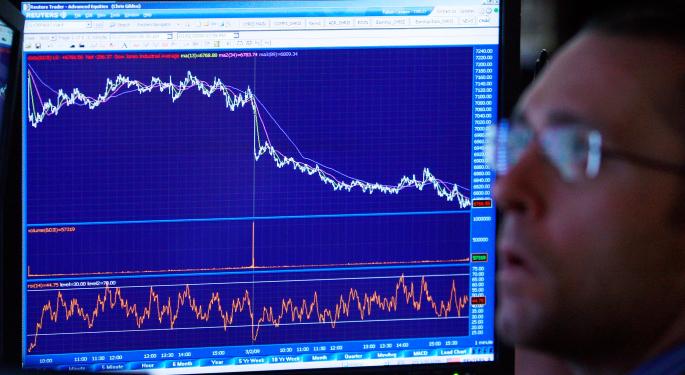 Since peaking on July 24 at 1985.75, the S&P 500 stock index futures swooned nearly 100 points before it bottomed at 1,890.25 during premarket trading on August 8.
Geopolitical concerns were the catalyst for the decline, as Russian troops amassed on the Ukraine border, with many pundits anticipating that an invasion was imminent.
Related: Options Traders Still Need To Watch Geopolitical Risk
When this failed to materialize and the troops supposedly retreated from the border, the market responded in kind with a furious 50-point rally that was capped at 1941.00 on Monday.
Geopolitical Tensions
In Tuesday's session the market was jittery, as Russian President Vladimir Putin announced that he was sending a convoy of humanitarian aid to eastern Ukraine despite warnings from western leaders, who are fearful that this move is a facade to get Russian troops into Ukraine to mount an invasion.
At this time, Ukranian officials have reported 45,000 Russian troops are stationed at the Russian border.
NATO still maintains that there is a "high probability" that Moscow will invade to support the final pro-Russian separatist stronghold remaining in the Ukraine.
Therefore, the reason for the furious two-day rally is no longer valid, since it was predicated on a Russian withdrawal from the Ukrainian border.
Large Retracement
The rally from the lows to Monday's high represents slightly more than a 50 percent retracement of the entire move, which stands at at 1938.00. This widely-followed technical indicator is used to test validity of large moves in just about any trading vehicle.
Related: 5 Reasons The Market Correction Is Long Overdue
The reason for this is that the markets do not usually go straight up or straight down. There comes a point where a market can become overbought or oversold. A sharp decline can also instigate shorts to cover profitable positions, and sharp rallies off lows provide traders an opportunity to lighten up on long positions or lay out some shorts.
That is exactly what took place in Tuesday's session. Traders that missed out on the selling opportunity on Monday are not being shy about selling today. So far, the index has not been able to reach Monday's high, as the premarket rally stalled just above the exact 50 percent retracement level of 1,938.00 at 1,938.75.
Now, as opposed to selling into strength, which is much easier, large funds and traders face the daunting task of selling into a declining market, which can be much more difficult -- especially with all of the elaborate high-frequency traders, who are quite adept at identifying large sellers in the market and stepping out in front of them, forcing them to sell at much lower prices than originally intended.
Sell The Pop
The geopolitical tensions have taken place during an earnings season where the overwhelmingly response to better than expected earnings was to "sell the pop." Many issues that released good numbers rallied to elevated levels during premarket or after-hours trading and were far above the levels reached during the regular session. In fact, several issues that showed huge gains after their initial announcements gave back all of their gains and ending up closing in the red.
The double whammy of geopolitical concerns and a decent earnings season that was greeted with more sellers than buyers on good reports has set the stage for a meaningful correction -- something this long-standing bull market has been able to avoid with only a few exceptions.
Keep in mind, the last 10 percent drop in the index was back in 2012. From May 1 to June 4, the index dropped 10.4 percent in 25 trading days. A similar decline from the index's high of 1,985.75 could bring the index down to 1,786.00. As the market is in its thirteenth day since making its all time high, it will be interesting to observe what the market has in store for investors over the next 12 trading sessions.
Posted-In: geopoliticalFutures Technicals Movers & Shakers Intraday Update Markets Trading Ideas General Best of Benzinga
View Comments and Join the Discussion!