Pot Stocks, ETFs, Top News And Data From The Cannabis Industry This Week
Finally, a week to take a breath. It's not that there was a lack of cannabis news; it's that none of it sent the markets into a whirlwind.
Los Angeles International Airport began allowing adults to travel with up to 1 ounce of flower and 8 grams of concentrates in their carry-on luggage. Travelers should be aware that federal law still prohibits possession of marijuana, and that the laws at their destination will apply as soon as they land.
In market-related news, shares of Tilray Inc (NASDAQ:TLRY) tumbled Tuesday, after beverage giant PepsiCo, Inc. (NASDAQ:PEP) put an end to speculation about a potential entry into the cannabis space.
"I think the difficulties in investing in that category, particularly in the U.S., where federally these things are still not legal, are quite a considerable challenge," PepsiCo Chief Financial Officer Hugh Johnston said on a company call. "So we look at everything, but [there are] certainly no plans at this point to do anything."
In more Tilray-related news, the company upsized a $400-million convertible note deal to $450 million in a private placement.
GW Pharmaceuticals PLC- ADR (NASDAQ:GWPH) said it was issuing 1.9 million ADSs in a bid to raise $300 million.
"Even though valuations have gone through the roof for some of these cannabis companies, that doesn't necessarily translate into cash in the bank," Green Market Report CEO Debra Borchardt told Benzinga.
"Those sky-high valuations do make it easier for them to do these deals to raise more money."
Marijuana Indexes & ETFs
The United States Marijuana Index, which tracks most of the largest marijuana stocks in the U.S., closed the week down roughly 1 percent, while the North American Marijuana Index, which includes Canadian stocks, lost 4.7 percent of its value.
Over the last five trading days, the Horizons Marijuana Life Sciences Index ETF (OTC:HMLSF) tumbled 3.8 percent, while the ETFMG Alternative Harvest ETF (NYSE:MJ) lost 3 percent. The SPDR S&P 500 ETF Trust (NYSE:SPY) closed the week down almost 1 percent.
Stock Moves
Marijuana stocks with market caps over $100 million that trade on U.S. exchanges performed as follows over the last five trading days:
In Other News
Agricultural biotech Front Range Biosciences announced that it closed on a $10-million Series A funding round and said this was the largest raise by a U.S. cannabis agricultural biotech company to date. With backing from new and returning investors, FRB will continue to build out its Clean Stock program in Colorado, California and Canada alongside the growth of its varietal development program, the company said.
"The cannabis and hemp industry has reached a key inflection point. We are seeing growth and scale equivalent to the fastest-growing technology investment sectors in Silicon Valley," said Ephraim Lindenbaum, a board member at Front Range and managing director of Advance Ventures.
"By combining biotech with advanced agriculture science, FRB's cutting-edge tissue culture technology has led to strong market leadership. We look forward to assisting the FRB team achieve its vision of improving the reliability and efficiency of these high-value crops for growers and consumers."
MedMen launched a new suite of cannabis products under the moniker [statemade]. Th brand was unveiled during the opening of MedMen​'​s Las Vegas store. The company said it intends to manufacture and sell [statemade] products beyond Nevada, with Arizona, California, Florida and New York next on the map.
"We are excited to introduce [statemade] as a response to our customer. Since 2010, we've had insight into what products sell, and now we are rolling out the first iteration in Nevada, a state that has progressive cannabis laws and opportunity for brands to reach a multinational population," Daniel Yi, MedMen's senior vice president of corporate communications, told Benzinga.
"We developed a premium line that would allow consumers to find a cannabis product offering their desired effect, whether it's for pleasure, enjoyment or health needs."
PRØHBTD announced the formation of a new business consultancy group, PRØworks, which will provide strategic guidance for mainstream companies seeking a foothold in the emerging cannabis space. PRØworks is led by Craig Binkley, a veteran senior executive of The Coca-Cola Co (NYSE:KO) and MDC Partners Inc (NASDAQ:MDCA). Additional senior hires were made to bolster the PRØHBTD ranks.
"Deepening our expertise and capabilities with executives from global brands to premium content is an important next step in our mission to lead cannabis from the black market to the supermarket," said PRØHBTD CEO Drake Sutton-Shearer.
A $40-million marijuana business park is set to open in Oakland County, Michigan, north of Detroit.
"The Oakland Business Park on Premier Drive will feature marijuana growers, processors, secure transporters and safety compliance tenants, developers say," according to The Detroit News.
Green Thumb Industries opened its newest dispensary in York County, Pennsylvania, a county that saw 162 drug deaths in 2017, the highest ever recorded — and about 30 percent higher than the 123 deaths in 2016.
This was a key factor in GTI's decision to open a dispensary. "Research shows that when marijuana is available legally, the rate of prescriptions for opioids decreases," a company representative told Benzinga. "Studies also found that overdose fatalities decrease in regions where legal marijuana is available, leading advocates to encourage marijuana policy reforms as part of an overall plan to battle the opioid crisis."
Adding to this point, GTI founder and CEO Ben Kovler said: "It's an exciting time as the RISE retail brand continues to expand at a rapid pace with new store openings … we are in hypergrowth mode as we build out our retail team and prepare to serve more consumers."
One Better Ventures announced a $2-million investment into media company Remedy Review. The company aims to provide evidence-based content that separates fact from fiction in the evolving natural health product category that covers cannabidiol, hemp-based products, essential oils and more.
"Whether related to anxiety, addiction, sleep, or pain, there's a lot of buzz around CBD as a natural remedy. Our goal is to help consumers separate fact from fiction. We want to protect people's health and their wallets in a space that's growing quicker than regulations can keep up," said Executive Editor Marc Lewis.
Cannabinoid company Boulder Botanical & Bioscience Laboratory recruited beverage industry veteran Vic Nastasia to serve as its executive vice president of sales.
Nastasia has an extensive background in the beverage industry working for companies such as Monster Beverage Corp (NASDAQ:MNST), National Beverage Corp. (NASDAQ:FIZZ), PepsiCo and Gallo Wine.
"Vic's decades of high-level experience at the forefront of the beverage industry will serve us well," said COO Maruchy Lachance. "Adding a team member with highly successful sales and national account leadership experience who's developed and led high-performance teams is exactly what we need as we accelerate growth and take our business model to the next level."
Growing Talent just launched a new social equity incubator in collaboration with cannabis compliance software developer Simplifya.
The equity incubator will provide a comprehensive curriculum comprised of videos, written coursework and other materials provided by law firm Vicente Sederberg. Most importantly, equity applicants will be trained on how to use Simplifya's compliance platform to mitigate risk.
"Risk mitigation has been our focal point. We're clearing the hurdles that social equity applicants face when they're looking to raise capital to launch their businesses. Our entire partnership with Simplifya and VS is designed to increase access to capital, and provide investment opportunities to people disproportionately impacted by the war on drugs," Growing Talent founder Rashaan Everett told Benzinga.
The new incubator is poised to expand to Oakland, San Francisco, Los Angeles, Massachusetts and Maryland this year.
CanopyBoulder, a seed-stage investment fund and business accelerator for ancillary companies in the legal cannabis industry, began its 10th cohort this week. The fall 2018 class is made up of 10 startups that include banking and regulatory platforms, web tools, agtech and consumer accessories and assistance. Check out the selected companies here.
"CanopyBoulder is committed to supporting the infrastructure behind the legal cannabis industry, and we feel confident that this cohort will provide the services and technology needed to continue this astronomical growth," said Patrick Rea, co-founder and Managing Director of CanopyBoulder.
"As the industry evolves, so does what we look for in potential startups. At this point in its life cycle, we know that consumer transparency and compliance navigation are top of mind, so our focus is helping these entrepreneurs fill the voids."
Wendy Robbins and Karen Paull, the creators and producers of Amazon.com, Inc. (NASDAQ: AMZN) Prime's "The Marijuana Show," launched a new joint venture, Club Hemp, with contestants from their third season.
"The U.S. Food and Drug Administration recently said that cannabidiol shouldn't be a controlled substance; we agree. Hemp oil has proven anti-inflammatory properties and binds to the body's cannabinoid receptors to create balance in the body and mind," Robbins said.
CBD's lack of psychoactive properties has led senior citizens, athletes and 100 million people in chronic pain to embrace the drug as a pharmaceutical alternative, she said.
"This market is huge and it needs education, which is why we are partnering with doctors, nurses, healers, teachers and parents to share recent information on the benefits, and we insure that our products are pure and lab-tested."
Phoenix Life Sciences International (OTC:MJMD) announced a new board of directors and executive team. "We have strategically selected these professionals based upon their ability to deliver and find creative solutions to help the company grow," said Chief Executive Officer of Phoenix Life Martin Tindall.
Executive team members include Tindall; Managing Director Janelle Marsden; Advisor and Director of Investment Stephen Conford; Corporate Strategy Advisor and Director Lewis "Spike" Hunter; and Chief Financial Officer Geoff Boyton.
Medical Marijuana Inc launched its first Canadian brand, Real Scientific Canada, throughout the country with product lines including its well-known Real Scientific Hemp Oil.
"Not only do we strive to grow as a company through international expansion but we also hope to aid the growth of the global cannabis market," said Medical Marijuana, Inc. Chief Executive Officer Dr. Stuart Titus. "We recognize our customers' ever-growing needs and we aim to meet them in this new legal recreational market in Canada."
There's a new beer and cannabis partnership, but this one's not about beverages — at least for now.
The Flowr Corporation announced a partnership with Ace Hill to launch a new recreational cannabis brand: Ace Valley. The brand will feature two strains of cannabis grown by Flowr and emphasize pre-rolls. Products hit the shelves in Ontario and British Columbia Oct. 17.
Flowr Chairman Steve Klein said: "We don't see the need to wait for a beverage market to tap into the expertise and customer relationships that a successful beer company like Ace Hill has developed."
Ace Hill and Ace Valley co-founder and CEO said his companies are leveraging their understanding of quality, consistency and curation.
"Flowr provides world-class quality and consistency, and our team has worked to curate two flagship strains: Ace Valley Sativa, a moderate THC strain, and Ace Valley CBD, a well-balanced, high-CBD strain," he said.
Canaccord Genuity raised its price target for Khiron Life Sciences Corp (OTC:KHRNF)'s Canada-traded stock from the U.S. dollar equivalent of $1.31 to $2.60 following the announcement of a strategic partnership with the Daya Foundation in Chile, along with distribution channels for its Kuida cosmeceuticals line.
"We have updated our estimates to reflect an entry into Chile and accelerated near-term Kuida sales," the sell-side firm said.
The CBD recommendation application StrainConnect announced it has launched the beta version of its new app.
StrainConnect is a consumer resource that connects individual patient profiles with cannabis product lab results to provide unbiased, user-specific product recommendations. StrainConnect will initially focus on CBD recommendations across the U.S. during the private beta and will begin THC recommendations in California in the coming months. Users can register for the beta at the company's website.
And finally, iHeartMedia Inc (OTC:IHRTQ) reportedly inked an agreement with High Times Holding Corp. According to the deal, the radio broadcasting company will provide up to $10 million in advertising inventory in exchange for a 5-percent stake in High Times.
Find out more about this news, more on MedMen, Dixie Brands, Innovative Industrial Properties Inc (NYSE:IIPR), Cannex Capital Holdings Inc (OTC:CNXXF) and Aleafia Health Inc (OTC:ALEAF) with our friends at Marijuana Money, who produce a weekly video summary of the top financial and business news in the cannabis industry.
More From Benzinga's Cannabis Newsdesk
Over the week, Benzinga's cannabis newsdesk also reported on:
New Frontier Data's take on energy costs for cannabis cultivation and how this compares to energy usage for beer production. In addition, the firm shared a look into leading public hemp companies.
The story of Greg Rovner and his app Heally.
Jim Cramer's view of Constellation Brands, Inc. (NYSE:STZ) and Jefferies' take on the company.
Youngevity International (NASDAQ:YGYI)'s foray into the CBD beverages world.
What Jeff Siegel of Green Chip Stocks and Benzinga thinks about smaller cannabis stocks and the potential impact of the expansion of the cannabis-infused beverage market.
The rise of India Globalization Capital, Inc. (NYSE:IGC).
And "10 Of The Richest Cannabis Millionaires — And How They Made Their Money."
Interesting Data
Digital marketing and advertising agency 420MEDIA broke new ground this week. For the first time, cannabis education commercials hit mainstream television.
The agency launched a media blitz campaign for the upcoming cannabis online TV network, Hmm Did You Know (HDYK) by airing a number of 30-second commercial spots during primetime programming on BRAVO, Discovery and the History Channel in the greater Los Angeles market. The spots featured Senator Positive T.A. Nelson, a seven-term senator from the island of St. Croix, discussing the science and economic power of medical cannabis.
According to a new report out of BDS Analytics and ArcView Market Research, the growth of the cannabis concentrates market is expected to outpace that of flower sales and hit $2.9 billion in 2018 and $8.5 billion in retail sales by 2022.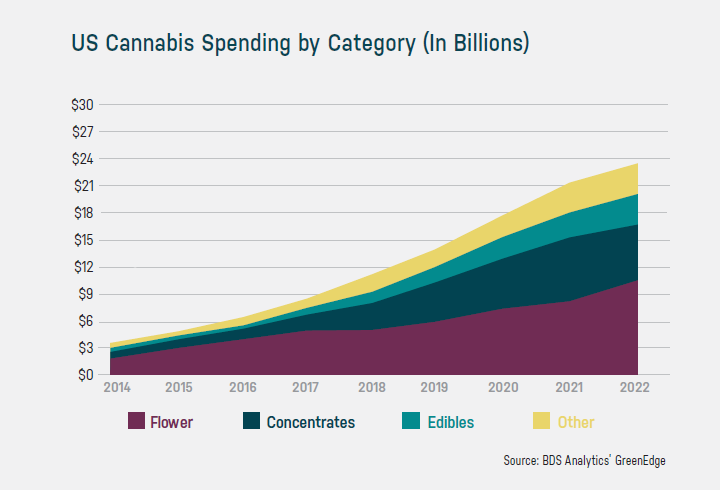 Events Calendar
Oct. 2-13: CannaCraft, the makers of California cannabis brands AbsoluteXtracts, Care By Design and Satori Chocolates, is touring with HeadCount's Cannabis Voter Project and the band Lettuce.
The tour covers eight states where the group is establishing activations at concerts to register voters and educate them on cannabis-related initiatives in each state.
"CannaCraft is touring with the HeadCount to empower voters by helping to keep them informed about cannabis ballot initiatives. For a lot of people, cannabis is something that is talked about or consumed behind closed doors, but that is quickly changing. People have questions and opinions and we're here to help facilitate that conversation," said Jennifer Glickman, CannaCraft's director of corporate social responsibility.
Oct. 5: Passport Cannabis, Sanja Ganja and Dustin Brandon hold their fifth event of the year in Portland, Oregon: the Industry Nite IV Halloweed. Put on a costume and celebrate with over 500 local cannabis enthusiasts and industry folk: farms, dispensaries, edibles, glass, clothing, fashion and more!
Oct. 11: the United Nations NGO Committee on the Rights of Indigenous Peoples will present a Conference in Health Challenges of Indigenous Peoples at New York's Salvation Army International Social Justice Commission, 221 East 52nd St., New York, NY. Topics include physical and mental health; climate change; high suicide, drug and alcohol abuse rates; political strains; and loss of biodiversity. Presenters include Dr. Josephine Tan, Rashmi Jaipal and Rafael Latorre M.D.
Oct. 11: Leafwire hosts its fourth Future of Cannabis Pitch Contest as part of the New West Summit in Oakland, California, following stops in Denver, Los Angeles and Miami. The contest has a $10,000 cash prize and judges include include Emily Paxhia of Poseidon Asset Management and Tahira Rehmahtullah of Hypur Ventures.
Oct. 11-13: The New West Summit, a conference focused on "game-changing, disruptive developments in technology, science, media and investment within the cannabis space," hits Oakland, California. Speakers include Weediquette's Krishna Andavolu, Slow Ventures' Dave Morin, Berner the rapper, Steve DeAngelo and Ricardo Baca.
Oct. 19-21: The Initiative presents Hustle Hard: A Cannabis Friendly Retreat For Women Who Mean Business, a three-day intensive retreat for women in cannabis in Bend, Oregon.
Oct. 25-26: Enlighten, the first full-scale enterprise technology solution in the cannabis space, will partner with Lemonhaze for the The Lemonhaze Cannabis & Comedy Convention at the Tacoma Dome. This event hopes to be for Cannabis what SXSW has been for technology, pairing innovation and a hub of influence with fun and education. The event features comedy by headliner Doug Benson and combines a major networking event for the cannabis industry together with performances from some the world's most recognized entertainers.
Oct. 30-31: Michigan is hosting its first Commercial Cannabis Conference & Expo. This inaugural year celebrates Michigan's first in a commercial framework and supports the celebrating its first year in a commercial framework and supporting the upcoming Nov. 6 recreational legalization vote. Collectively, the state cannabis community is taking a stand for a healthy and strong cannabis industry in Michigan. Sponsorship, booths and tickets are available.
Nov. 1: The Arcview Group, CannaTech and URI Capital Management are co-hosting Hong Kong's first-ever Cannabis Investor Symposium, focused on the global investment opportunity, with an emphasis on those attractive to the Asian market.
Keynote and panel discussions include: Cannabis and China, The Cannabis Value Chain, Market Insights: Australasia, Public and Private Investment Opportunities, Risks and Regulations, World Cannabis Policy and more.
Picture by Javier Hasse.
© 2020 Benzinga.com. Benzinga does not provide investment advice. All rights reserved.
---