Benzinga Market Primer: Thursday, September 5: G20 Summit Underway, Syria Likely To Overshadow Economics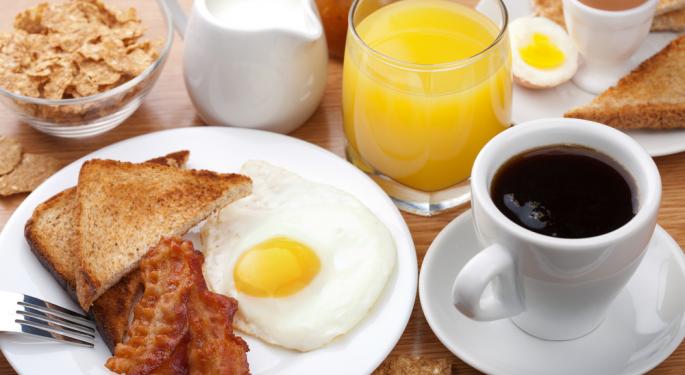 A G20 Summit hosted by Vladimir Putin in Russia will get underway on Thursday, although the global economy is not likely to be at the top of the agenda.
US President Barack Obama received congressional approval to carry out limited military strikes in Syria, but has yet to convince his international peers to get on board. Obama is expected to try to convince Putin of the necessity for punitive strikes, and despite Russia's ties with Syria, the Russian President claims he hasn't ruled out the use of military force.
In other news around the markets:
Nasdaq suffered yet another technical glitch on Wednesday, this time just before a meeting to discuss the three hour outage that took place last month. Wednesday's outage was less severe than last month's; the main data feed failed, causing Nasdaq listed stocks to grind to a halt.
Aside from the Syria issue, international leaders are also expected to focus on the US Fed tapering and its effect on world markets. China's Vice Finance Minister Zhu Guangyao warned that the pull back in stimulus was causing capital flight and currency depreciation. He said that the global impact of the Fed tapering highlights the need for further economic policy coordination.
The Reserve Bank of India's new Governor Raghuram Rajan inspired confidence after unveiling his plans to help boost the rupee on Wednesday. Rajan plans to give importers and exporters more flexibility with forward currency contracts that will help them better cope with rapidly moving currencies. The rupee soared 2.3 percent higher after Rajan's announcement.
At its monthly meeting, the Bank of Japan met expectations and agreed to keep its current monetary policy unchanged. The bank released a statement following the meeting with a revised, more positive view of the nation's economy, saying the Japanese economy is "recovering moderately".
Asian markets were mixed, the Japanese NIKKEI index was rose just 0.08 percent and the South Korean KOSPI was up 0.96 percent. China's Shanghai composite was down 0.24 percent but the Hang Seng index was up 1.22 percent.
European Markets
European markets were up across the board ahead of the ECB meeting and the G20 Summit. The eurozone's STOXX 600 was up 0.55 percent and the UK's FTSE was up 0.68 percent. Italy's MIB had the largest gains with a 0.82 percent increase and the Spanish IBEX climbed 0.58 percent.

Energy futures remained elevated on worries about supply interruptions. Brent futures and WTI futures were up 0.18 percent and 0.11 percent respectively. Gold was down 0.24 percent to $1,386.70 per ounce and silver lost 0.23 percent. Tin gained 1.39 percent and Aluminum lost 1.78 percent.
The new RBI governor's plans helped the rupee gain 1.51 percent against the dollar, but the dollar remained strong against the yen, which lost 0.16 percent and climbed to 99.91 yen to the dollar. The euro was down 0.22 percent against the greenback and the pound lost 0.20 percent against the dollar.
Earnings Reported Yesterday
Notable companies that reported earnings on Wednesday included:
CIENA Corporation (NASDAQ: CIEN) reported third quarter EPS of $0.23 on revenue of $538.40 million, beating expectations of EPS of $0.16 on revenue of $532.28 million.
Dollar General Corporation (NYSE: DG) reported second quarter EPS of $0.75 on revenue of 4.39 billion, beating expectations of EPS of $0.75 on revenue of $4.36 billion.
Navistar International (NYSE: NAV) reported a third quarter loss of $2.94 per share on revenue of $2.86 billion, compared to expectations of a loss of $1.30 per share on revenue of $2.92 billion.
Stocks moving in the pre-market included:
Salesforce.com, Inc. (NYSE: CRM) gained 0.72 percent in pre-market trade after positive earnings helped the stock jump 12.5 percent last week.
United States Steel Corp (NYSE: X) was up 0.71 percent in pre-market trade after reports that the company had reached a labor agreement with the United Steelworkers union.
Monsanto Co (NYSE: MON) gained 0.10 percent in pre-market trade after gaining 1.2 percent on Wednesday.
Notable companies expected to report earnings on Thursday include:
Finisar Corporation (NASDAQ: FNSR) is expected to report first quarter EPS of $0.31 on revenue of $266.04 million, compared to last year's EPS of $0.12 on revenue of $220.53 million.
UTi Worldwide Inc. (NASDAQ: UTIW) is expected to report second quarter EPS of $0.14 on revenue of $1.15 billion, compared to last year's EPS of $0.20 on revenue of $1.16 billion.
Verifone Systems, Inc. (NYSE: PAY) is expected to report third quarter earnings of $0.49 on revenue of $9.66 billion, compared to last year's EPS of $0.73 on revenue of $9.35 billion.
Economics
The economic calendar on Thursday will be dominated by reports from the US including, crude oil and gasoline inventories, factory orders, continuing and initial jobless claims and the ADP national employment report. Elsewhere in the world we will see the BOE and the ECB's interest rate decisions, the French unemployment rate and German factory orders.
Good luck and happy trading!
For a recap of Tuesday's market action, click here.
Tune into Benzinga's pre-market info show with Dennis Dick and Joel Elconin here.
View Comments and Join the Discussion!
Posted-In: Earnings News Eurozone Futures Commodities Events Global Econ #s Best of Benzinga