The Company With A Special Seat Between The Private Sector And Feds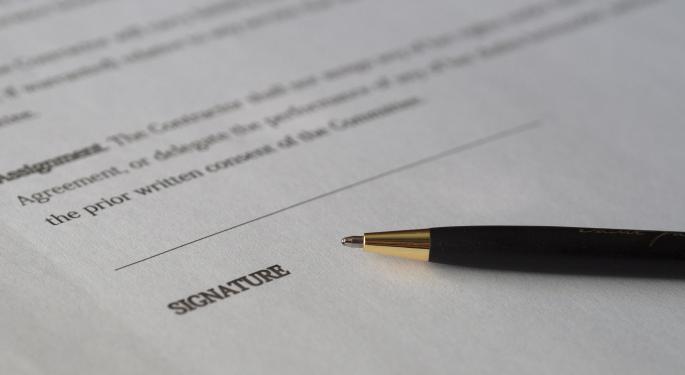 The Trump administration has given private contractors a slew of new opportunities with a higher defense budget, detention centers, the promise of infrastructure construction and an immigration crackdown.
By Robert Berman's count, about 500,000 prospective contractors compete for GSA schedules or one of the thousands of federal RPs announced daily.
"The majority of those are small, they're companies that are doing less than $100 million a year in revenue and when you get to a certain size and revenue, you really can't afford all the infrastructure that you need to maintain compliance doing business with the government, because it's very complex," said Berman, CEO of Novume Solutions Inc (NASDAQ: NVMM).
In that niche marketplace, Novume found an opportunity.
Novume's Niche
Novume isn't involved in lobbying, but comes on the scene after Congress has appropriated funds and agencies have decided their spending.
"Where we start is where the politics end," Berman said.
The holding company helps federal contractors, including 87 of the top 100, win and execute contracts, navigate security clearance, run back-end services and manage risk.
Its "Capture" service, in particular, consults with government agencies and contracting officers on best approaches to execute a project on a particular budget and which contracted team could provide the best solutions.
"We use our ability in understanding the federal market to see if we could introduce that [contractor's product] into the system, which is interesting because it's a bit opportunistic in a way, but it gives us a little bit more upside from more service offerings."
The Effects Of Fiscal Policy
Novume's subsidiaries provide human and infrastructure resources for service solutions spanning public safety to crisis management, and they adapt to the different demands of different government eras.
Today, Firestorm is responding to the spotlighted threat of school violence, while Brekford Traffic Safety is reacting to tech advancements by automating law enforcement.
Because of its position, Novume is intimately aware of how government priorities affect the private sector. From where it stands, though, budgetary decisions are of greater significance than any policy decisions.
Last year's $300-billion omnibus spending bill had "huge impact," particularly on contractors for defense, health and human services, Berman said: "This market's on fire right now from that."
Delays in government budget decisions, whether by sequester or shutdown, also affect his clients, although not necessarily Novume itself.
"It might impact the contractors because maybe their pipeline shrinks a little bit or maybe something they were counting on winning doesn't happen, but in our business, they still have to operate," Berman said. "They're still running the contracts that they have and they're not going to shut those down. They still have to perform, so we don't really get impacted by the volatility that you see when those types of things happen."
Generally, spending consistency keeps Novume safe from policy volatility.
"The politics really don't interfere with the business at hand because the government pretty steadily spends the same amount of money every year," Berman said.
Policy Volatility
Novume has also remained generally unaffected by the types of policies jolting U.S. companies, including government contractors. Novume isn't flinching at tariffs and heightened border protection — even as its clients are.
One area of impact, though, is the push toward infrastructure privatization.
"We can see a lot of the larger companies in our clients that play into that space, big engineering firms and construction companies and systems integrators, are starting to gear themselves up in a way to position themselves to be able to play a role in that space if that in fact materializes," Berman said.
The Trump administration's recent focus on defense is also skewing Novume's project mix, generating an increase in demand for defense personnel and driving business in Novume's specialty staffing, aerospace and aviation segments.
The Greatest Government Impact
What's seen to be more disruptive for Novume is a cultural shift occurring in Washington.
By Berman's assessment, the government's a good bargain shopper.
"They've got the buying process down to a level where they're efficient with the services and goods that they acquire, and they've got it to the point where the pricing is very reasonable and they're getting good value for the dollar that they spend," he said.
Technology is the exception. That's because by the end of the protracted procurement processes, from request to approval to contract award, technology has already changed or been obviated by advancements.
"There's this constant trying to play catch-up with the rest of the world," Berman said.
And the cultural divide between Washington and Silicon Valley doesn't help.
"You might see an engineer walking around the office in shorts and a T-shirt and flip flops, and that culture doesn't exactly work well, let's say, in the Pentagon," he said. "Unfortunately that's created a gaping hole between having the best technology, the most advanced solutions at the right time and the right place for government, and I think what we see now is the government reaching across, extending an olive branch out to the tech world."
As Berman sees it, the government is opening its door to solutions outside the traditional federal market, and that's creating opportunity for new contractors. This shift could be a catalyst for Novume and particularly its enterprise initiative in the near term.
"There's starting to be a bridge that's building between that culture and these agencies and the way they source technology," Berman said. "That's a great opportunity for us."
Related Links:
Analyst: ICE Arrests Should Continue Through Trump Presidency, Boost Private Prisons
Posted-In: government contractors infrastructureGovernment Education Top Stories Exclusives Interview General Best of Benzinga
View Comments and Join the Discussion!