What Defense Firms Spend On Lobbying To Influence Trump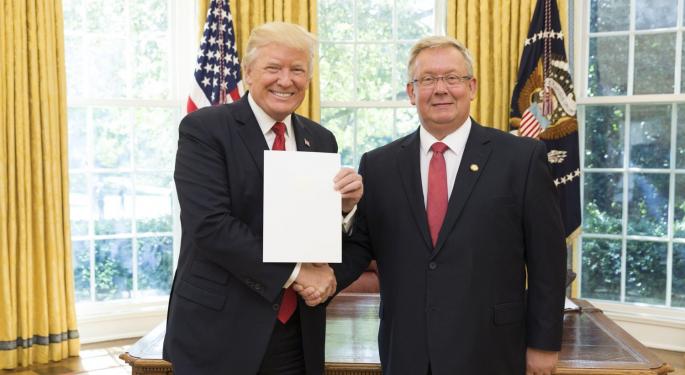 Actually, not much. At least, not as much as they'd spent under other presidents or other diplomatic circumstances.
Since the start of his term, President Donald Trump has authorized the deployment of the "Mother of All Bombs," called to increase military presence in Afghanistan and provoked a number of unyielding enemies, including North Korea.
Policy has largely proven positive for defense stocks. Military action means demand for military equipment, which means sales for government contractors.
As expected, the defense sector has seen significant gains so far under Trump, with Fidelity Select Defense & Aerospace Portfolio (MUTF: FSDAX) rising 19.7 percent year to date compared to 8.1 percent the same period last year.
Not only has the climate bolstered earnings, but it's also prevented extraneous expenses on lobbying. With a favorable state of international relations and multiple industry leaders representing interests on Trump's now-defunct manufacturing council, companies have not had to pay as much to pressure policy.
Eight months into 2017, the defense sector spent a mere $64,564,985 on lobbying, according to The Center for Responsive Politics. By comparison, all of 2016 saw spending of $128.6 million, and that was the lowest annual figure since 2008. This year's sum is on pace to be the lowest since 2004.
Defense Firms And Lobbying
Here are the top 10 defense firms investing in lobbying:
1. Boeing Co (NYSE: BA): $8.75 million
With CEO Dennis Muilenburg on Trump's manufacturing council, the company was well positioned to influence policy. Still, it's had to make an effort to get back on the president's good side after struggling early on to meet his price demands.
2. Lockheed Martin Corporation (NYSE: LMT): $7.43 million
CEO Marillyn Hewson also sat on the manufacturing council. Historically the U.S. government's No. 1 contractor, Lockheed Martin has secured a number of multimillion-dollar deals this year, including some for army training programs, missiles and jets.
Related Link: Is Trump's Foreign Policy Belligerence A Diversion From A Stalled Agenda?
3. Northrop Grumman Corporation (NYSE: NOC): $6.82 million
The company is particularly exposed to drone policy and aircraft spending.
4. General Dynamics Corporation (NYSE: GD): $5.79 million
Analysts foresee the firm's Gulfstream Aerospace Corporation subsidiary suffering increased competition for contracts in the coming years. So far in 2017, it's seized a number of bids from various military branches and the U.S. Geological Survey.
5. United Technologies Corporation (NYSE: UTX): $5.38 million
CEO Greg Hayes served on Trump's manufacturing council. The company not only has an interest in securing contracts but also in gaining regulatory approval for a potential takeover of Rockwell Collins, Inc. (NYSE: COL).
6. Raytheon Company (NYSE: RTN): $3.04 million
7. Huntington Ingalls Industries Inc (NYSE: HII): $2.71 million
8. BAE Systems: $1.78 million
9. Orbital ATK Inc (NYSE: OA): $1.26 million
10. Harris Corporation (NYSE: HRS): $1.14 million
Related Link: How The US, China And Russia Are Moving Toward Weaponizing Artificial Intelligence
________
Image Credit: By Estonian Foreign Ministry [CC BY 2.0 (http://creativecommons.org/licenses/by/2.0)], via Wikimedia Commons
View Comments and Join the Discussion!
Posted-In: Center for Responsive Politics defense defense industryEducation Futures Politics Markets General Best of Benzinga