The Companies Celebrating, Lamenting Trump's Slackened Immigration Policy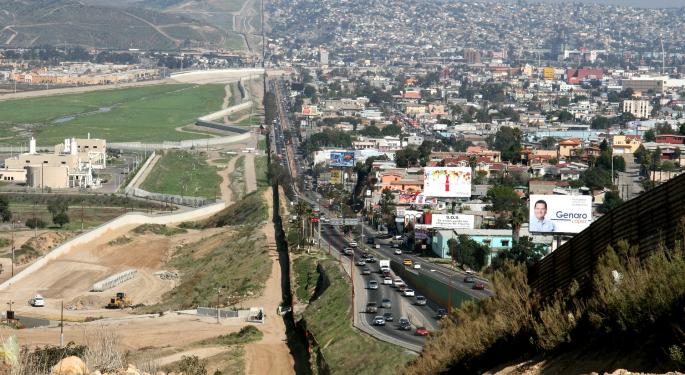 While reiterating his zero-tolerance policy, President Donald Trump signed an executive order Wednesday to detain immigrant families together and give them precedence in immigration proceedings.
The decision came not a moment too soon. Earlier policies separating children from their parents had begun to pique key government contractors and draw condemnation from business leaders.
"We bring families together, not apart," American Airlines Group Inc (NASDAQ: AAL) said in a Wednesday statement.
The airline declined any role in executing former U.S. immigration policy through its federal contracts.
"We have therefore requested the federal government to immediately refrain from using American for the purpose of transporting children who have been separated from their families due to the current immigration policy," the airline said in a Wednesday statement. "We have no desires to be associated with separating families, or worse, to profit from it."
Microsoft, Tesla Among Companies Taking A Stand
Microsoft Corporation (NASDAQ: MSFT) employees similarly protested their company's involvement in Immigration and Customs Enforcement work Tuesday.
In response to the internal movement, which called for cancellation of ICE contracts, CEO Satya Nadella told employees the immigration policy was "cruel and abusive" and Microsoft was not involved in projects separating families.
Tesla Inc (NASDAQ: TSLA) CEO Elon Musk, Alphabet Inc (NASDAQ: GOOGL) (NASDAQ: GOOG) CEO Sundar Pichai, Uber CEO Dara Khosrowshahi and Cisco Systems, Inc. (NASDAQ: CSCO) CEO Chuck Robbins also spoke out against the policy, and Facebook, Inc. (NASDAQ: FB) CEO Mark Zuckerberg donated to a resistance effort.
So far, though, American Airlines has been the only company to acknowledge its potential role in policy execution and take public measures not to capitalize on related federal contracts.
Shelter Operators Benefit
The multimillion-dollar aggregate opportunity bolsters private businesses, including Comprehensive Health Services Inc. and Dynamic Service Solutions, which run shelters for unaccompanied children.
General Dynamics Corporation (NYSE: GD) has also been found to directly aid in the refugee resettlement.
Some suspect Amazon.com, Inc. (NASDAQ: AMZN) could also be profiting through the sale of Rekognition facial recognition software to government entities.
Related Links:
Immigration Appears Stalled In Congress: What Now?
Immigrants Will Continue To Play A Major Role In The U.S. Workforce, According To Pew Research Data
View Comments and Join the Discussion!
Posted-In: Donald Trump immigrationGovernment News Politics Top Stories General Best of Benzinga