5 Misguided Valentine's Day Gifts For Stock Traders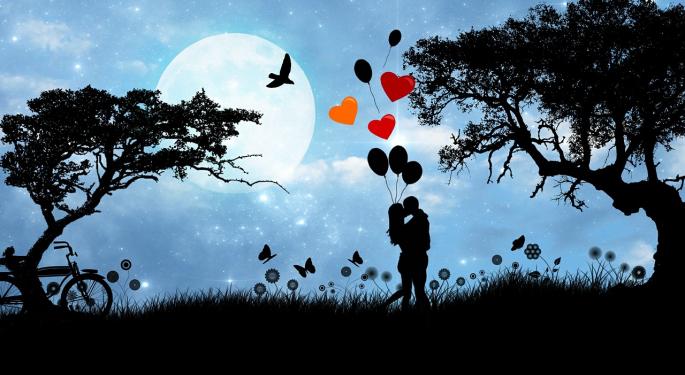 Attention traders: TDAmeritrade and thinkorswim have presented a list of the top five misguided Valentine's Day gifts, courtesy of Nicole Sherrod.
1. "Letting her take the other side of your trades."
Are you long Apple Inc. (NASDAQ: AAPL) at a time when the stock is flirting with an all-time high and all three of the major indices are trading in the green?
Perhaps a short trade in Apple isn't the best of ideas at this time. After all, one of the most basic rules of trading is the "trend is your friend."
And the trend on Apple is nothing but up...for now.
2. "Candlelit tutorial on TOS Analyze page"
Many couples will celebrate Valentine's Day cuddling on the couch with a bottle of wine, takeout sushi and Netflix, Inc. (NASDAQ: NFLX).
But for those looking to spice things up a bit, why not brush up on some videos explaining thinkorswim's Analyze tab?
3. "Promise that this month, really, you'll move out of your mother's house"
Not that there's anything wrong with living with your parents these days, but maybe Tuesday is a special day to make that promise. You don't have to specify the when aspect of moving out -- just promise to do it.
Related Link: How To Stop Living Paycheck To Paycheck
4. "Offer to monitor positions if she goes back to the gym."
No explanation needed.
5. "Love poems using bad option metaphors"
Here is a good Valentine's Day card idea:
"In my eyes you are more attractive than my deep in the money $50 call option on NVIDIA Corporation (NASDAQ: NVDA) that was bought over a year ago when few investors heard of the company."
Note: Some of these aren't the best of ideas. Proceed with caution.
View Comments and Join the Discussion!
Posted-In: Nicole Sherrod TDAmeritrade thinkorswim Valentine's DayPsychology Opinion Trading Ideas General Best of Benzinga