How to Protect Your Retirement Plans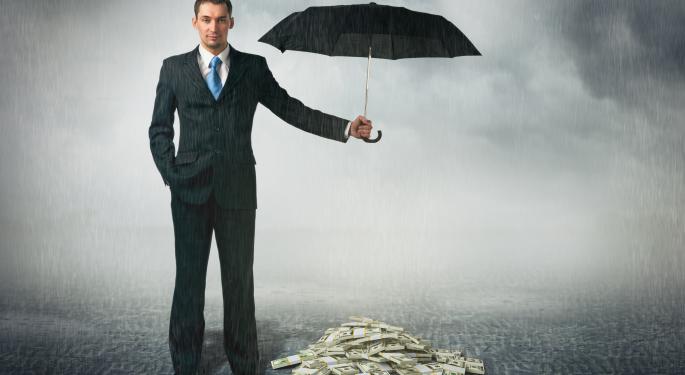 Managed properly, retirement plans enhance wealth due to the power of compound interest. Ideally, the beneficiary saves enough money to live comfortably during retirement without having to worry about outliving his savings. Yet, the very stock market he relies on to grow his wealth also poses the risk of losing some or all of his hard-earned retirement wealth.
How can you protect your retirement plans?
Diversify
Imagine some unfortunately soul who invested his entire $500,000 savings into Affymax (OTC: AFFY) on February 22. On February 25, he would have lost over $425,000 due to the firm's recall of its core product. Today, he'd have less than $32,000 – just over six percent of the assets he held four months ago.
While extreme, the above can happen to any stock if its issuer experiences a severe problem. As such, it is important to diversify one's assets to reduce exposure to a catastrophic loss.
Diversification can be accomplished by spreading retirement savings across multiple asset categories. Doing so limits the risk of a catastrophic loss because, under a given economic condition, certain categories tend to benefit while others suffer.
Invest More Conservatively as Retirement Nears
As a general rule of thumb, younger investors should pump their retirement savings into aggressive investments. For example, a college grad opening his first 401(k) would want to select mostly stocks.
However, as he ages, the same investor should gradually move his assets into more conservative selections. For instance, his portfolio may be allocated according to the following percentages at various ages:
Age 25: stocks (100%)
Age 35: stocks (80%), bonds (15%), cash (5%)
Age 45: stocks (60%), bonds (30%), cash (10%)
Age 55: stocks (35%), bonds (35%), cash (30 %)
Age 65: stocks (20%), bonds (50 %), cash (30%)
As demonstrated, he'd gradually move away from stocks in favor of bonds and cash as he ages to develop a more conservative portfolio and reduce risk. While doing so would lessen his exposure to market upswings and thus reduce his potential returns, he'd be less likely to lose enough money to jeopardize his retirement plans.
The Bottom Line
By diversifying your assets and investing more conservatively as you age, you'll protect your assets from severe losses while participating in the financial gains of the market. However, doing so, while simple in concept, is often challenge for a novice investor. With this in mind, seek advice from a financial professional if you are not confident in your abilities to select the appropriate investments to manage market risk.
Posted-In: retirement retirement fundPsychology Topics Personal Finance General Best of Benzinga
View Comments and Join the Discussion!