Project Green Light: In Detroit, Cameras — And Comcast — Are Helping Bring Crime Down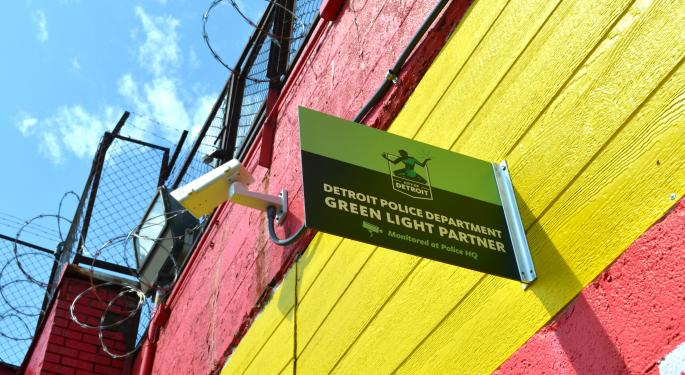 At Grocer Farm Market, the liquor store Harry Nisso manages on a tough block of 2nd Avenue in Detroit, some customers have asked for the removal of high-definition cameras installed just six months ago through the city's Project Green Light program.
Why?
"They want to sell drugs around here," Nisso said.
When businesses sign up with Project Green Light — 184 of them have done so since its Jan. 11, 2016, launch — cameras are installed and then monitored 24 hours a day at police headquarters. A flashing green light is mounted on the exterior of the gas stations, liquor stores, fast-food restaurants and other businesses that participate, and their lighting is upgraded.
While Nisso said the placement of Project Green Light cameras hasn't helped him with combating theft, he estimates that drug dealing outside the store where he works is down about 70 percent.
One-quarter of violent crimes in Detroit occur around establishments open after 10 p.m., according to the city.
The pilot for Project Green Light was launched with eight partner gas stations. Since then, the city has reported a 40-percent reduction in violent crime at the initial eight participating stations.
High-profile arrests have been made, including a woman who was charged after Project Green Light cameras captured her in 1080p firing a handgun into a car at a Mobil station on the city's West Side.
The impact of Project Green Light in a city with a persistent crime problem has grabbed the attention of other cities seeking innovative ways to improve safety.
"It gives an overall perception of safety, and the reality is that it's safer also," Deputy Police Chief Todd Bettison told Benzinga. "When you have those two things in alignment, then you're really doing something."
The businesses marked by flashing green lights act as both crime deterrent and safe haven, Bettison said.
Earlier this month, a 23-year-old woman drove to a nearby Project Green Light gas station seeking help after being shot in the back.
Officials in Houston and Atlanta have both contacted Detroit police with interest in Project Green Light, said Mallak Beydoun, the city's lead for the program.
After Stockton, California, suffered four homicides in as many days earlier this month, the city's mayor said Project Green Light was one route he was considering to push back against violent crime.
Detroit police and city officials are reportedly working on an ordinance that would require businesses in the city that serve customers after 10 p.m. to join Project Green Light, which is a voluntary program as of now.
The move could face legal challenges, University of Detroit law professor Larry Dubin told the Detroit News.
Deputy Chief Bettison said a proposed ordinance hasn't been finalized.
"We've looked at it, but we're not there yet."
Removing A Financial Barrier
For Detroit liquor store owner Remy Toye, cost is what was stopping her from joining Project Green Light.
Businesses pay between $4,000 and $6,000 upfront to join, covering the cost of cameras, lighting and installation, and they must also upgrade their internet service to the high speeds necessary to transmit video in real time to the Detroit Police Department.
"We always had drug dealers" hanging out, Toye said of her store, Caesar Palace Liquor. "By the time the police came, they would disappear," only to reappear as soon as police left.
Dealers scare away customers at the McNichols Road business and only purchased beer and liquor, Toye said. She recalls seeing dealers bully elderly customers in the parking lot.
"We've had this problem [for] four years. I know every single one of them. They don't use real names."
Enter Comcast Corporation (NASDAQ: CMCSA). Nine months after Project Green Light launched, the cable provider began offering a payment plan for the program: $1,000 up front with $140 monthly payments to cover digital storage and the lease of cameras.
Comcast was in the process of launching SmartOffice, a camera surveillance solution for businesses, when it partnered with the city on Project Green Light, said spokeswoman Michelle Gilbert.
"The startup cost of purchasing high-definition cameras was limiting to many small businesses," Gilbert told Benzinga. "[The payment plan] eliminated that barrier."
Payment plans are also offered through another Project Green Light partner, Rocket Fiber, a Detroit-based fiber-optic internet provider that's part of the Quicken Loans and Rock Ventures Family of Companies, according to the city.
Back on McNichols Road, Caesar Palace Liquor signed up with Project Green Light and makes a monthly lease payment. The cameras have been "like heaven," Toye said, driving away loitering dealers.
"We are here to make money and work with people, not to make dealers work."
Police stop by the store daily and sign a log to record their visit, she said. More than 17,000 such visits have been made to Project Green Light businesses, according to the city.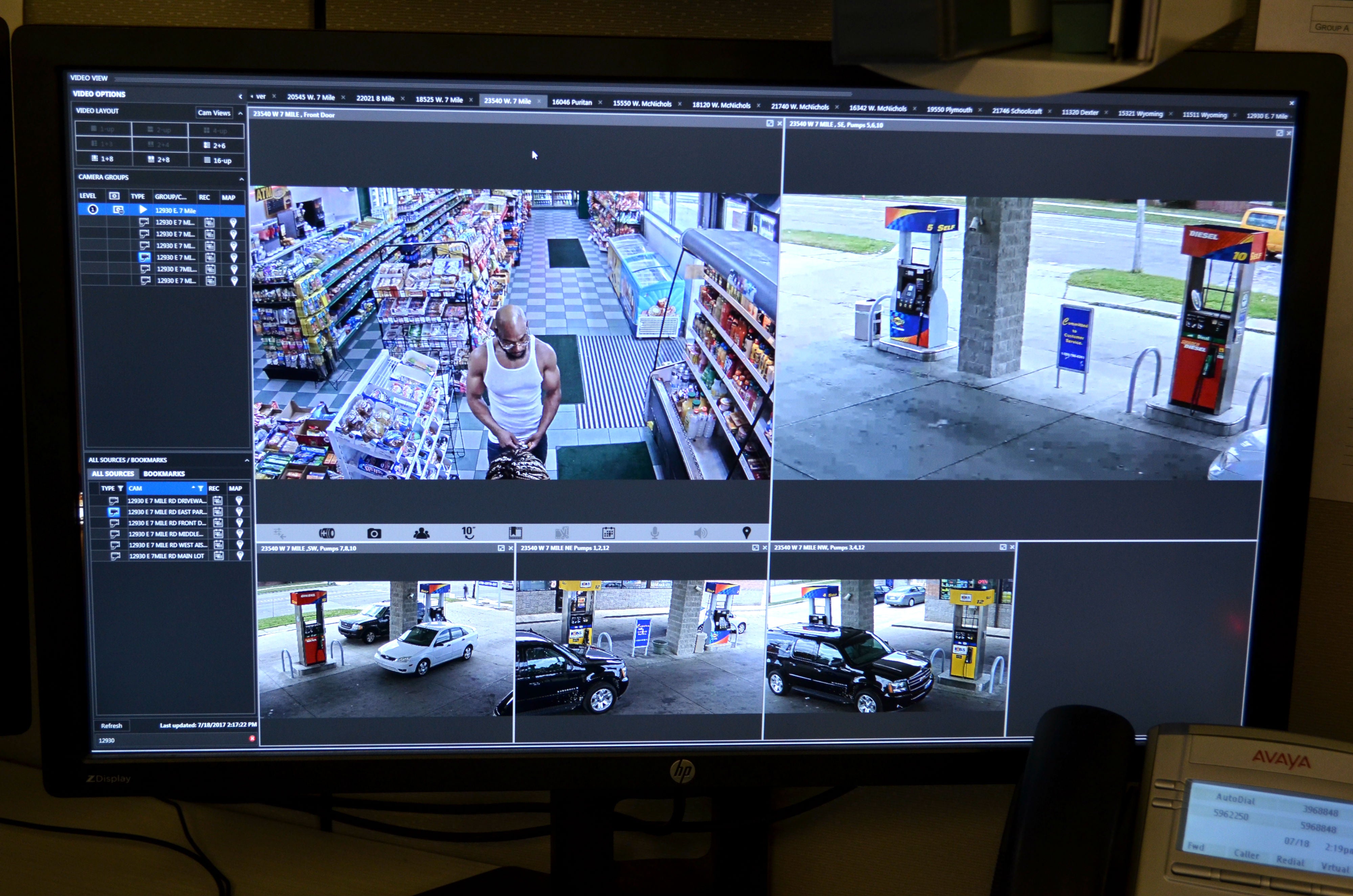 A monitor at the Real-Time Crime Center at Detroit Public Safety Headquarters. Footage from Project Green Light businesses is reviewed 24 hours a day. Photo by Dustin Blitchok.
Priority One
The Real-Time Crime Center at Detroit Public Safety Headquarters is divvied up much like the city itself, with one side of the center monitoring the east side, and the other half watching the west side.
Analysts monitoring Project Green Light cameras throughout Detroit's 12 police precincts cycle through the participating businesses every 5–10 minutes.
"We've caught everything ranging from shootings, carjackings, narcotics in progress, some assaults, thefts, car thefts — you name it," said Capt. John Svec of the Detroit Police Department's crime intelligence unit, referring to Project Green Light.
Police are averaging 16.7 runs per day to participating businesses, Svec said.
All 911 calls from Project Green Light businesses are treated as Priority One runs by Detroit police. The city's average Priority One response time is 13.8 minutes, a department spokesman said Wednesday — a number that once approached 1 hour.
'It Makes A Difference'
Steve Kazmarogi has worked at his Woodward Avenue store, Kenwood Market, for 38 years: "I've been here since 1979. I had hair. I was a teenager."
Kenwood Market has grappled with people outside who were "loitering, begging and sometimes we didn't know what they had on their mind," he said.
About two months ago, Kazmarogi joined Project Green Light.
"It costs, but it's worth the peace of mind," he said. "The customers feel safer, I think, to come in because of the green light. It's a win-win situation."
The Detroit Police Department's Bettison said crime data showed that one Project Green Light partner, a Sunoco at 7 Mile Road and Hoover Street on the city's Northeast Side, was once "the most problematic gas station in the city."
The Sunoco made national news two years ago with a viral video of women brawling in the parking lot.
"It makes a difference," Tom Hart, a clerk at the gas station, said in a phone interview about Project Green Light.
"You still gotta be careful, but it makes a difference."
Related Links:
50 Years After Detroit's Rebellion, Business Leaders Talk Race And Lessons Learned
100 Women, Downtown Boxing Gym Unite To Help Detroit Students' Reading Skills
Main image: A Project Green Light sign and camera are visible on the exterior of Caesar Palace Liquor on McNichols Road in Detroit. Photo by Dustin Blitchok.
Posted-In: Detroit Police DepartmentPolitics Psychology Top Stories Exclusives Tech Interview General Best of Benzinga
View Comments and Join the Discussion!