So Who Were The Big Buyers In Alibaba?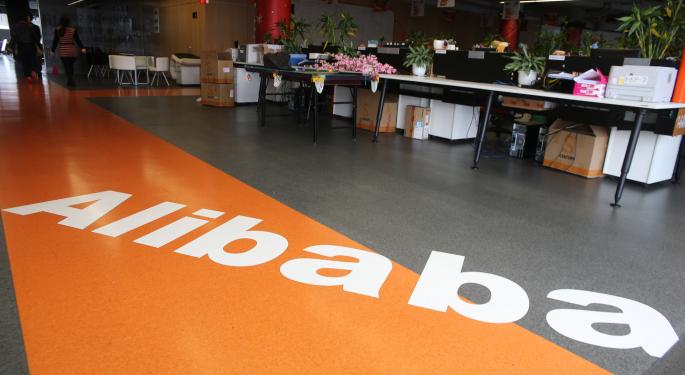 In early November, a discernible trend in the shares of Alibaba Group Holding Ltd (NYSE: BABA) became apparent to investors that were closely observing the opening buy/sell imbalances.
It appeared that mainly one buyer or a group of buyers were buying substantial amounts of shares off the opening print no matter where it opened.
Shares were quickly snatched up because investors may have been firm in their conviction that Alibaba was a must-own issue and needed to be included in their portfolio.
Instead of battling with the high-frequency trading crowd that can ferret out a large player intraday, by choosing to build a position of the opening print they all but rid themselves of their predatory tactics.
In other words, a majority of the HFT crowd typically will not participate in the opening print in stocks; There is too much risk for their short-term tactics to be effective.
With no large orders to lean on in the first minutes of trading, the risk of participating in the opening print outweighs the small profits they replicate thousands of time per day. Risk off the opening print falls to the wayside when HFT investors can trade almost risk-free for the remainder of the session.
Related Link: Does Alibaba Have A Big Buyer?
Big Boys Getting In
So who were these consistent, mysterious buyers?
When Q3 SEC 13F filings were released mid-month, buyers in Alibaba resembled a who's who of hedge fund managers.
Third Point acquired 7.2 million shares, valued at $639.7 million as end of Q3 (less than $100 per share). George Soros' Soros Management purchased 4.4 million shares at value of more than $390 million (less than $100 share).
Julian Robertson's Tiger Management acquired 1.2 million shares valued at more than $108 million (roughly $100 per share). It stands as the firm's largest holding and represents nearly 30 percent of its portfolio.
In addition, Appaloosa Management Fund, headed by David Tepper, acquired 725,00 shares. Jana Partners bought 300,000 shares. Finally, Citadel purchased 570,721 shares valued at $50.70 million (again around $100.00 average price).
It should be noted that Carl Icahn, Bridgewater (Ray Dalio), Kynikos Associates (Jim Chanos) and Pershing Square (Bill Ackman) were absent from the list.
Analyst's Take
The bullish outlook for Alibaba is not relegated to these hedge fund managers only. Since the company's IPO on September 19, Wall Street has been bullish on the issue. At this time, the street price target resides with HSBC, which initiated coverage with an Overweight rating and a $148.00 price target.
Posted-In: high frequency tradingShort Sellers Hedge Funds Technicals Movers & Shakers Trading Ideas General Best of Benzinga
View Comments and Join the Discussion!