Emagine Entertainment Aims For Movie Theater 'Magnificence' With Caramel Corn And Super Screens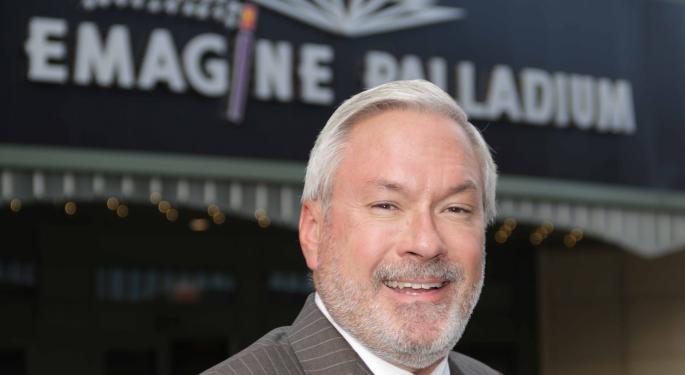 On June 7, 1997, Paul Glantz sat alone in his new Emagine theater in Birch Run, Mich.
Down the road, the pubs poached his usual patrons, luring them in with beer and tiny televisions to watch the Red Wings take the Stanley Cup. They'd known what the people wanted and had met demands. But Glantz had not.
"I was in my movie theater that night, and you could've shot a cannon through the place and not hit anyone," he said. "I literally cried going home that night, but here's what I resolved: I resolved that that would never happen to us again."
The next year, when the Wings again vied for the Cup, Emagine was ready. Glantz rented a digital projector and screened the entire playoff series for an auditorium of fans. He'd learned his lesson, and it's guided his process ever since.
Listen And Lead
Now, the CEO of Emagine Entertainment concedes to consumer demands, whether a dine-and-view theater in Royal Oak or the scrapping of a policy banning unaccompanied teens in Birmingham.
"It's part of the fun of being an entrepreneur in this industry," he said. "We can test things, and sometimes it works. The concept in Birmingham didn't work, so now we're doing something different."
For the most part, things have worked.
Ahead of industry trends, Emagine converted all screens to high-definition digital and was one of two Michigan theaters to show the middle "Star Wars" series in that format. It led the transition to mobile seat reservations, wide leather recliners, app-based concessions sales and in-theater delivery.
And as with most revolutionaries, it's met resistance. Cities have challenged Glantz on tax breaks and liquor licenses, and at one point, production companies withheld reels from his Novi site to favor an old-school rival theater. Emagine couldn't show "Batman Begins."
Where he's prevailed, Glantz has embraced change without nostalgic remorse. The "lost art" of 35-millimeter prints only made way for higher-quality, lower-budget screenings without scratches or cue marks, and stiff stadium seating was never comfortable anyway, he says.
"What we did over time was take something very pedestrian and evolve it into something that better meets the expectations of consumers today."
Bigger Is Better
A CPA by training and businessman by trade, Glantz has been enthralled by film since childhood when his movie-buff mother took him to Livonia's now-defunct Mai Kai Theater.
"It was this movie palace, and they had black lights that lit up glowing paint on the walls, and it had a gigantic screen," he said fondly. "When you're small and you see a big screen, it's even more impressive than when you're an adult."
Inspired by the Mai Kai majesty, Glantz is preparing to break ground for his most monumental project yet: A 92-by-48-foot Super Emax screen in Novi, which is comparable to Grauman's Chinese Theatre in Hollywood, will become the largest in Michigan. The $1.5 million auditorium will be lit with a two-laser projection system and blast a 64-channel Dolby Atmos immersive sound system.
The concept reflects Glantz's investment in — and obsession with — details.
His concessions serve not just buttered popcorn, but caramel, cheese and olive oil popcorn. He packs his auditoriums with recliners and in some sites sends in wait-staff for full-menu dining. Emagine Royal Oak includes a bowling alley, and Emagine Birmingham will soon offer a shared workspace complete with a Great Lakes Coffee station.
"We're thinking of creature comforts and how to enhance the quality of your out-of-home experience," Glantz said.
Reinventing the business hasn't been cheap — the upcoming theater in Hartland, Mich., has a $15 million budget for nine screens — but to Glantz, it's worth it.
"It'll be magnificent, but you know what?" he said. "Magnificence is really what's required in order to entice folks to leave their homes."
Growth Beyond Girth
Beyond basic infrastructure, Glantz is investing in what he calls "movies your way," which includes a fresh focus on alternative content and more intimate viewing experiences.
In Royal Oak, patrons can rent a private screening room, complete with buffet and bar, to watch first-run features, stream from personal Netflix, Inc. (NASDAQ: NFLX) accounts, or even pop in DVDs of family picnics.
The concept allows Glantz to watch his favorites — "Shawshank Redemption" or "The Blues Brothers" — without forcing his film-as-escapism philosophy on the region's aesthetes.
It also buffers Emagine against the caprices of the film industry.
Sometimes the studios perform; sometimes they don't. Aside from a couple of major hits, it's been a historically bad year at the box office. The unimpressive slate drew marginally lower attendance everywhere except Royal Oak, but Hollywood still took its cut, leaving the chain with about 40 percent of ticket sales.
Emagine's reliance on concessions, which comprise about 40 percent of revenue, somewhat constrains the theater's growth strategy and dictates which markets it wanders into.
"We've got to go where consumers have the means to be able to go out occasionally, so in a marketplace that doesn't fit that characteristic, I think it's more challenging," Glantz said.
Still, he's found places to deploy capital. Emagine is rapidly expanding across the Great Lakes, having recently opened a site in Saline, Mich., planned groundbreaking in Hartland and scouted a prime spot in Detroit's Midtown. And it's still growing.
"At this point, we're looking to acquire," he said. "I think there's a wonderful opportunity for continued consolidation in our industry."
But Glantz is wary of growing too quickly or in the wrong way. He's content to read the script he's been handed and play the role he's been assigned.
"Our job is to create a wonderful entertainment experience for people," he said. "It's not just the content but it's all the embellishment that goes with the content, and I really think that that's the future of our industry."
Related Links:
Will Movie Theaters Survive What Netflix Has Up Its Sleeves?
Posted-In: EmagineEntrepreneurship Movers & Shakers Psychology Top Stories Exclusives Interview General Best of Benzinga
View Comments and Join the Discussion!