AMC Tanks To Record Lows In Midst Of Box Office Slump; 'Wonder Woman' Helps Lasso Time Warner Profit Beat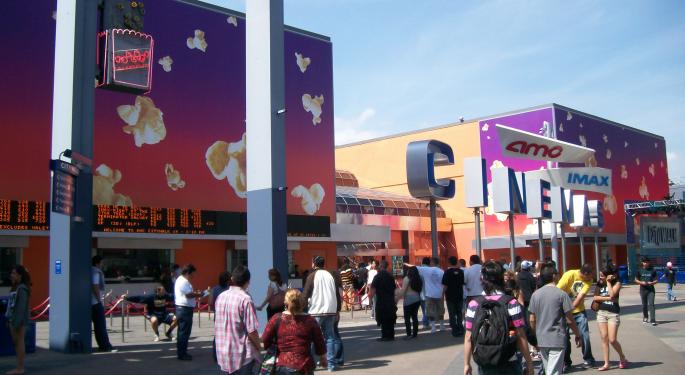 The only thing riskier than Wall Street is betting big on Hollywood blockbusters.
Shares of AMC Entertainment Holdings Inc (NYSE: AMC) swung to record lows on Wednesday after it warned it would take a loss in the second quarter, the heart of a sluggish summer at the box office and a string of big-budget flops.
After falling as much as 27 percent Wednesday, AMC was at $15.85, a drop of 23.82 percent.
"With the summer movie season down 8% and the year-to-date box office running at a 2% deficit there is definitely a feeling of unease in the industry," Paul Dergarabedian, senior media analyst at comScore, Inc., told Benzinga.
"However, if history has taught us anything it's that the ebb and flow of revenue to movie theaters is largely product driven and when the movies are getting great reviews and strong social media sentiment, then attendance sees a real world increase."
'Wonder Woman' To The Rescue
Dergarabedian cited "Wonder Woman," the Time Warner Inc (NYSE: TWX) breakout hit that has grossed $395 million domestic and $786 million worldwide on a $150 million budget.
Related link: Wonder Woman's Woos Hollywood With Remarkable Legs
Time Warner profits beat Wall Street expectations with earnings per-share of $1.33, up from $1.29 per-share in the prior-year period. Revenues grew 5 percent to $7.3 billion, even as operating income decreased 8 percent to $1.7 billion. Analysts had projected that Time Warner would post per-share earnings of $1.19 on revenue of $7.3 billion.
The company, which is awaiting federal approval of its acquisition by AT&T Inc. (NYSE: T), credited the Patty Jenkins-directed hit starring Gal Gadot in large part for its beat.
"'Wonder Woman' ... almost single-handedly took a 9% summer deficit coming out of May and brought us dead even with last year within a couple of weeks of the film's release," Dergarabedian said. "Unfortunately, the failure of many titles in June and July to connect with audiences brought us back into a deficit situation.
Box Office May Be Backloaded
"That said, a strong performance by just a couple of movies can make all the difference and with future 2017 titles like (Warner's) 'Justice League,' (Marvel Entertainment/Walt Disney Co(NYSE: DIS)'s 'Thor: Ragnarok' and of course (Disney's) 'Star Wars: The Last Jedi' all generating a lot of heat on social media per our PreAct Most Talked About Movies chart, there is still hope that by the time we get to December 31 the full year box office picture will look a lot brighter."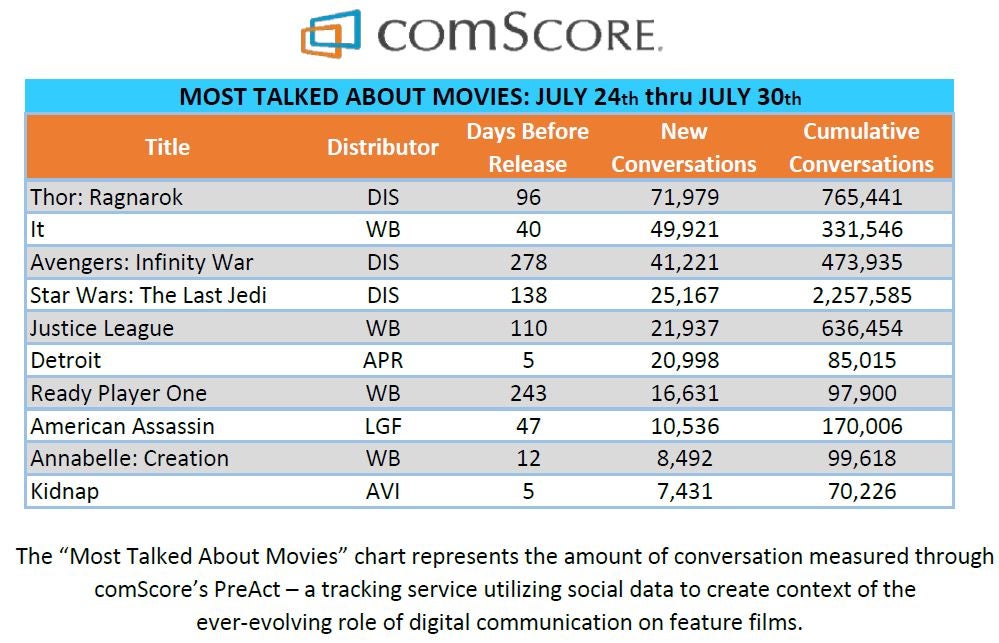 At last check, shares of AMC were down 26.92 percent at $15.20.
______
Image Credit: By Wt90401, CC BY-SA 3.0, via Wikimedia Commons
Posted-In: Analyst Color News Movers & Shakers Analyst Ratings Movers Tech Media Interview Best of Benzinga
View Comments and Join the Discussion!