Total Eclipse Of The Trucking Industry: Cosmic Event Sheds Light On How Key Component Of Supply Chain Is Changing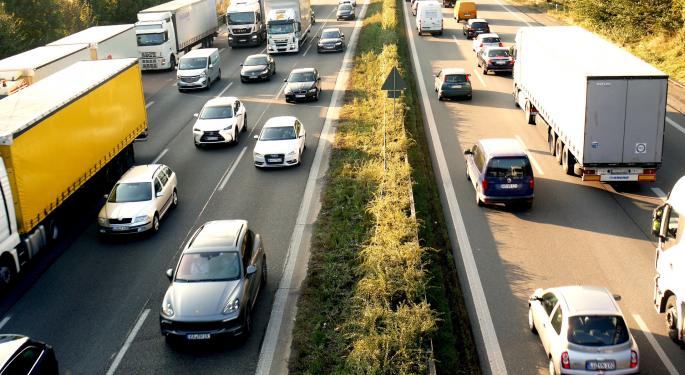 That key cog in the supply chain, the trucking industry, is bracing for slowdowns as people pack the highways to watch the first coast-to-coast solar eclipse since 1962.
The trade journal Transport Topics matched up the states seeing the totality of the eclipse with interstates used for commerce via trucking, and expressed serious concern. This is a rare case when a cosmic event, however briefly, threatens a key component of distribution already coping with enormous change.
"Several states have adjusted their freight transportation schedules to avoid the influx of traffic bound to snarl the nation's highways as people descend on the best viewing spots for the upcoming solar eclipse," the trucking journal said.
Supply Chain Has Enough Issues As It Is
Trucking is integral to the chain of distribution that gets a product from some sweatshop in Taipei to the click-and-buy consumer of today.
Entrepreneur Elon Musk is among the people moving forward with self-driving trucks, part of a socio-scientific movement to take humans out of the whole vehicular equation, accelerating efficiency and eliminating the errors caused by texting and/or drunken drivers.
Supply chain disruption is even gripping old school companies such as struggling Kellogg Company (NYSE: K), which shut down its direct-to-store warehouses this year and decided to truck everything to the retailers' distribution centers, saving millions.
The New Revolution Started In China
China began figuring out supply chain distribution a decade ago.
"You can talk about the miracle of ecommerce in China or in the world," Jack Ma, CEO of Alibaba, said at a conference last year. "But the logistics industry is where China's real great miracle has been over the past decade."
And much comes down to the role that trucks play in the global equation.
Disrupting Distribution Hindered By Old Habits
Too many companies are dependent on a serpentine system of distribution that starts with overworked kids in Third World-style sweatshops and relies on the progress of DHL or United Parcel Service, Inc. (NYSE: UPS) or FedEx Corporation (NYSE: FDX) to catch up to a world that eliminates the comforting waystation of warehouses.
This is why Bill Gates and Jeff Bezos are investing millions into new distribution models like Convoy, a trucking company that aims to change the way goods get to you. In the meantime, there is a shortage of jobs in a field just waiting to be filled by robots.
What Has Changed?
The basic change in supply chain management is the fact that the consumers now dictate distribution. They want it now, they want it fast and they want it cheap.
Some companies are still learning this hard lesson, says Thomas Kull, professor of supply chain management at Arizona State University, who co-authored a study on the topic.
"Supply managers knew that customer requirements were going to be harder to predict and maintain, they saw their role as still being towards upstream supply structures and performance," he tells Benzinga. "It is interesting they feel this way, because getting a head start on internal and external customer expectations is a great way to start building the needed supply structures."
"The traditional ways of acting are still in place, which may be good and may be bad. We'll see."
Related link:
Cereal Killer: Breakfast Food Makers Retool To Attract Millennials
View Comments and Join the Discussion!
Posted-In: Arizona State UniversityEntrepreneurship Movers & Shakers Travel Top Stories Exclusives Trading Ideas General Best of Benzinga