Cereal Killers: Breakfast Food Makers Retool To Capture Elusive Millennial Market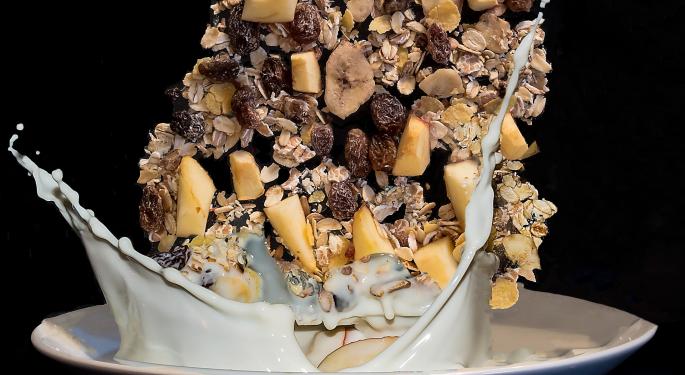 It's come to this: A bag of squeezable oatmeal-to-go is coming to market because so many millennials think it's too much trouble to pour a bowl of cereal.
The world's major breakfast cereal companies are improving ingredients, using more natural flavors, laying off workers, branching further into snack foods and trying any gimmick that sticks in an effort to revive a moribund industry whose woes reflect shifting consumer tastes away from sweet, industrially processed grains.
As Kellogg Company (NYSE: K) Chairman and CEO John Bryant put it to analysts during a first-quarter earnings meeting in May, "like virtually every packaged food company, we experienced a suddenly lower consumption trend across all categories in the U.S."
Here's what Big Cereal has been up to:
Kellogg
The industry leader has been working on improving quality, such as eliminating artificial flavor and coloring in its Eggo frozen waffle line. It's also moving away from direct store delivery in favor of using retailers' warehouses and networks, a move that led the Battle Creek, Michigan-based company to lay off 1,100 workers this year.
It's also ramping up sales to emerging markets. Despite these and other cost-cutting trends — part of a massive restructuring called Project K — the company projects a 3-percent decline in net sales for the year.
The maker of Fruit Loops and Pop Tarts reported revenues of $3.25 billion in the first quarter of 2017, reflecting a drop of 4.1 percent year over year and marking the ninth straight quarter of a revenue decline.
Kellogg was trading at $65.74 on Thursday, down from $86.98 a year ago.
General Mills
General Mills, Inc. (NYSE: GIS) was trading at $53.44, down 26.49 percent off its 52-week peak. The maker of Wheaties, Cheerios and Lucky Charms — along with its Pillsbury, Yoplait and Progresso subsidiaries — has been slashing costs and banking big on online markets.
"We'll remain laser-focused on knowing our consumer and what's driving them," new CEO Jeff Harmening told analysts this week. "I believe the most important change that will impact the next five years will be in how consumers get their food, driven by the rapid acceleration of e-commerce. We see this as an exciting prospect for General Mills."
General Mills last month reported $15.619 billion in revenues for fiscal 2017, compared to the prior year's $16.563 billion. The company's net sales fell 3.1 percent to $3.81 billion in the fourth quarter, capping two years of falling quarterly sales.
Post
Post Holdings Inc (NYSE: POST) was trading at $78.89 on Thursday, down nearly $10 from its 52-week high. Post merged MOM Brands, the maker of Malt-O-Meal and several generic cereal knockoffs.
Its last quarterly earnings were reported in May, when the company announced revenue of $1.26, down 1.2 percent from the year-ago period. But analysts are optimistic about the maker of Fruity Pebbles and Alpha Bits about the next quarter.
Like its competitors, Post has focused on cutting costs, improving taste, and eliminating niche items. "I think it is a mistake to think the cereal category is going to continue to decline," Post Consumer Brands CEO Chris Neugent told the Minneapolis Star-Tribune.
Quaker Oats
The PepsiCo, Inc. (NYSE: PEP) subsidiary is joining its competitors in quick, "on-the-go" foods, and that includes a squeezable bag of oatmeal available first in the United Kingdom.
"With an increasing number of people looking for breakfast options that are healthier yet convenient, Quaker To Go caters for this demand and we anticipate the new range will be popular for those looking for a wholesome, satisfying and portable breakfast to kick-start the day," Quaker Oats brand manager Alessandra Zorzitto told the industry journal FoodBev.
A widely quoted marketing survey suggests that 40 percent of on-the-go — or just lazy — millennials find that it's too much work to make a bowl of cereal in the morning.
"As the cereal industry continues to struggle, many legacy brands have embraced convenience-centered product reformulations to lure consumers back to the category." notes the trade journal Food Dive.
"But could a squeezable pouch of oatmeal like Quaker's Oat Squeeze take the convenience trend too far? It's possible."
Related Link: New York Replaces Kellogg Organic School Breakfasts With Organic Brand
View Comments and Join the Discussion!
Posted-In: Alessandra Zorzitto Alpha BitsCommodities Psychology Top Stories Markets Trading Ideas General Best of Benzinga