Should You Get A 529 Plan? Take Our Quiz And Explore Our Guide For 2020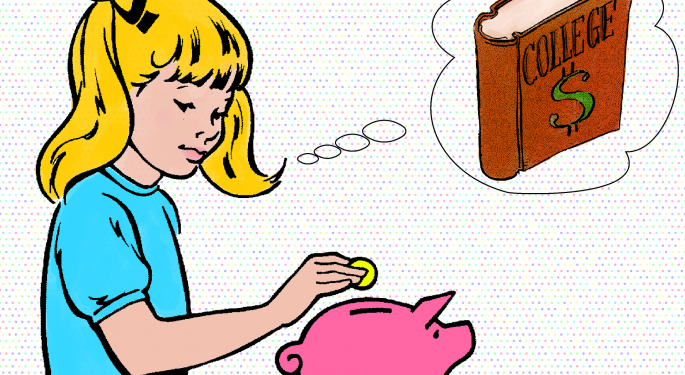 College tuition has increased by an average of 5.2% annually. Have you considered what the best ways are to save money for your child's education?
When it comes to paying a large college tuition bill, know you're not alone.
We at Benzinga recognize college is far too expensive for a vast majority of families nationwide and financial situations aren't getting any better.
It's important to realize financial aid in the form of scholarships and loans from universities is never guaranteed.
Because your child's college education is an investment in their future life and career aspirations, taking the right steps to ensure they can afford college will go a long way.
529 Plans For College
If you're looking for an excellent tool to help support your child's future academic endeavors, funding a 529 plan can help!
Per our Benzinga college savings experts, there are two different types of 529 plans available in 2020:
Prepaid tuition plans
Prepaid tuition plans allow college savers to purchase credits to pre-pay all or part of the cost of an in-state public college education or private college education.
College savings plans
College savings plans allow college savers to save for qualified higher education expenses, including tuition, mandatory fees and room and board. They work much like an IRA; as a college saver, you can invest in mutual funds or similar investments of your choice.
Every state's 529 plan's guidelines are different, so it's important to do your due diligence.
Interested in learning more about how 529 plans work in 2020? Take our quiz below!
529 Plan Quiz
True or False: 529 plans are restrictive as to who can contribute- only parents or legal guardians can financially contribute.
False: The great news is that anyone can contribute to a child's 529 plan. This includes grandparents, aunts, uncles, siblings and friends. Contributing to a younger family member's 529 plan can be one of the most impactful gifts you can give, even if they really wanted that new copy of NBA 2K!
True or False: You can only enroll in 529 plans offered by the state you reside in.
False: Many states offer multiple 529 plans, and you're allowed to enroll in plans offered outside of your home state.
True or False: 529 plans are restrictive in that they can only be used toward college tuition, as well as room and board.
False: 529 plans are not restricted to paying for college tuition, room and board. Our Benzinga money experts found that, through the recent tax Cuts and Jobs Act, you can now use a 529 plan for an elementary or secondary public, private or religious school.
Best 529 Plans In 2020
Interested in learning more about the financial benefits of 529 plans in 2020?
Our Benzinga college savings experts can help you learn more about the tax benefits associated with 529 plans, as well as the best overall 529 plans available nationwide.
Click here to learn more about how 529 plans can support your child's academic endeavors.
View Comments and Join the Discussion!
Posted-In: Education Top Stories Personal Finance General Best of Benzinga