An individual retirement account (IRA) is a retirement account that allows you to save for the future on either a tax-deferred or tax-free plan.
Open an IRA and it's a great way to help build wealth and watch your money grow, especially if your employer does not offer a 401(k) program, you are self-employed or you're a younger investor. Read on for a crash-course in IRAs and saving for retirement.
1. TD Ameritrade
TD Ameritrade is perfect for every sill level, as there's a $0 required minimum balance. TD Ameritrade offers in-depth, yet easy-to-understand research and investment advice.
The company also offers a number of customer service options, including 24/7 phone support, email, text, Facebook messenger support, and local branch advising options.
The investing giant also offers a massive range of investment options, with 300 commission-free ETFs and over 4,000 no-fee mutual funds.
One of TD Ameritrade's most unique functions is its brokerage boot camp—you can choose a trading level (rookie, intermediate, or expert) and TD Ameritrade's platform will redirect you to investing research, articles, quizzes, and videos on better retirement planning tactics.

1 Minute Review
This publicly listed discount broker, which is in existence for over four decades, is service-intensive, offering intuitive and powerful investment tools. Especially, with equity investing, a flat fee is charged, with the firm claiming that it charges no trade minimum, no data fees, and no platform fees. Though it is pricier than many other discount brokers, what tilts the scales in its favor is its well-rounded service offerings and the quality and value it offers its clients.
Best For
Novice investors
Retirement savers
Day traders
Pros
World-class trading platforms
Detailed research reports and Education Center
Assets ranging from stocks and ETFs to derivatives like futures and options
Cons
Thinkorswim can be overwhelming to inexperienced traders
Derivatives trading more costly than some competitors
Expensive margin rates
2. iTrustCapital
iTrustCapital is a self-directed IRA provider that allows you to invest in crypto, gold or silver using your retirement account. The platform is very simple to use, order placements occur in just a few minutes and you can manage or monitor your account 24/7. Choose from 7 cryptocurrencies, or try the precious metals market. Fees are affordable at 1% for crypto, $50 over spot for gold and $2.50 over spot for silver. You can call or reach out to the customer service team via live chat. Remember, you need a $2500 initial investment. Plus, you are required to make a subsequent deposit of $1000.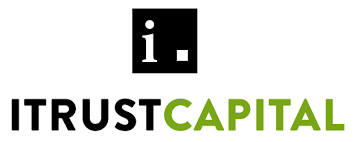 Best For
Beginner cryptocurrency investors
1 Minute Review
iTrustCapital is a self-directed IRA provider that gives you the opportunity to invest in cryptocurrencies, gold and silver through your retirement account. iTrustCapital focuses on providing investors with a straightforward and easy-to-understand platform, which can be a major asset if you've never bought or sold alternative investments in the past. 
When you reach retirement age, iTrustCapital allows you to choose whether you'd like to take your disbursements in cash or in the assets you've invested in. Though the platform does offer a limited range of cryptocurrencies when compared to brokers like Coinbase, its simple structure and unique IRA offerings make iTrustCapital a great place to invest.
Best For
Investors who want to add gold, silver or cryptocurrencies to their IRA
Those who are interested in taking a long-term approach to cryptocurrency or metal investing
Beginner cryptocurrency investors
Pros
Straightforward platform allows you to buy and sell assets in a few minutes
Orders clear within 5 minutes
24/7 order placements and portfolio monitoring services
Both live chat and phone customer service service available
Cons
Limited number of cryptocurrencies to buy and sell
No mobile app currently available
3. E*TRADE
You probably already know about E-Trade for its intuitive stock buying program, but the company also offers an impressive range of mutual funds (over 150) and a massive range of NTFs (over 4,000).
E-Trade's most unique option is its library of retirement planning advice, news stories, and how-to articles that can be useful to novice investors and seasoned traders alike.
If you're looking to place your retirement funds into commission-free ETFs, E-Trade is a great option that offers mobile compatible support, plenty of data and research options and a $0 account minimum for IRAs.

1 Minute Review
E*TRADE is an online discount trading house that offers brokerage and banking services to individuals and businesses. One of the first brokers to embrace online trading, E*TRADE not only survived both the dot-com bubble and Recession — it thrived. You can choose from two different platforms (one basic, one advanced). E*TRADE is a suitable broker for traders of most skill levels, whether you want to buy mutual funds and hold them for decades or dabble in options swing trading. E*TRADE offers a library of research and education materials to help you out.
Best For
Active traders
Derivatives traders
Retirement savers
Pros
Sophisticated trading platforms
Wide range of tradable assets
Exceptional customer service
Cons
Limited currency trading
Higher margin rates than competitors
No paper trading on its standard platform
4. Betterment
Centered around goal-based saving, Betterment is a great choice for hands-off investors who want to learn more about how to save for retirement. Betterment supports traditional, Roth, and rollover IRAs, which are IRAs originating from your old employer-sponsored 401(k) and offers automatic tax-loss harvesting on all accounts.
When you create an account with Betterment, you'll be guided through goal-setting exercises to help you analyze your finances and lifestyle to create a reliable and sustainable plan to grow your money for retirement. You can even set up auto-deposits to keep you on track to meet your short- and long-term goals.
Betterment's RetireGuide offers IRA holders a personal picture of all of your savings, including on non-Betterment accounts, and offers tips and advice on saving and estimated retirement dates. Betterment is best if you're a hands-off investor who prefers to have automation help you build your IRA.

1 Minute Review
Betterment is a smart robo-money manager that helps you save, invest and even spend your money. It has more than 500,000 registered customers and manages over $21 billion in assets. As a fiduciary, Betterment is committed to act in your best interest at all times. The investing platform lets you manage your money, guide your investments and plan your retirement at your convenience.  
Best For
Investors with defined financial goals
People who are new to investing
Passive investors who want to diversify their portfolio
Investors who want to invest heavily in ETFs
Investors looking for low-cost investment options
Investors looking to plan their retirement
Pros
Can open an account with a $0 minimum balance
Offers goal-based investing
Charges low annual management fees
Offers a wide range of stocks and ETFs
Provides access to advanced investing tools
Provides personalized financial advice plans
Cons
Charges a high fee for personalized financial advice comparatively
Not suitable for day traders and short-term investors
Does not offer any real estate stocks, commodities and foreign exchange
5. Wealthfront
Wealthfront is another great robo-advisor investment platform. Instead of an expensive personal financial advisor, Wealthfront's team of algorithms analyze the market and make recommendations on where to invest based upon your capital, age and risk tolerance.
After you open an account with Wealthfront (there is a small $500 minimum account balance), the system's robo-advisors will allot your money into a diversified range of ETFs.
Traditional, Roth, and rollover IRAs included, Wealthfront is best used by investors who aren't interested in managing their own retirement account but who don't want to deal with the high fees and minimums that come along with hiring a financial advisor.

Best For
Long-term Investors
1 Minute Review
Wealthfront is an integrated wealth-building platform. It brings long-established investment strategy and state-of-the-art financial planning and investment management technology together to simplify the science of money-making.
You can bank, invest, borrow and plan from the convenience of your smartphone. Wealthfront optimizes every deposit to help you make more money from every account.
Best For
Long-term investors
Anyone who wants to manage their financial control panel from a smartphone
Investors with enough capital to get the full benefit of Wealthfront technology
Pros
All-in-1 digital financial management
Money intuitively diverted to your various checking, investment and savings accounts by priority and financial need
Low fee or fee-free accounts
Cons
No direct relationship with a human advisor
Not best for those who can't keep much money in their banking and investing accounts
6. Vanguard
With over $3 trillion in managed assets, Vanguard is one of the largest IRA providers in the world. Vanguard's standout features are its low-cost mutual funds and high-performing ETFs.
Investors can open an account with as little as $1,000, but many of the most popular funds (including the cornerstone Vanguard S&P 500) require an initial investment of $3,000. Though Vanguard may forgo the $0 minimum account balance offered by competitors, the company more than makes up for it with attentive customer service (with extended phone and chat hours) and a massive range of index funds.
Vanguard's traditional and Roth IRA plans are best utilized if you're a buy-and-hold investor who has a bit of cash saved up to open an account.
7. Bitcoin IRA
Bitcoin IRA allows you to set up a proprietary IRA account where you can hold and trade cryptocurrency. The platform is always on, and you can direct your trades throughout the day.
With quality rollover options, it's easier than ever to get into the crypto space and save for retirement at the same time. You can also set up a Saver IRA that connects to your checking account and allows you to add automatic transfers to your portfolio.
Remember, however, that you must be prepared to tolerate a certain level of risk because the crypto market can be quite volatile. For more information, reach out to the customer service team or look into how this platform allows you to invest in assets like Bitcoin, Ethereum, Ripple, Litecoin, Stellar Lumens, Zcash, Bitcoin Cash, Ethereum Classic and Digital Gold.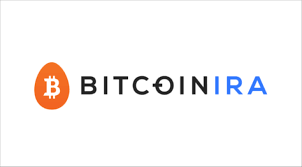 Best For
New bitcoin investors
1 Minute Review
Bitcoin IRA provides a solution for those looking to take their retirement account outside the traditional market. It partners with BitGo Trust to facilitate the setup of an individual retirement account (IRA) and a digital wallet to hold and trade cryptocurrency. Bitcoin IRA offers a proprietary always-on, self-directed trading platform that empowers you to invest in your future. In addition to digital currency, you can also use Bitcoin IRA to purchase gold, another popular alternative asset for savvy investors.
Best For
New Bitcoin investors who have a handle on their overall financial strategy
People who have room in their budget for a $100 monthly contribution for an easy set-and-forget savings and investment strategy
Investors who can tolerate high levels of risk associated with trading crypto and who are able to hold precious metals investments for at least 10 years
Pros
Great rollover options
Investments stored offline for greater security
Easily create an account and digital wallet in under 3 minutes
24/7 trading platform
Cons
Due to U.S law, cannot transfer existing cryptocurrency holdings into a Bitcoin retirement account
No financial advisory or planning services
Now, Follow Through!
If you made it through all that technical jargon, good job. It's even more essential that you read, digest this information, and actually do it.
Maybe this will motivate you (nothing motivates some people more than a compound interest table).
Check out what 0 per month can do for you at a rate of 12 percent (now, I know that 12 percent is quite high, but the concept is still the same, whether your rate is eight percent or ten.)
| | | | |
| --- | --- | --- | --- |
| Time | Value | Time | Value |
| 5 years | $8,167 | 30 years | $349,496 |
| 10 years | $23,004 | 35 years | $643,096 |
| 15 years | $49,958 | 40 years | $1,176,477 |
| 20 years | $98,926 | 45 years | $2,145,469 |
| 25 years | $187,885 | 50 years | $3,905,864 |
If your employer doesn't offer you a retirement plan, it takes even that much more initiative to open up your own IRA. If you can't decide, it's better to just choose a fund, already!
One last tidbit: Don't sign up for a particular retirement plan just because your next-door cubicle neighbor Joe signed up for the same one. Your situation may be completely different from Joe's (not to mention, if you're 20 years younger than Joe, your portfolio should look much different).
That's why assistance is available and you should take advantage of it, and with those three brokerages at your disposal, you won't miss a beat.