Credit Card Survey Shows 'Dramatically' Higher APRs, Fewer Fees In 2018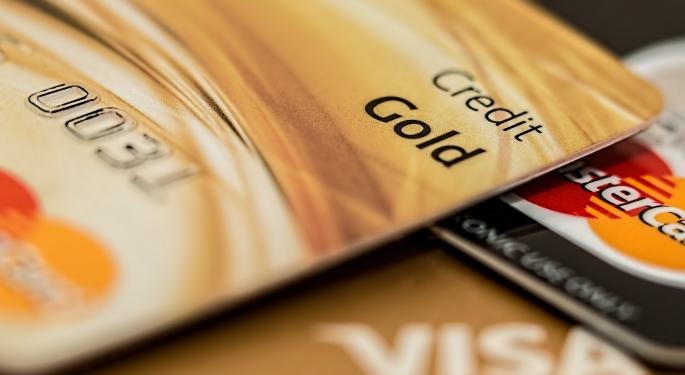 CreditCards.com's annual survey covers aspects of credit such as the average number of fees per card, foreign transaction fee data, balance transfer fees and annual fees. In 2018, it appears that rates are rising and fees are falling.
What Happened
By sampling 100 general-purpose cards to assess the environment, the 2018 Credit Card Fee Survey revealed that issuer fees have frozen following sharp APR increases this year.
"The cards we surveyed listed a total of 545 fees, down from 591 counted in last year's survey," according to CreditCards.com. "Meanwhile, card APRs have risen dramatically in the past year as the Fed continues to normalize interest rates. The average rate for new card accounts was 17.01 percent as of Oct. 3, 2018."
See Also: How To Choose The Best Credit Card
Highlights
The average number of fees per card is 5.5, compared to 5.9 in 2017.
Fifty-two of the cards in the survey charge foreign transaction fees, down from 56 in 2017.
Ninety-eight cards in the survey charge fees for late payments.
In 2018, 79 of the 90 of the surveyed cards that allow balance transfers charge a fee to complete one.
Twenty-six cards charge an annual fee, up from 24 in 2017.
Eleven of the top 15 fee-charging cards do not have an annual membership charge.
Card Fees
"On the whole, cardholders are subjected to fewer fees now than they have been in years past. For instance, our survey in 2015 found a total of 613 fees among the 100 cards studied, and that number has gradually gone down to 545 fees," the report said.
Among the cards with the most fees are the First Premier Bank credit card, the Barclays Arrival Premier World Elite Mastercard and the Carnival World Mastercard from Barclays. Among the lowest are the PenFed Promise Visa, the Capital One Platinum Credit Card and the Capital One Secured Mastercard, according to CreditCards.com.
Based on the report, users are encouraged to choose only no-annual-fee cards, to stay on top of payments, look for free balance transfers and ask issuers to waive fees.
View Comments and Join the Discussion!
Posted-In: 2018 Credit Card Fee Survey APR CreditCards.comCrowdsourcing Federal Reserve Media Personal Finance General Best of Benzinga