Getting Started With Retirement Planning? Here Are A Few Steps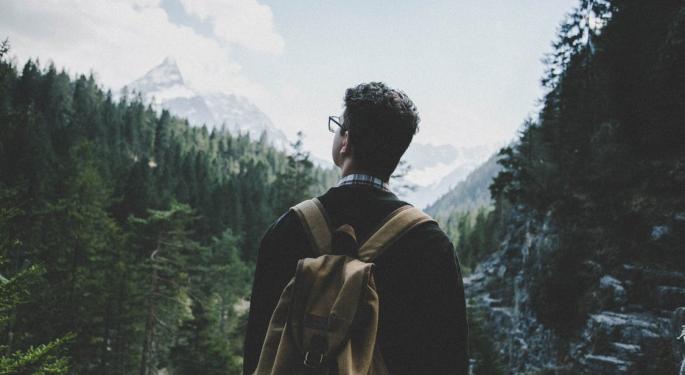 It's never too early to start saving for retirement.
If you've already started, and set aside even a little bit, congratulations. You're ahead of a sizable portion of Americans, according to a 2017 Retirement Confidence Survey conducted by the Employee Benefit Research Institute (EBRI). Only 61 percent of survey respondents say they've saved anything toward retirement, and 24 percent say they have less than $1,000 in savings and investments.
For those of you that haven't yet, but are ready to get started, a good first step toward retirement planning can be understanding the alternatives—the types of accounts available and the different types of financial professionals who can help you on your journey.
Retirement Savings Products
While there are a number of ways to save and invest for retirement, some retirement accounts come with possible tax advantages. Two common retirement plan types are the 401(k) plan, typically offered through an employer, and the Individual Retirement Arrangement (IRA), which can be set up through a bank, broker, or other financial institution. Here's a look at some of the most popular options.
You may also want to visit the IRA Selection Tool which can help you determine your IRA eligibility and how much you may be able to contribute to either a Roth or Traditional IRA.
Getting Started
Once you've educated yourself on available retirement savings accounts, and chosen which might work for you, you may consider calculating how much money you may need once you get to retirement. Using a Retirement Calculator can help.
Other things to keep in mind when setting your retirement goals include: (1) When do you expect to retire?; (2) How much do you need before you can retire?; (3) How much will you contribute each month to help reach your goal?; (4) Which types of investments and asset allocation could align with your risk tolerance and retirement savings goal?
Let Compounding Work for You
A long-term investor can attempt to use the power of compound interest —which is interest earned on top of interest — to potentially enhance returns. Let's look at a hypothetical example: If you invest $10,000 at 8 percent a year, you'd have earned $800 after one year, for a total of $10,800. The next year, however, your 10 percent interest would come on top of the $10,800 you now have, not just the original $10,000, meaning your interest earned would be $1,080, rather than $1,000. That might not sound like much, but it can build up quickly.
Because compound interest builds on itself over time, investors who start early tend to have a significant advantage over those who wait, as shown in the graph below.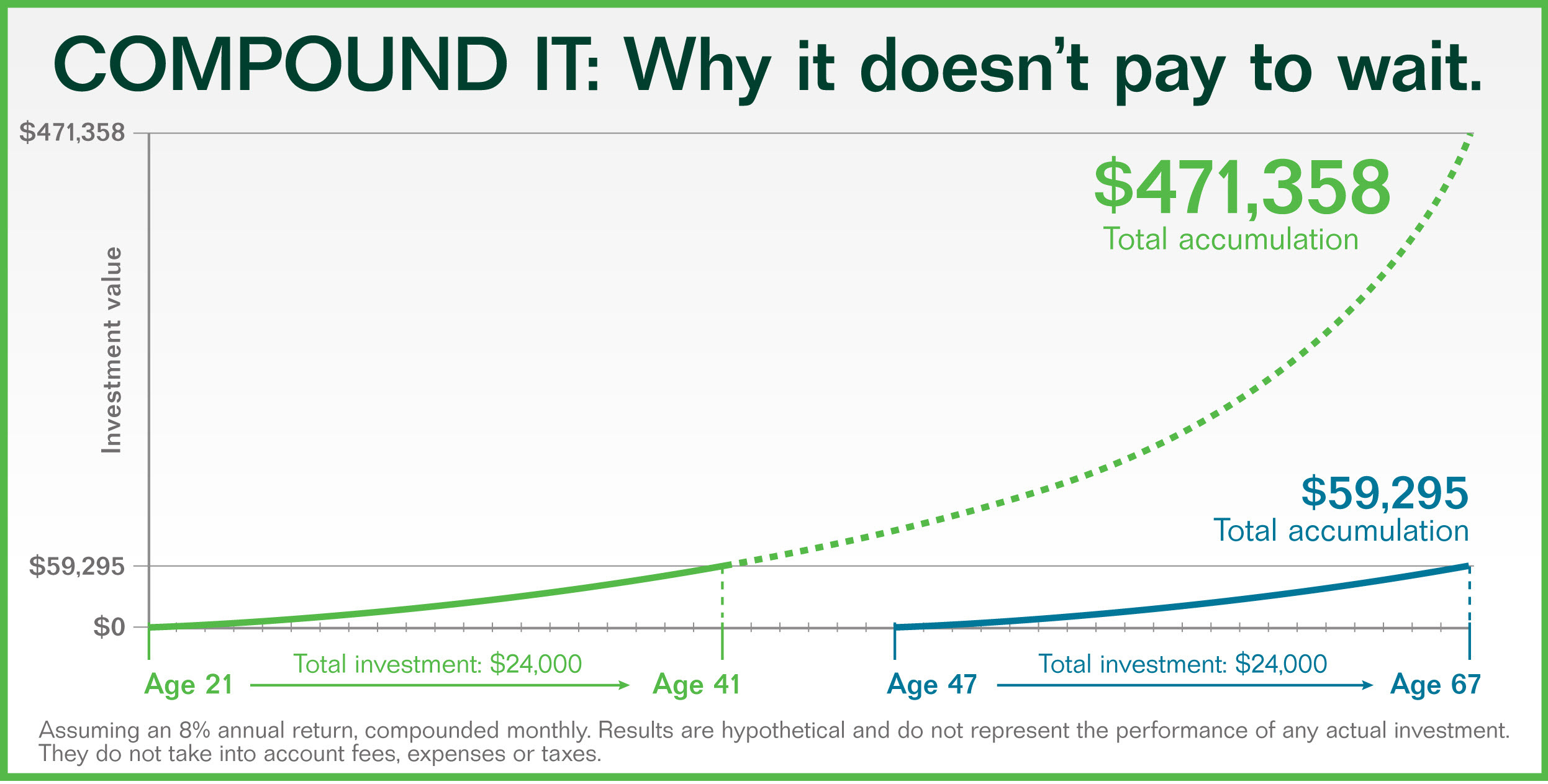 FOR ILLUSTRATIVE PURPOSES ONLY.
Working with a financial professional who can provide access to products, tools, research, and guidance may help you get more confident about pursuing your retirement goals. A TD Ameritrade Financial Consultant can help you develop a plan that defines a strategy, timeline, and potential solutions that may help you pursue your investment objectives.
If you have more complex advisory needs you may want to consult with a financial advisor or another type of financial professional. Not all are the same, and it helps to know the difference. Here are three common designations:
Certified Financial Planner (CFP). Certification requires passing a comprehensive board exam covering financial planning, insurance, taxes, retirement, and estate planning.
Chartered Financial Consultant (ChFC). Requires a bit more coursework than the CFP, but certification doesn't require a board exam.
Registered Investment Advisor (RIA). The RIA designation is more about registration than certification. An RIA is registered with the Securities and Exchange Commission and/or a state securities regulator.
Your financial advisor may have one or more of these licenses and certifications. Each of them comes with a certain level of education and required ongoing learning.
Planning for tomorrow involves setting financial goals today. I hope you found this article helpful and I encourage you to explore the resources you can find throughout the Retirement Planning page.
Check out this Retirement Checklist which can help you streamline your strategy or consider scheduling a complimentary goal-planning session.
Posted-In: TD AmeritradeEducation Personal Finance General Best of Benzinga
View Comments and Join the Discussion!