How Does Helios And Matheson Make Money From MoviePass?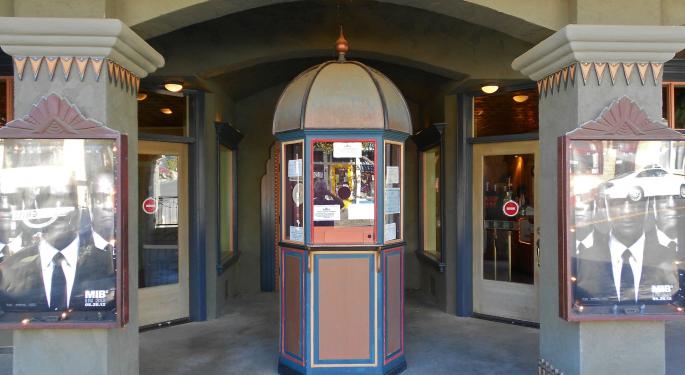 Helios and Matheson Analytics Inc (NASDAQ: HMNY) shareholders have been on quite a ride in the past couple of months. The stock is down 5 percent Monday as the market is still trying to place an appropriate value on the company's MoviePass stake.
The MoviePass Move
Helios acquired a stake in MoviePass back on Aug. 15 (it currently has a 53.7 percent stake), and the stock went on a tear just weeks later. The stock surged from as low as $2.42 on mid-September to as high as $38.86 by mid-October. Since that peak, the stock has come back down to earth, and is now trading up against its 50-day simple moving average at around $10 per share.
The indecisiveness and volatility in the market are likely due to two forces:
MoviePass is very difficult for investors to value.
Helios has a massive short interest and tiny float that makes the stock prone to short-term squeezes.
Related Link: DryShips: Clear Sailing Or Will It Sink Again?
It's All About The Data
MoviePass recently lowered its monthly rate to $9.95 per month, generating huge buzz but making some investors skeptical. At this point, it's unclear that MoviePass is able to turn a profit at its current rate, but the MoviePass story may not be about profits at this point. The discounted rate is an effort to build the company's subscriber base. In time, MoviePass' value in time may be its pricing power and its access to customer data.
"If you get a trailer right now for Spiderman on Facebook, Facebook can't tell if you ever actually go to the movie. We can," Helios CEO Ted Farnsworth recently said. Farnsworth and Helios investors are betting that's exactly the type of unique data that Hollywood studios would pay big bucks for. In that sense, the hidden value in MoviePass may be its advertising data rather than its subscription sales. But the first step in gathering that data is to add as many subscribers as possible.
Market Forces At Work
Regardless of whether or not MoviePass is a viable long-term business model, the stock's recent volatility may have been driven in large part by its massive outstanding short interest. According to shortsqueeze.com, Helios currently has a staggering short percent of float of 83.2 percent. With only about 9.6 million total shares outstanding, short sellers may be temporarily powerless to borrow shares when the stock goes on the type of run it did in September, allowing a major short squeeze to unfold.
Unfortunately for potential investors, the MoviePass story may take time to unfold. A stock with such a small number of shares and such a large short interest will likely remain extremely volatile and unpredictable in the short-term.
For now, at least, it seems the key metric for investors to be watching is subscriber counts, not profits.
View Comments and Join the Discussion!
Posted-In: MoviePass Ted FarnsworthTop Stories Tech Trading Ideas Best of Benzinga