Liability In Autonomous Car Crashes: Here's What Gene Munster, Warren Buffett And GM Say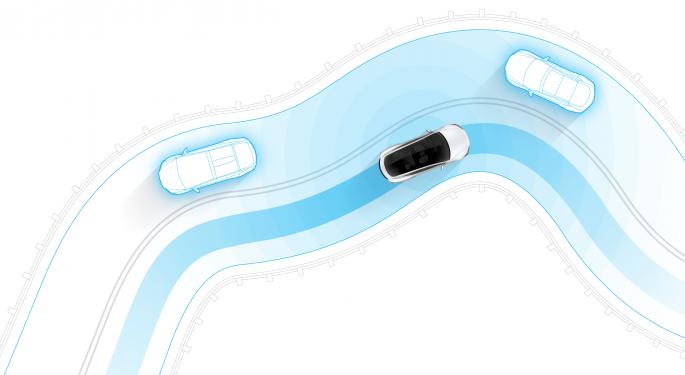 If General Motors Company (NYSE: GM) and Tesla Inc (NASDAQ: TSLA) have an honest pulse on their progress, fully autonomous vehicles are about three years away.
To some experts, this means a sharp reduction in vehicle collisions is three years away as well.
"Autonomous cars are much safer, orders of magnitude safer, than humans," Loup Ventures managing partner Gene Munster told Benzinga.
The operating systems will be programmed not to run lights, not to speed and not to drink and drive, so when they take the wheel from human drivers, Munster expects fewer accidents.
Who's To Blame In A Crash?
But when an incident does occur and involves no human error, who is at fault? Where does liability lie? Some states blame the manufacturer, even going so far as granting personhood to automated driving systems. Munster agrees.
"If you get into a taxi and the taxi gets into an accident, you're not liable for that accident, and that's similar to the world of autonomy," he said. "The manufacturers of these cars ... are well aware that the predominant liability lies with them."
Some have already conceded responsibility.
"Carmakers should take liability for any system in the car," Anders Karrberg, vice president of government affairs at Volvo Car Corp., told the U.S. House in February. "So we have declared that if there is a malfunction to the [autonomous driving] system when operating autonomously, we would take the product liability."
But other manufacturers are more defensive. Tesla and Uber International C.V. have denied responsibility in past traffic incidents, and when asked about liability in April, a General Motors spokesperson resisted changes to related insurance laws.
"There's 100 years of legal precedent," Harry Lightsey, executive director of global connected-customer public policy at GM, told The Detroit News. "We don't see a reason why that should be changed for autonomous vehicles. We stand behind our product."
Who Pays The Premiums?
Even if blame lies with the automaker, insurance fees may not, Munster said.
"Insurance companies will still have consumers paying for it and they will make money and they will gouge consumers for a long time, even though they're much safer cars."
Some in the industry expect more jolting shifts from individual driver policies to manufacturer policies — a potential threat to insurer revenue. One such voice is Warren Buffett.
"If the day comes when a significant portion of the cars on the road are autonomous, it will hurt Geico's business very significantly," Buffett, whose Berkshire Hathaway Inc. (NYSE: BRK.A) owns Geico, told CNBC in February.
Consumers may still bear the brunt of costs, though. Some experts expect a hike in vehicle prices to offset the risk of potential insurance claims.
Related Links:
Autonomous Future: Munster's 2020 Vision Of The Road
Feds Hop In Driver's Seat Of Autonomous Vehicle Regulation
Photo courtesy of Tesla.
Posted-In: autonomous vehicles GEICO Gene MunsterEducation Top Stories Tech Trading Ideas General Best of Benzinga
View Comments and Join the Discussion!