12 Most Valuable Pieces Of Memorabilia In History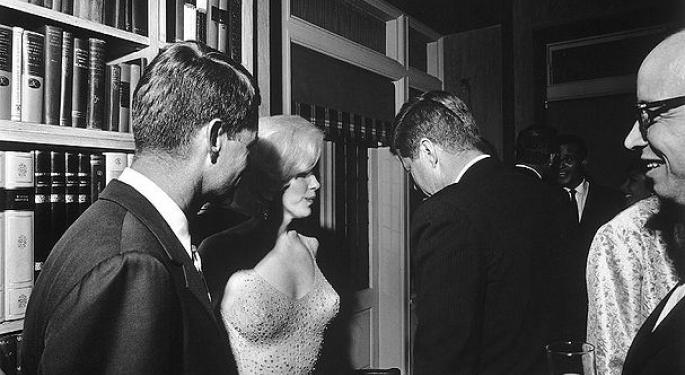 Fans of sports, movies, politics and history will pay extreme prices to get their hands on a piece of memorabilia with a story to tell. A new infographic from playnj.com lists the highest-priced piences of memorabilia ever sold. Here's a rundown of the top 12:
12. Mark McGwire's Record-Setting 1998 70th Home-Run Ball
Price: $3.00 million (1999).
Info: McGwire set a new record for home runs in a single season.
11. Burt Lahr's Cowardly Lion Costume From 'The Wizard Of Oz'
Price: $3.08 million (2014).
Info: The costume was supposedly made from real lion hides.
10. Honus Wagner 1909 Baseball Card
Price: $3.12 million (2016).
Info: The Wagner card is considered the Holy Grail among baseball card collectors.
9. The Piano Played By Dooley Wilson In 'Casablanca'
Price: $3.40 million (2014).
Info: This is the actual piano that Humphrey Bogart was referring to in his iconic line, "Play it, Sam."
8. Falcon Statue From 'The Maltese Falcon'
Price: $4.10 million (2013).
Info: There were two statues produced for the film, but this one was the only one that actually appeared in the movie.
7. Aston Marton DB5 Driven In James Bond Films 'Goldfinger' And 'Thunderball'
Price: $4.10 million (2010).
Info: Not only did this car appear in two iconic movies, it was also in mint condition when it sold at auction.
6. James Naismith's 1891 Founding Rules Of Basketball
Price: $4.30 million (2010).
Info: Niasmith never could have imagined what the game of basketball would become over the next 126 years.
5. Babe Ruth's 1920 New York Yankees Jersey
Price: $4.41 million (2012).
Info: This jersey is the oldest known jersey of the most popular baseball player in history.
Related Link: O.J. Walks: The Heisman Winner-Turned-Accused Killer Granted Parole In Robbery Case
4. Audrey Hepburn's Ascot Dress From 'My Fair Lady'
Price: $4.50 million (2011).
Info: This is the exact dress Hepburn's character Eliza Doolittle wore to the Ascot Races.
3. The Original Batmobile
Price: $4.50 million (2013).
Info: The original Batmobile was actually a redesigned Lincoln Futura.
2. Marilyn Monroe's Subway Dress From 'The Seven Year Itch'
Price: $4.60 million (2011).
Info: This is the exact dress Monroe wore when the breeze from a subway grate revealed a bit more of her than viewers were expecting.
1. Marilyn Monroe's Dress Worn When Singing To JFK
Price: $4.80 million (2016).
Info: This is the dress Monroe wore when she performed a sultry rendition of "Happy Birthday To You" to President Kennedy at his birthday party in 1962.
Related Link: Willie Nelson Memorabilia Auction Features Handwritten Letters, Furniture and Music Related Collectibles
________
Image Credit: By Cecil W. Stoughton [Public domain], via Wikimedia Commons
Posted-In: memorabiliaEducation Sports Top Stories General Best of Benzinga
View Comments and Join the Discussion!