O.J. Walks: The Heisman Winner-Turned-Accused Killer Granted Parole In Robbery Case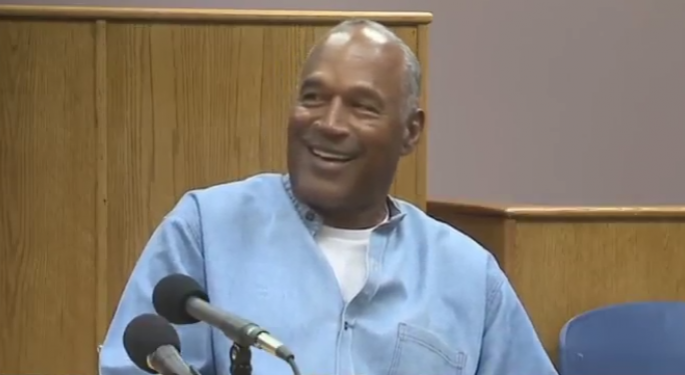 He's back. And judging from the retro-style media attention he's getting, it's like O.J. Simpson never went away.
After nearly nine years into a maximum term of 33 years for kidnapping and armed robbery, the one-time NFL icon was granted his freedom on Thursday by the four-member Nevada Board of Parole Commissioners. He could leave prison as early as Oct. 1.
Simpson isn't known for the crime that put him in prison, which stemmed from a 2007 sting operation in which the cash-strapped ex-running back tried to recover sports memorabilia from a pair of collectors.
He won't be remembered as the haggard, gray-haired man who just turned 70 years old and wearily expressed regret and contrition after he was brought out of his cell.
"I have done my time and I'd like to get back to my friends. And believe it or not I do have some friends," he told the parole board of two men and two women.
Simpson's Legacy
Simpson will be remembered for the "Trial of the Century," something that might have been a miscarriage of justice, but nevertheless exposed the deep fissures in a society still plagued by the relationship between law enforcement and African-American men, and a country still fraught with racism.
In 1995, a dream team of famous lawyers defended Simpson against charges that, wearing a ski mask and laying in wait at night, killed his ex-wife, Nicole Brown Simpson, and her friend, Ronald Goldman, as they walked down an LA block on June 12, 1994.
Simpson was found innocent during a trial that legal experts widely believed was botched by the evidence-gathering of the Los Angeles police, and a series of tactical errors by Prosecutor Marcia Clark.
The Hall of Fame running back for the Buffalo Bills who won the 1968 Heisman Trophy was enjoying a sporadic acting career and living off the vestiges of his fame when the crime occurred. And when he was acquitted, America looked at itself in a mirror and shrank away.
Racial Divide Exposed
What led to a period of national soul-searching were the reactions: Many black people cheered the acquittal, expressing generations of pent-up frustrations over a white-run establishment disproportionately jailing black men or sending them off to war in Vietnam.
Many white people recoiled in horror at what they considered a miscarriage of justice. Pundits and social observers would ponder the meaning of it all until, well, seemingly forever.
The Goldman and Brown families subsequently sued Simpson in civil court, and that jury unanimously found Simpson liable for the murders. He was ordered to pay a total of $33.5 million to the families in 1997.
So there is that. In the end, whatever O.J. Simpson manages to squeeze out of his life, he still has to pay.
View Comments and Join the Discussion!
Posted-In: Nevada Board of Parole Commissioners O.J. SimpsonNews Politics Psychology Legal General Best of Benzinga