New Twist On An Old Adage: Buy Rosh Hashanah, Buy Yom Kippur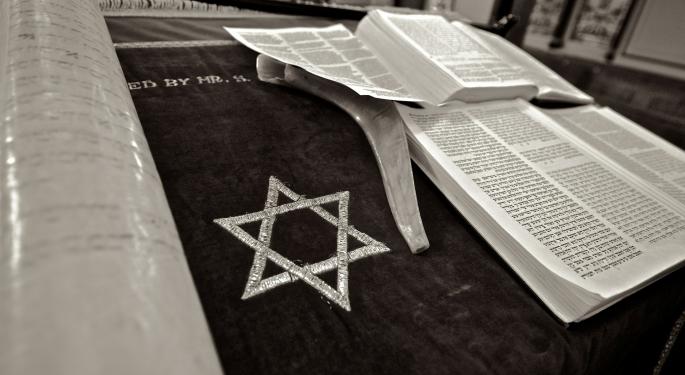 There are several old adages related to the markets.
One commonly mentioned at this time of the of year, just ahead of the Jewish holidays, is "Sell Rosh Hashanah, Buy Yom Kippur."
The origin is based on the concept that followers of the Jewish faith want to be free from material possessions during the most sacred period of the calendar year. During the 10 days between the two major holidays, Jews reflect on their actions from the previous year and atone for their sins, while setting a new agenda for the upcoming year.
Upon completion of the cleansing process, they're free to return to the markets and evaluate investments for the upcoming year. Those who are ultra-religious may abstain from the markets altogether during this period.
But every once in awhile, a new adage is created. The twist for 2017? "Buy Rosh Hashanah, Buy Yom Kippur."
Positive Results In 2016
No trading trading strategy is 100 percent accurate over time, so what's the problem with making a slight alteration to this one in particular?
In 2016, convention held true to form. Based on the closing price of the S&P 500 cash index, if investors exited the market on the close of Oct. 3, 2016 (Rosh Hashanah commences at sundown), with a closing price of 2,161.20, they would've been able to re-establish that position on the first trading day after the conclusion of the holiday, only at a lower price of 2,132.98.
Although this mark is a mere 1.3 percent lower, if one had the wherewithal to hold until the closing price on Wednesday, investors could be exiting the market near 2,500 (a tidy 16-percent gain).
Why 2017 Is Different
Simply stated, today's market has seemingly no boundaries to the upside. If one wants to refute this statement, one must examine the mentality of the market, which is "buy the dip" — better known as "BTFD" to some market participants.
FOMO, or fear of missing out, isn't deterred by anything. Even FONA, or fear of nuclear annihilation, brings out buyers instead of sellers.
On the evening of Aug. 28, North Korea fired a missile over northern Japan. That put a crimp in the stock index futures in after-hours trading, and instigated a 200-point decline in the Dow Jones Industrial Average off the following day's open, but it closed in the green by 55 points.
On Sept. 14, North Korea escalated the crisis by launching another missile over Japan. On this occasion, the stock index incurred a small dip, but quickly rebounded. For the entire session, the major indexes ended unchanged.
The Trump Card
It has been a bumpy ride for President Donald Trump since taking office.
Now eight months into his administration, he has yet to name all of his important staff positions and has to deal with numerous departures from his ranks. He has failed to fulfill any of his original campaign promises so far, and has instead focused on initiatives that may have little or no long-term impact on our economy. He has also alienated some of the Republican Party that helped him get elected.
And there's still no definitive answer as to whether his relatives or staff colluded with Russia to influence the outcome of the election.
Related Link: Fed Maintains Interest Rates, Announces Start To Balance Sheet Normalization
Interest Rate Hikes In A Tepid Economy
For years, it has been assumed that higher interest rates are a negative for the stock market. Higher rates increase borrowing costs for companies and may inhibit their plans to expand. It may also impact U.S. consumers, who could decrease discretionary spending to service their current debt. This reduction in spending in turn may result in lower revenue for U.S. companies.
Since December 2016, the Fed has hiked interest rates three times in order to remove excess liquidity in the markets that may have bloated asset prices. Those rate hikes are nominal in the long-term scheme of the market and haven't interrupted the long-standing bull market. No one seems to be concerned that, with the Fed backing off from their previously announced course of interest rates hikes, it may be a precursor to their views on the strength of economy.
'Sell' Is A Four-Letter Word
If the threat of a nuclear war, instability in the White House, the prospect of higher interest rates or a slowing economy and two natural disasters causing billions of dollars in damage can't slow down this raging bull market, then you probably don't need to pay any attention to an adage that yielded mixed results over the years.
2017 may be the exception to "Sell Rosh Hashanah, Buy Yom Kippur," as you never know what might add more fuel to this raging bull market.
Posted-In: Rosh Hashanah Sell Rosh Hashanah Buy Yom KippurEducation Futures Opinion Markets Trading Ideas General Best of Benzinga
View Comments and Join the Discussion!