As Hurricanes Blow Over, What Could Oil And Gasoline Prices Do Next?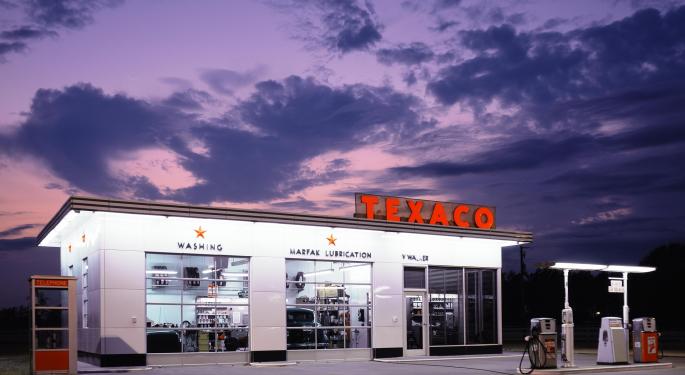 The nation continues to assess the economic and humanitarian impact of hurricanes Harvey and Irma, even as new storm clouds build on the horizon in the form of Hurricane Maria.
One area where the storm's impact appears to be receding is at the pump - the national average price for a gallon of gas has declined to $2.607, according to AAA.
The Special Relationship: Gas And Oil
Oil prices, meanwhile, continue to languish just under $50 per barrel for West Texas Intermediate Crude.
Gas prices had risen following Hurricane Harvey's impact on oil refineries in Texas, even as that caused oil prices to decline due to increases in stored oil inventory, waiting to be refined. This movement was in contrast to the normal tendency of oil and gasoline prices to move at least somewhat in tandem (called "asymmetric pass-through"). The correlation is strong, but imperfect.
There exists a precariously thin "cushion" between gasoline demand and refinery production, so disruptions to refinery capacity from weather events can lead to higher prices at the pump, as it did in the case of Hurricane Harvey. Irma, by contrast, had little impact on oil and gas prices, as Texas and Louisiana, the biggest refining states, mostly escaped its effects.
Related Link: How Will Harvey Impact Oil And Gasoline Prices?
What History Tells Us Oil Is Likely To Do Now
In the past, category 4 or higher hurricanes, generated from the Atlantic Ocean and making landfall in the U.S., have been followed by a 1.1 percent return in the spot price of WTI. In six months, that return has historically been 8.4 percent.

According to LPL Research, a strong hurricane season, historically speaking, often presents potential short-term returns in crude oil.
Can Gas Prices Normalize By The Holidays?
Patrick DeHaan, senior petroleum analyst for GasBuddy, noted that not all storms are created equal. "There can be a stark difference between storms," he told Benzinga, "That certainly reinforces the lesson that not every hurricane has an impact on gas prices."
DeHaan believes pricing impacts could be in the cards for Hurricane Maria, or other major storms, but only those that take aim at the Gulf region, specifically the refining Texas and Louisiana.
"I think motorists suspect the oil industry of raising prices arbitrarily during a storm. This is actually the free market dynamic," DeHaan explained.
Localized supply issues in Florida, Georgia, and the Carolinas caused by Hurricane Irma may persist, but DeHaan expects drivers by and large to continue to see relief at the pump as summer demand for gasoline wanes, allowing the refineries to rebuild their inventories and restore the delicate supply and demand balance.
"Every day, we should see the national average move lower by the same or a larger amount than the day prior," DeHaan said. "Refiners have come back online, and that's terrific. But it will take several weeks - if not longer, it may take a month or two - for the wound to fully heal from the storm."
With refiners down for days, it will take time for the normal inventory cushion to rebuild. DeHaan said there's only about 5 percent breathing room between how much gasoline the nation uses and what refiners produce.
"It's going to take maybe a month - maybe even two months, to get that supply built back up." This is all behind the scenes action, however, so DeHaan says motorists are already reaping the benefits at the pump as gas stations lower prices based on expectations for refinery recovery.
In the past week, average prices for a gallon of gas declined in 45 U.S. states, AAA says.
View Comments and Join the Discussion!
Posted-In: Analyst Color Education Commodities Top Stories Exclusives Markets Trading Ideas Interview Best of Benzinga