4 Of The Most Valuable Modern Tech Patents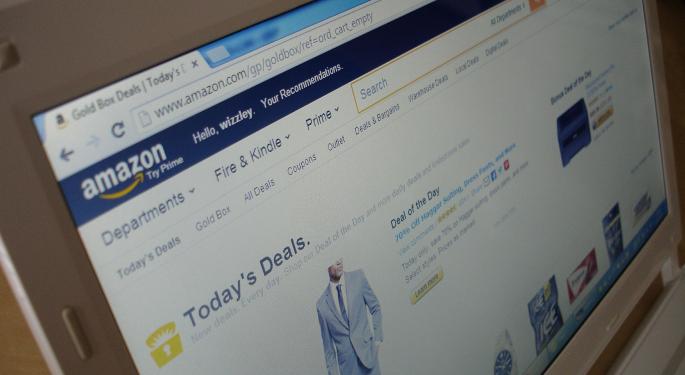 A patent is an exclusive right granted for an invention, which is a product or process that provides in general, a new way of doing something or offers a new technical solution to a problem, according to the World Intellectual Property Organization, or WIPO.
Some breakthrough patents have helped companies evolve as billion dollar businesses. Benzinga looked at four of the most valuable modern tech patents that worked wonders for their owners:
Amazon Clicked With One-Click
Amazon.com, Inc. (NASDAQ: AMZN) initially filed for its one-click patent in 1997, with the United States Patent and Trademark Office granting the patent in 1999.
One-click is a feature by which an e-commerce transaction is executed with a single click that uses stored customer credentials for validation. It helps create a frictionless checkout process, thereby achieving an extremely high conversion from its existing customers.
Amazon, however, was unsuccessful in persuading the European Union to grant a patent for this feature, with the EU arguing that the underlying technology is too obvious and reliant on prior art. Canadians, who were initially opposed to patenting this technology, finally relented in 2011 after a legal battle. Australia also objected to patenting this technology.
Rejoiner valued the contribution from the one-click technology to Amazon's top line at 5 percent.
Apple Inc. (NASDAQ: AAPL) is paying Amazon an undisclosed sum for the use of one-click technology for transactions in its app stores.
Amazon has evolved into a retail behemoth, and experts believe the company is unlikely to take a huge hit when its one-click patent expires.
FireEye's Initial Patent Fires Up Booming Business
FireEye Inc (NASDAQ: FEYE), founded by former Sun Microsystems engineer Ashar Aziz in 2004, built its business around a patent Aziz filed in March 2005. The company's main product line, named FirstEye Malware Protection System, is based on a technology patented under the name "system and method of detecting computer worms."
The company's recent 10-K filing revealed that it rung up revenues of $714.11 million in 2016, with 79 percent coming from subscription fees and the rest from products.
Zynga Gaming Patent
Video game developer Zynga Inc (NASDAQ: ZNGA), founded in 2007, filed a patent titled "Asynchronous challenge gaming" in November 2008. This was meant to protect the company's social gaming plans and patent the method by which individuals and teams play with each other based on characteristics such as abilities, powers, defenses and performance levels.
SolarCity Patents Process For Renewable Energy Loans
SolarCity Corp (NASDAQ: SCTY), now part of Tesla Inc (NASDAQ: TSLA) filed for the immensely successful "Methods for Financing Renewable Energy Systems" patent in March 2008. The Solar Lease process outlined the method for using tax-deductible home loans to finance solar installations. The strong adoption of the lease process helped the company to grow into a force to reckon with in the renewable energy sector.
Related Links:
Your Guide To Patent Play Exposure
A Look At Apple's New Patents Offers A Glimpse Of The iPhone 8
Apple Gets Litigious: Qualcomm The Latest In A String Of Lawsuits
View Comments and Join the Discussion!
Posted-In: Amazon Apple FireEye SolarCityEducation Legal Tech General Best of Benzinga