Apple Gets Litigious: Qualcomm The Latest In A String Of Lawsuits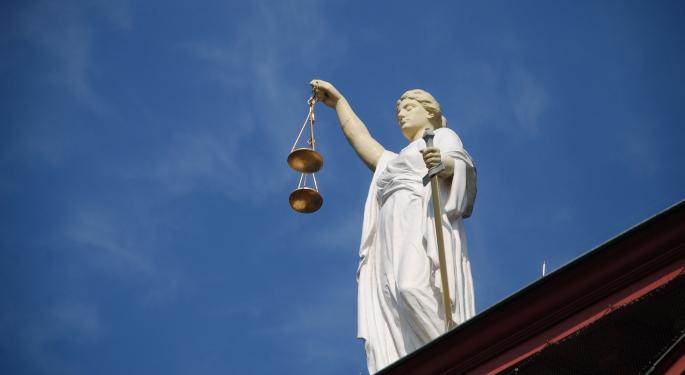 Apple Inc. (NASDAQ: AAPL) has increasingly become bellicose, going by the recent lawsuits filed by the company against multiple parties.
Apple Vs. Qualcomm
As recently as last Friday, the company filed a lawsuit in the San Diego federal court against QUALCOMM, Inc. (NASDAQ: QCOM), alleging that the latter unfairly charges it royalties, at least five times more than other cellular patent licensors combined and engaging in monopolistic trade practices.
Apple also stated that Qualcomm withheld $1 billion in rebates for Apple cooperating with the South Korean Federal Trade Commission. The Korean antitrust agency has fined Qualcomm $850 million for violating antitrust laws related to its licensing business.
Refuting charges by Apple, Qualcomm said Apple's claims are baseless and that it has in intentionally mischaracterized its agreements and negotiations, as well as the enormity and value of its technology.
Apple Vs. Nokia
In December 2016, Apple filed an anti-trust lawsuit against third-party companies called patent assertion entities, or PAEs, acting on behalf of Nokia Corp (ADR) (NYSE: NOK). Stating that Nokia has agreements with it to license its patents for fair and reasonable terms, Apple noted that Nokia is transferring the patents to PAEs to charge higher amounts. In retaliation, Nokia sued Apple directly in Europe and the United States on the grounds that the latter is still infringing its patents after settling a previous patent infringement lawsuit in 2011.
Apple Vs. Samsung
Apple has a long-standing litigation with Samsung, which began in 2011, when Apple sued Samsung for copying design features of it devices. Apple has received favorable verdict from two lower courts, with the final ruling now pending before the Supreme Court. Apple has sought $400 million dollars as settlement, with the amount representing profits from Samsung's smartphones.
Apple Vs. Mobile Star
Last year, in October Apple filed a lawsuit against Mobile Star LLC, which was found to be selling counterfeit W USB Power Adapters and Lightning to USB cables on Amazon.com, Inc. (NASDAQ: AMZN) and Groupon Inc (NASDAQ: GRPN), although these were listed as genuine Apple products. As damages, Apple was seeking up to $150,000 for each registered copyright infringed, in addition to damages of up to $2 million per trademark infringed. The case is pending before the U.S. District Court for the Northern District of California.
The litigation with Qualcomm, according to Credit Suisse, may not mean much for Apple. The firm noted that the $1 billion Apple is suing Qualcomm for, makes up about just 1 percent of its gross profit.
Posted-In: South Korean Federal Trade CommissionNews Legal Movers Tech Trading Ideas Best of Benzinga
View Comments and Join the Discussion!