The Many Effects Of Donald Trump's Domestic Jobs Initiative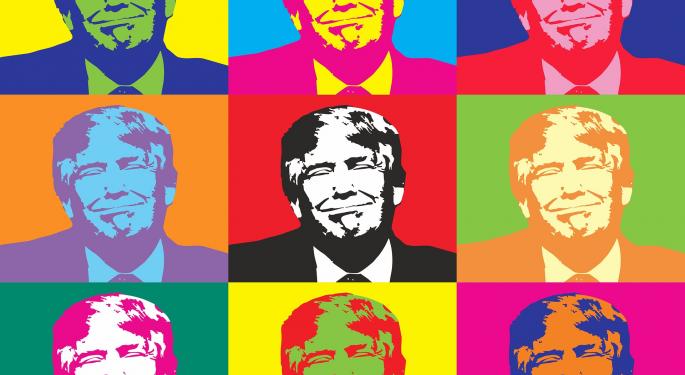 While Donald Trump's inauguration to the United States presidency is imminent, visibility into his proposed policy issues remains cloudy. On the campaign trail, Trump promised many protectionist measures, in support of and promoting his slogan "Make America Great Again." Notable among these promises were his stances toward the labor market.
Trump assured the American people new jobs would first be offered to American citizens. In tandem, jobs, wages and work security will be among the incoming president's top priorities. Through energy initiatives alone, Trump seeks to create 25 million jobs.
Automakers On The Back Burner
The announcement from Ford Motor Company (NYSE: F) that it is pulling the plug on a proposed car factory in Mexico is seen as a corollary of Trump's stance. Ford announced in April 2016 a plan to build the factory in San Luis Potosi, Mexico, at an estimated cost of $1.6 billion. The company drew flak during Trump's campaign, with Trump calling the plan as an absolute disgrace. Ford's about-face may also have to do with waning demand for small cars planned to be made at the Mexican plant.
Ford is now said to invest $700 million in expanding its Flat Rock, Michigan, factory, which will make new electric, hybrid and autonomous vehicles.
Meanwhile, General Motors Company (NYSE: GM) has also been on the receiving end of the president-elect's Twitter commentary, with Trump threatening that the company may have to pay big border taxes on its Mexican-made Chevy Cruze models. General Motors countered the argument by stating that the Mexican-made vehicles do not come into the United States but are used to serve its global customers.
Phasing Out Alternative Fuel Incentives?
The expiration of tax credits associated with electric cars can make these vehicles costly. In the current scenario, consumers can claim up to a $7,500 credit for buying an electric car. Tesla Motors Inc (NASDAQ: TSLA)'s Model 3 would be priced $27,500 with the credit, as opposed to the actual price of $35,000. The onus of renewing the tax credit is now vested with the incumbent government. Going by the Republican's stance of not favoring one technology over another and Trump's opposition, it is highly unlikely that the tax credits are extended.
Mixed Implications For Transportation Companies
Trump's promise of resurrecting the coal industry could be music to railroad companies' ears. However, those with huge Mexican exposure like Kansas City Southern (NYSE: KSU) could see hard times, especially if Trump dismantles the NAFTA trade agreement. Trump is also expected to wriggle out of the Trans-Pacific Partnership, which could affect volume these railroad companies get from global trade. Mexico is also seen as critical to Union Pacific Corporation (NYSE: UNP), too.
Constellation's Cup Of Woes Overflows
Constellation Brands, Inc. (NYSE: STZ) has lost about 8 percent since the November elections, with analysts tracing the weakness back to Trump's potential policy moves. The proposed border adjustment tax by Trump is seen as posing a risk to the company's earnings per share performance. Additionally, the company could be impacted by excise tax concerns on Mexican imports and the impact of deportation.
Constellation Brands generates roughly 70 percent of its earnings from the import of Mexican beer brands such as Corona, Modela Especial and Victoria. Deportation of Mexicans could shrink the company's customer base in the United States. Furthermore, if the company chooses to pass through the impact of a potential tariff hike, domestic demand of these Mexican-made brands is likely to dwindle.
Peso Loses Pace
Given that the United States is Mexico's biggest trading partner, a hit to Mexican imports across the border would be negative for the peso. The peso is currently near a two-month low after it fell to a record low in the immediate aftermath of the elections. Analysts are forecasting a mild recession for the domestic economy on the fallout of Trump's vindictive stance. Inflation is seen to double, exerting further downward pressure on the peso.
Infrastructure Thrust And Jobs
Trump has been vocal about the creation of millions of jobs. Although Trump's trillion-dollar investment in infrastructure is seen as an avenue for job creation, there are views that it could turn out otherwise. The movement of workers employed elsewhere is seen to disrupt communities. It is worth noting, Trump's infrastructure thrust is supposed to depend more on private investors, with the federal government doling out tax credits to them.
Posted-In: Education Emerging Markets Politics Global Top Stories Economics Markets General Best of Benzinga
View Comments and Join the Discussion!