The 411 On Deciding To Downsize In Retirement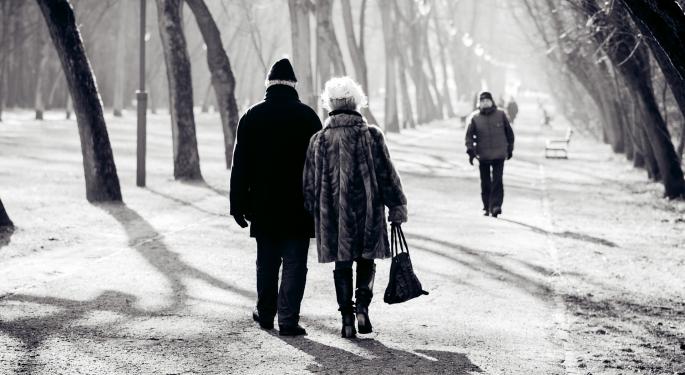 There are many reasons retirees may consider selling their home once they retire or hit a certain point in retirement.
Making that decision, however, is not easy, nor should it be taken lightly.
Moving Motivations
Before any decisions are made, it is important to delve into the reasons you wish to move. What are the motivating factors pushing you to sell your home and look for new living arrangements?
Are the motivations financially driven? Ask yourself the following:
Are you finding it difficult to afford so much house on less income?
Are you excited about the prospect of potentially saving money by downsizing?
Is your current house paid off, and would you be jumping into a situation where you have to spend more than you were previously?
Would moving save you maintenance expenses?
Would you be looking to rent, purchase a smaller property or something else?
Can you afford a new mortgage in retirement?
If your home is paid off, can the amount you might make from a sale support a new purchase in full or justify jumping back into debt?
How will this decision affect my family financially after I've died? Will I be leaving them with an unpaid property to take care of?
If the motivations are not financial, what are they and how will the decision ultimately affect your finances?
Are you interested in moving for reasons beyond saving money?
Ask yourself:
Is this decision going to affect my financial situation?
How will my month-to-month budget change?
What are my motivations to move? To be closer to family? To be closer to the beach, mountains, etc.? To be in a more senior-centric atmosphere?
Do these motivations outweigh the financial changes that will inevitably come with moving later in life?
Is this move sustainable from now until the end of my life?
For Financially-Driven Motivations, Consider Alternatives
If you find yourself wanting to downsize because you cannot afford to keep up with the size of the property you currently live in on a smaller income (not an infrequent situation many retirees face), ask yourself if there are things you can do besides moving that can help you save money.
It's important to not make major financial decisions out of fear. Don't feel cornered into making quick decisions without weighing your options. Particularly if your house is not paid off entirely and downsizing would involve taking out another loan and subsequently taking on substantial debt, it is crucial to look at your budget and seriously analyze your entire financial portrait.
Look at ways you could be saving around your home.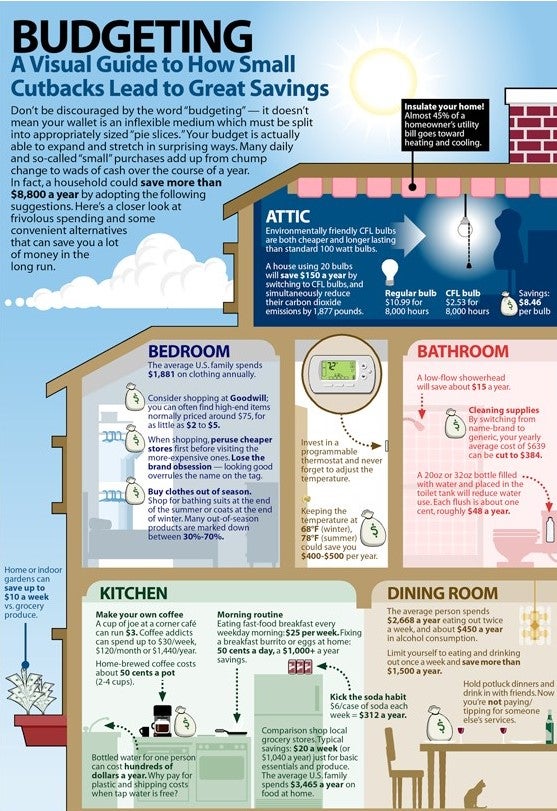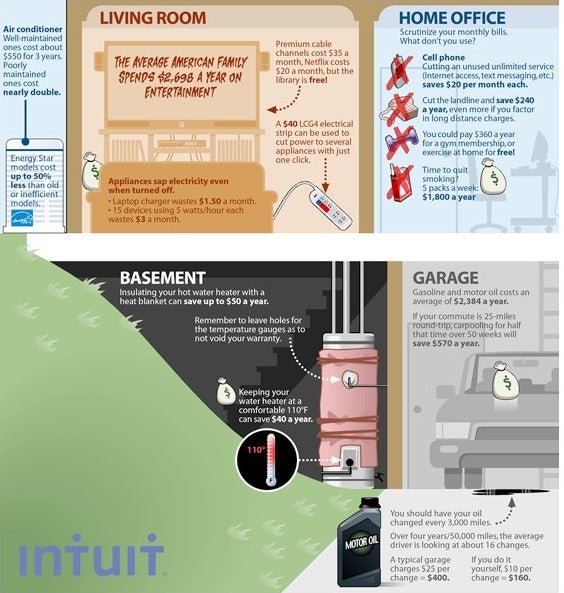 Source: Quicken
Look at other cost cutting tactics you can implement before making a huge financial decision like selling and going on to rent a home or purchase another home.
Downsizing May Be Your Best Bet
That being said, downsizing is a viable option for many retirees.
Dave Ramsey has suggested three reasons downsizing could be the right choice:
1. Demolish Your Debt "If you're working hard to kick debt to the curb, downsizing your home can help you maintain that gazelle intensity."
2. Adding To Retirement Spending If you can reduce your mortgage by $500 a month, you can put that surplus toward different financial goals.
3. Pay Off Your Mortgage "Want to downsize Dave's way? Trade in your mortgage for a paid-off home! Use the proceeds from selling your current home to pay cash for a smaller one."
Other experts have put forward additional reasons for justifying downsizing. A few include the following:
"There's no point paying for space you're unlikely to need" –FeeHacks
Downsizing "forces you to remove baggage" and is "mentally freeing" &Ndash;Becoming Minimalist
"A large home that was once occupied by a full family can feel hollow once the children have moved on, which makes for a good reason to market your property for sale and downsize." –Ray White
"Lower your cost of living. For retirees who still have a mortgage or pay rent, moving into more compact quarters in your current town or relocating to a low-cost locale can lower one of your biggest monthly expenses." –Emily Brandon, US News
"You'll have less space to clean. And tidy. Does this have a downside? We think not." –Eleanor Doughty, The Telegraph
"Downsizing can free up your lifestyle for traveling." –Ronique Gibson, Freshome
Downsizing is a major decision. Talk with your family and financial advisor about your financial landscape, the options available to you and what the future would hold for you based on those options. Remember that you are in control of your financial future and it is up to you to make decisions that allow you to maintain that control throughout your life. Keep in mind that life has the tendency to throw curve balls; be prepared and stay savvy.
Image Credit: Public Domain
Posted-In: Becoming Minimalist Budget Budgeting Dave RamseyEducation Personal Finance General Real Estate
View Comments and Join the Discussion!