Teva Wins FDA Approval For Generic Epinephrine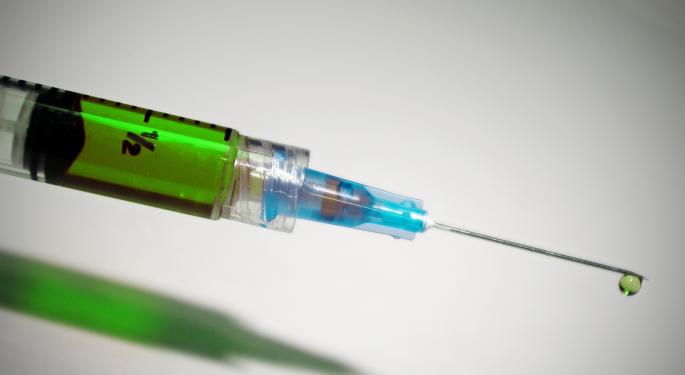 After nearly two years, the U.S. Food & Drug Administration has finally approved the generic versions of the EpiPen produced by Teva Pharmaceutical Industries Ltd (ADR) (NYSE: TEVA).
What Happened?
On Thursday, the FDA approved Teva's generic versions of the EpiPen and EpiPen Jr. epinephrine auto-injectors for patients with severe allergies.
"This approval means patients living with severe allergies who require constant access to life-saving epinephrine should have a lower-cost option, as well as another approved product to help protect against potential drug shortages," FDA Commissioner Scott Gottlieb said in a statement.
Why It's Important
For the first time in history, EpiPen producer Mylan NV (NASDAQ: MYL) will have a competitor in the market. Mylan introduced a generic alternative to its own EpiPen back in 2016.
Mylan has been criticized for hiking the price of its potentially life-saving EpiPen by more than 400 percent over a 10-year period. More competition in the market could potentially drive down the price for allergy sufferers who have difficulty affording the device.
Mylan's EpiPen costs roughly $600, while its own generic alternative costs roughly half the price.
What's Next?
Mylan stock traded down by only 0.3 percent on Thursday, but Teva shares surged 6.5 percent. Investors will be watching closely for details about the planned timing of Teva's generic pens, exactly what its price point will be and how much market share the company could take from Mylan.
The potential exists for Teva's generic EpiPen to significantly underprice Mylan's generic version, as Mylan has had the market cornered until now.
Related Links:
Q2 13F Roundup: How Buffett, Einhorn, Loeb And Others Adjusted Their Portfolio
Analyst: Opioid Legislation Likely Stalled In Senate Until After November Elections
Posted-In: EpiPenNews Health Care FDA Top Stories General Best of Benzinga
View Comments and Join the Discussion!