Analyst: Opioid Legislation Likely Stalled In Senate Until After November Elections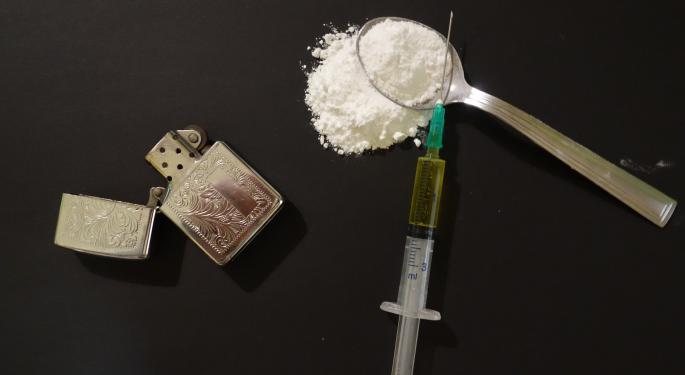 The opioid epidemic is one of the most devastating trends in American households, with CDC data showing that 66 percent of the country's overdose deaths in 2016 were attributed to opioids. Unfortunately, Height Capital Markets analyst Andrea Harris said there's not much hope legislative relief will be found in the near future.
Legislative Timetable
The House of Representatives passed a package of opioid bills 396-14 on June 22.
The final legislation will likely not make it to President Donald Trump's desk before the November midterm elections, Harris said in a note out June 20.
"We believe this final legislation is unlikely to make major changes to the IMD exclusion or offer increased reimbursement for non-opioid treatments," the analyst said.
The final legislation likely won't be passed until the lame duck period following the election, according to Height Capital Markets.
Limited Impact
None of the bills that have made it through the House will have a "material market impact," Harris said. Yet the new legislation could be incrementally positive for companies that make substance dependence medications such as Teva Pharmaceutical Industries Ltd (ADR) ADR (NYSE: TEVA), Mallinkrodt PLC (NYSE: MNK), Alkermes Plc (NASDAQ: ALKS) and BioDelivery Sciences International, Inc. (NASDAQ: BDSI).
These drug companies would benefit if new legislation increases reimbursement for non-opioid treatments, Harris said.
Political Motivations
The Senate timetable remains unclear, but Republicans may have a political reason to delay the process, the analyst said.
"While passing opioid legislation in the House aids both parties' members in their re-election bids, passing opioids legislation in the Senate helps vulnerable red state Democrats more than Republicans who are up for re-election."
Republican Senate Majority Leader Mitch McConnell and other Senate Republicans will likely drag their heels on opioid legislation to avoid allowing Democratic incumbents from scoring a last-minute legislative victory prior to the election, Harris said.
Related Links:
States Are Firing Back At Opioid Drug Producers
Posted-In: Andrea Harris Height Capital Markets OpioidsAnalyst Color Health Care Politics Analyst Ratings General Best of Benzinga
View Comments and Join the Discussion!