Pharma M&A Picks Up Momentum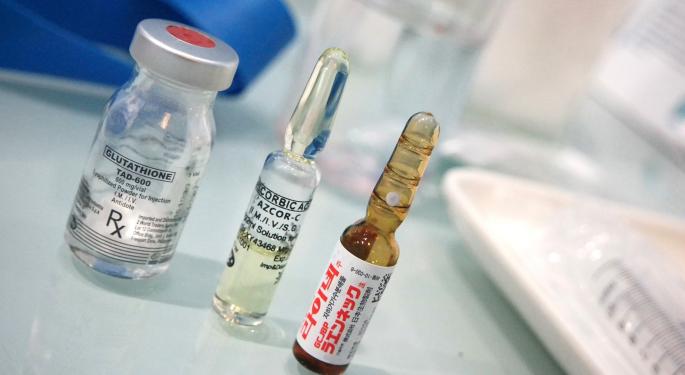 After a lull in 2016 and 2017, M&A activity seems to be picking up pace in 2018.. The action seems to be even more brisk in the pharma sector, as companies attempt to give depth to their product portfolio and mitigate any potential revenue hit from key drugs falling off patents in the near- to medium-term.
The new tax reform is also providing an impetus for firms to pursue deals.
On the heels of Celgene Corporation (NASDAQ: CELG) announcing a deal to buy Juno Therapeutics Inc (NASDAQ: JUNO), Sanofi SA (ADR) (NYSE: SNY) announced an agreement to buy Bioverativ Inc (NASDAQ: BIVV) for $105 per share in cash or $11.6 billion in total. It's expected to give the former a foothold in rare disease space.
Celgene And Juno
Celgene confirmed Monday it will buy Juno in a $9 billion deal, valuing each of Juno shares at $87 per share in cash. Celgene already owns about 9.7 percent stake in Juno.
The deal gives Celgene access to Juno's technologies such as Chimeric Antigen Receptor Technology or CAR-T, and T-Cell Receptor, or TCR, technology, both of which use the patient's immune system to treat cancer and autoimmune disease.
Juno's drug candidate JCAR017 is widely expected to hit the market earlier than competing treatment options from Novartis AG (ADR) (NYSE: NVS) and Gilead Sciences, Inc. (NASDAQ: GILD).
The addition could go a long way in mitigating potential revenue loss when Celgene's multiple myeloma drug Revlimid, which fetched the company 62 percent of its total revenue in 2016, goes off patent in 2027.
Incidentally, the Street also speculated Celgene might be interested in Juno's rival bluebird bio Inc (NASDAQ: BLUE), which also has a running partnership with Celgene.
Shares of Juno rosemore than 25 percent to $86.03.
See Also: A Survey Of Celgene's M&A Strategy
Sanofi Joins the M&A Bandwagon
Sanofi has in the past been unsuccessful in some of its acquisition quests, as it tries to stave off competition to its diabetes drug portfolio.
Bioverativ is a biopharma company focusing on therapies for hemophilia and other rare blood diseases. Hemophilia is an inherited bleeding disorder, manifesting as excessive bleeding or poor clotting. The market for hemophilia is $10 billion per year, with an estimated 7 percent, growth per year through 2022, Sanofi's release said.
"With Bioverativ, a leader in the growing hemophilia market, Sanofi enhances its presence in specialty care and leadership in rare diseases, in line with its 2020 Roadmap, and creates a platform for growth in other rare blood disorders," Sanofi CEO Olivier Brandicourt said. "Together, we have a great opportunity to bring innovative medicines to patients worldwide, building on Bioverativ's success in driving new standards of care with its extended half-life factor replacement therapies."
Sanofi shares fell about 3 percent, while Bioverative soared 60 percent to $103.66.
Other Deals In The Pharma Space
Earlier this month, Denmark-based insulin maker Novo Nordisk A/S (ADR) (NYSE: NVO) made a 2.6 billion-euro offer for ABLYNX N.V. (OTC: ABLYF), a Belgian biotech company focusing on treatment for rare blood disorders. Ablynx rejected the unsolicited advance.
Small-cap pharma companies BioCryst Pharmaceuticals, Inc. (NASDAQ: BCRX) and Idera Pharmaceuticals Inc (NASDAQ: IDRA) announced Monday a definitive merger agreement to create an enterprise focusing on development of drugs to treat rare diseases.
The combined company will boast of a product portfolio, comprising two late-stage candidates, two mid-stage candidates and a rich early-stage pipeline.
View Comments and Join the Discussion!
Posted-In: Biotech M&A News Health Care Trading Ideas General Best of Benzinga