A Guide To Guessing Where Amazon Is Going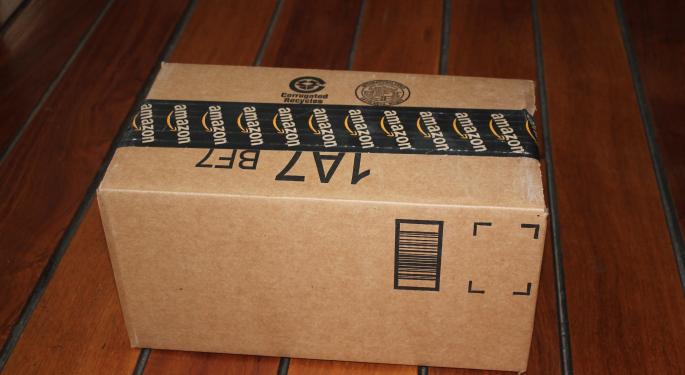 If you want to know where Amazon.com, Inc. (NASDAQ: AMZN) is going, just look at where they aren't. It's a perfect road map to the future.
The company, which turned just 22 years old on July 16, has spread its tentacles considerably of late, moving into supermarkets, contemplating pharmaceuticals, thinking about furniture showrooms, jumping into refrigerators — all while already selling everything from bricks to mortar.
A new study by market research firm Statista breaks down how much stuff is bought online and how much is purchased in stores, and it reads like a moving historical narrative of the giant online retailer.
Based on the purchasing preferences of 24,471 consumers in 29 countries, here's a rundown on each retail sector and how much Amazon (and other online sellers) is shredding it: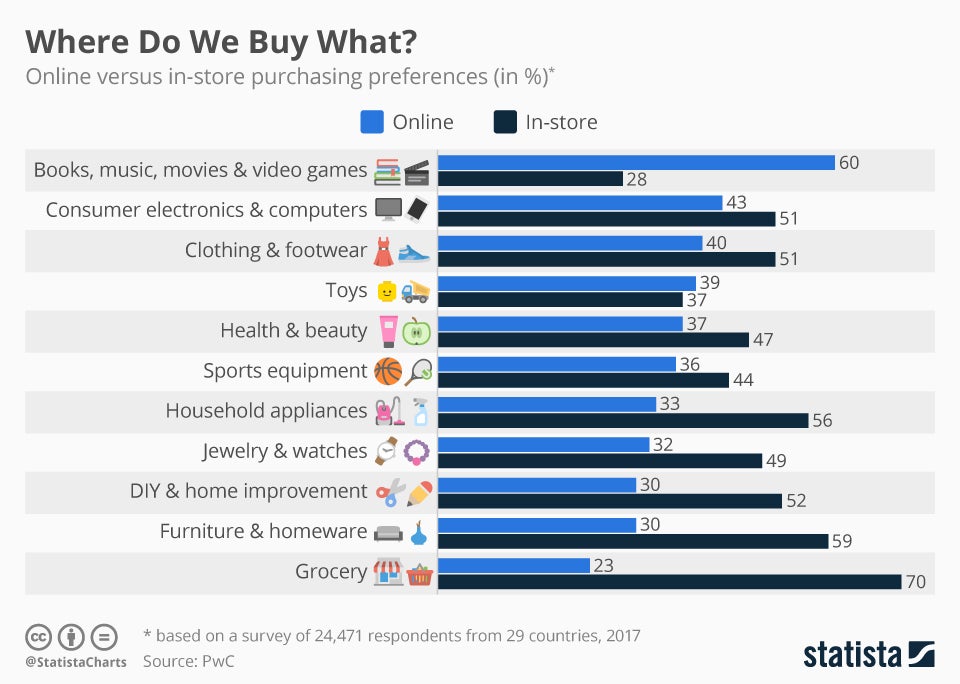 Groceries: 70% In-Store, 23% Online
Amazon is covering it. The company announced in June that it was buying Whole Foods Market, Inc. (NASDAQ: WFM), completely freaking out everybody in the food business. Goodbye stock clerks and cashiers; hello robots and smart scanners.
Furniture & Homeware: 59% In-Store, 30% Online
Yes, you can get a sofa set as well as a kitchen table and chairs. And Amazon is reportedly eyeing a brick-and-mortar chain of showrooms.
Household Appliances: 56% In-Store, 33% Online
Amazon took a big step in that direction when it announced it would be selling Kenmore-branded appliances from Sears Holdings Corp (NASDAQ: SHLD), sending shudders through that sector.
DIY & Home Improvement: 52% In-Store, 30% Online
You can't buy everything you need to build a house online like you can at Home Depot Inc (NYSE: HD) and Lowe's Companies, Inc. (NYSE: LOW), but you can get the tools you need.
Clothing & Footwear: 51% In-Store, 40% Online
Already making inroads, the company this month added Amazon Apparel, a clothing subscription service. U.S. apparel sales climbed 3 percent last year; Amazon's U.S. apparel sales saw a 25 percent boost.
Consumer Electronics & Computers: 51% In-Store, 43% Online
After besting Best Buy Co Inc (NYSE: BBY) to become the nation's leading electronics seller, Best Buy figured if you can't beat 'em, join 'em.
Jewelry & Watches: 49% In-Store, 32% Online
Amazon already partners with jewelry designers and sellers who normally rely on trade and craft shows to peddle their wares, broadening their local footprint to cover the world.
Health & Beauty: 47% In-Store, 37% Online
When your local store just doesn't carry that special soap.
Sports Equipment: 44% In-Store, 36% Online
Amazon is obliterating Foot Locker, Inc. (NYSE: FL)
Toys: 37% In-Store, 39% Online
Toys "R" Us? Toys "R" increasingly Amazon.
Books, Music, Movies & Video Games: 28% In-Store, 60% Online
Hard to believe that Amazon started out this way in 1995, with what seemed like a grandiose slogan: "Earth's Biggest Bookstore."
Related Link: Sears Goes To Amazon In Search Of A Lifeline
Posted-In: AmazonBiotech Health Care Psychology Topics Top Stories Trading Ideas General Best of Benzinga
View Comments and Join the Discussion!