Exclusive: Ritter Pharmaceuticals CEO Talks Stock Scare, Indication Niche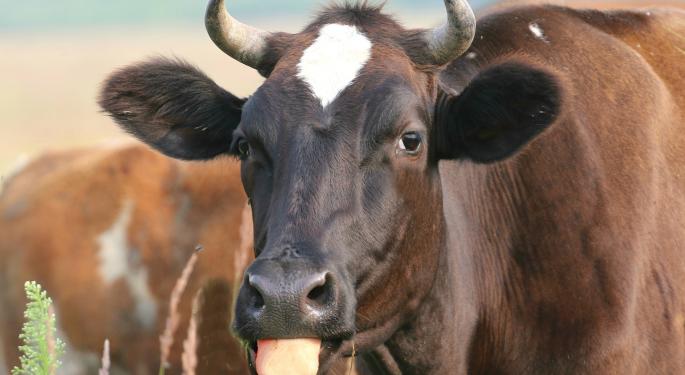 Andrew Ritter, co-founder and president of Ritter Pharmaceuticals Inc (NASDAQ: RTTR), has found his niche.
There are currently no FDA-approved treatments or reliable over-the-counter remedies for the 40 million Americans suffering lactose intolerance, and to Ritter's surprise, no biotech firm except his is focusing in on the space.
"I don't know [why], to be honest with you," he told Benzinga. "We think it's a great opportunity. There is a clear unmet medical need here. We're happy with where we are. We're essentially the furthest along product that we are aware of in the clinic right now developing a treatment for lactose intolerance and to come out with the first FDA-approved drug for this condition."
Lactose intolerance, in which a diminished level of lactase enzymes prevents the effective breakdown of lactose sugars, causes uncomfortable digestive symptoms. Ritter's RP-G28, a galactooligosaccharide sugar (GOS), reduces symptoms by stimulating growth of lactose-metabolizing bacteria in the colon.
The drug is marketed specifically to a population of 9 million suffering extreme, life-altering sensitivities.
"These individuals are the ones that just avoiding dairy products is not sufficient because so many foods have dairy in [them]," Ritter said. "It's really hard to avoid everything. From going to a baseball game and having a hot dog and the bun might have milk in it, or going to a restaurant and having cream in soup or in salad. There are hidden dairy foods in a lot of recipes that it is just hard to figure out and identify there is dairy in it."
Market Performance
His company, which went public in July 2015, enjoyed a 195-percent run in stock value from the fall through early 2017 but recently plunged 78 percent. Shares now rest beneath $1.
"Obviously, no one wants to be below $1, but we're doing everything we can to stay focused on what we need to achieve, which is bringing our drug ultimately to the market," Ritter said. "We just recently completed our phase 2B/3 clinical study that we're very proud of. It gives us a real positive path forward."
Ritter is meeting with the FDA in the third quarter and hopes the accompanying progress reports catalyze investor confidence.
Plans To Build
Despite the market-related financial concerns, he confirmed that the company has enough cash reserves to push through the next phase and launch its Phase 3 program in the first half of 2018. However, it may need extra resources to complete the study, so it's proactively exploring new strategies.
"To fund our Phase 3 program, we will need funding, whether that is through a partnership or through raising the capital or a mixture," Ritter said. "So yes, we are talking to partners."
"I think ultimately we're not necessarily set up and planned to commercialize the drug, ourselves. Ultimately, a partner probably makes sense, but we'll optimize the value of the assets to the best of our ability to make the best judgment when the timing is right to do that."
The firm's immediate strategy also includes expanding digestive-based indications, including Crohn's disease and colitis. It currently maintains two nonclinical programs for metabolic syndrome and environmental enteropathy.
Nick Donato contributed reporting.
Related Links:
Exclusive: Idera CEO Discusses The Potential For His Company's Lead Drug Candidate
Exclusive: Novan CEO Talks Strategic Partnerships, 2017 Pipeline, Finance Evaluation
Exclusive: Dicerna CEO Talks Products, Partnerships And Stock Performance
Posted-In: Biotech News Health Care Previews FDA Events Exclusives Movers Best of Benzinga
View Comments and Join the Discussion!