Exclusive: Idera CEO Discusses The Potential For His Company's Lead Drug Candidate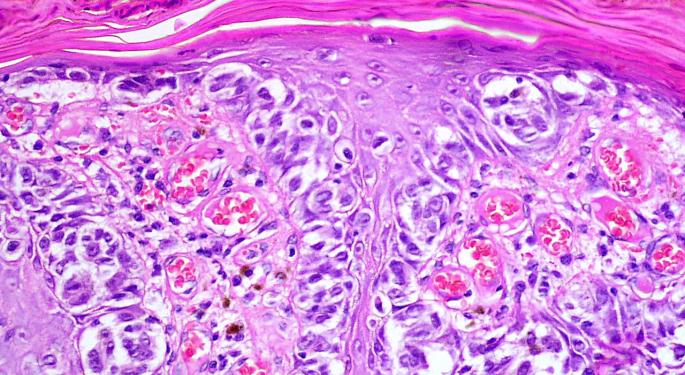 Idera Pharmaceuticals Inc (NASDAQ: IDRA) is a clinical stage biotech that has recently re-focused its pipeline to focus on oncology, starting with melanoma. The company has seen its share price rise 50 percent in 2017.
In March, JMP Securities initiated coverage of the company at Market Outperform, and based on the $8 price target the firm announced at the time, JMP analyst Michael King sees another 254 percent of upside even from current levels.
Shares recently received an added boost when the company reported successful completion of phase 1 of its ongoing clinical trial with its lead drug candidate, IMO-2125.
Idera is among those pursuing the clinical viability of a new approach to cancer therapy — using the body's own immune system, a treatment called immunotherapy. Idera's IMO-2125 is what's called a toll-like receptor agonist. Simply put, these are a class of proteins that recognize certain microbes and activate immune cell responses. IMO-2125 is designed to be injected into a tumor in order to turn on an immune response.
Describing IMO-2125
Benzinga recently had the opportunity to speak with Idera CEO Vin Milano about the promise of IMO-2125.
"The field of immunotherapy has had some incredibly positive advancements," Milano said, "Melanoma has been one of the first to see the benefits." Specifically, Milano pointed to the advancement of checkpoint inhibitors — drugs often made up of antibodies that incite an immune system assault on cancer cells. Pd-1, a type of checkpoint protein, is sometimes found in cancer cells, allowing the cancer to avoid immune attack. By inhibiting checkpoints such as PD-1, immunotherapy seeks to leave cancer cells defenseless against the patient's T cells.
Still, there are a number of patients not seeing the benefits of these new therapies. These cases are called refractory metastatic melanoma, and it's here that Milano sees opportunity for Idera.
In combination with Bristol-Myers Squibb Co (NYSE: BMY)'s ipilimumab (trade name YERVOY), IMO-2125 is currently undergoing trials. "The ipilimumab drug itself has a very low success rate, in the 15 percent range, Milano said. Some studies suggest patients following anti-PD-1 therapy with ipilimumab still see response rates the same or even slightly lower. "We've demonstrated in the early part of the phase 1 study some success in actually changing those patients to be responders," Milano continued. "So our goal is to improve the number of patients that would benefit from the combination of our drug with the ipilimumab product."
Sizing Up The Opportunity
Milano said as more patients are exposed to anti-PD-1 therapy, it's likely more patients will fail to respond. According to Idera's estimates, by 2025 there will likely be around 13,000 refractory metastatic melanoma patients in the United States alone. Idera believes, in thinking about the market opportunity for IMO-2125, the company could be serving a "good portion" of those patients.
Asked whether IMO-2125 has potential for indications beyond melanoma, or whether investors might expect to see the drug taken into a basket trial in other tumor types, Milano highlighted that its clinical development is still progressing, and the results of planned phase 2 combination studies will inform those decisions.
"The broader opportunity for 2125, theoretically, is it could be used in many different tumor types and many different cancer indications." Milano noted, however, that Idera is yet to prove that, even in the phase 1 portion of the study.
For The Love Of Licensing
A bright spot in the company's recent Q4 earnings release was a turn to profitability, driven largely by revenues resulting from a licensing agreement with Vivelix Pharmaceuticals, granting Vivelix Pharma rights to develop a non-core asset, IMO-9200, for non-malignant gastrointestinal disorders.
Idera received $15 million upfront, a significant amount of non-equity-dilutive capital for a smaller biotech company moving into a phase 2 trial. The rest is fairly traditional milestone payments of up to $52.5 million with escalating royalties if the drug makes it to market.
Indeed, Idera is determinedly seeking additional partnerships for its assets outside of the company's core oncology platform.
"We have one other asset that's been in clinical development, that we're not pursuing further. We are actively talking to potential partners on that," Milano said. The second source of capital through partnerships comes from the company's 3rd Generation Antisense (3GA) platform. "Those are two places in which we are dedicating time and energy to see if we can secure some additional partners for assets that we are not interested in pursuing for our own account." Milano cautioned that "there's only two types of deals: done and not done," highlighting the ephemeral nature of these negotiations, and inability to promise anything more than the company's continued pursuit of favorable deals.
Flying Under The Radar
Idera boasts an impressive suite of institutional investors, including a stake by Baker Bros. Advisors — biotech investors-extraordinaire — estimated at more than 10 million shares. Still, at present only a handful of analysts cover the stock (all hold bullish outlooks).
Questioned about any potential dearth of sell-side and retail investor interest, Milano called Idera's investor relations team the best in the business, and expects that the equity research firms will continue to take notice of the company following JMP's recent initiation.
Idera does all the things you'd expect it to do, attending sell-side conferences and non-deal road shows. Investor conferences, always webcast, are a particularly good source for retail investors, Milano said, giving them a chance to listen to the story and keep updated on the company.
Looking Forward
Milano is laser-focused when it comes to the catalyst he's most excited for this year.
"The highest priority for the company today is to continue to advance 2125," Milano stated unequivocally. "It has the possibility to make an incredible difference in a very deadly disease. I'm not going to hide from the fact that it's the highest priority. Completing the enrollment in the phase 2 portion of our study for the first indication is probably the most important thing we can accomplish in 2017."
Related Links:
The Bull-Bear Debate In Therapeutics Rages From Research Notes To Twitter
What Would A $5.8 Billion NIH Cut Look Like? Devastation _________
Image Credit: By LWozniak&KWZielinski (Own work) [CC BY-SA 3.0 (http://creativecommons.org/licenses/by-sa/3.0) or GFDL (http://www.gnu.org/copyleft/fdl.html)], via Wikimedia Commons
Posted-In: Biotech Long Ideas Health Care Top Stories Exclusives Trading Ideas Interview General Best of Benzinga
View Comments and Join the Discussion!