How Wirecard Is Making Waves In The Payment Industry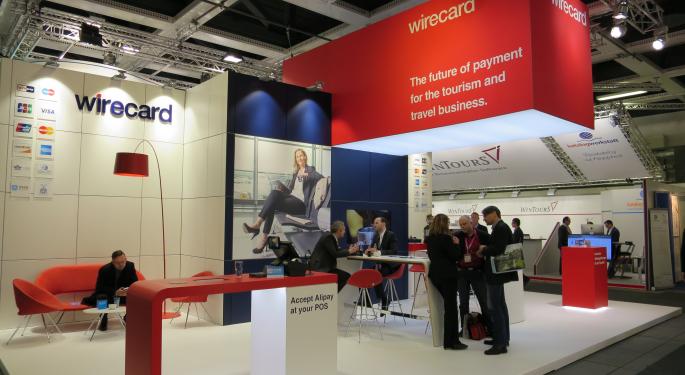 While there's currently a significant shift in payment processing, it has proved difficult to rock the establishment or change ideas, especially when it comes to money and all things financial.
However, despite the odds, independent services provider, Wirecard AG (OTC: WRCDF) (ETR: WDI), is managing to do exactly that, as the company looks to change the way people pay.
Utilizing Real Time Data
Wirecard looks to set itself apart from other payment service providers by utilizing real time data to make payment transactions safer and provide retailers with data to drive sales. Through a large umbrella of products, including the Skrill Digital Wallet, Wirecard is able to speed up the process by giving retailers instant confirmation of payment. This eliminates the risk of fraudulent transactions and gives them an easier and cheaper way of receiving payments worldwide.
Customer data is then harnessed to create predictive models and patterns that give sales teams greater insights into customer purchasing patterns.
"We are already using real-time data in this space in order to protect retailers and consumers. Much of what we offer in the data-driven retail space is just an evolution of what we have been doing in risk management to prevent fraud for years. Now we are also using the data for sales and more positive aspects of our business," Iris Stoeckl, Wirecard's director of corporate communications told Benzinga.
Helping Retailers Adjust
Despite how far society has come in the e-commerce world, not everyone is comfortable with making online or mobile purchases these days. According to Stoeckl, "The digitization trend is just at the beginning." She added, "Wirecard can help retailers showing them what is possible in the payments space and how they can use data."
With 14 years of experience in the online sector and over 29,000 customers, Wirecard is attracting heavyweight customers, including telecommunications giant, Orange SA (ADR) (NYSE: ORAN).
What made them choose Wirecard above other payment processors?
"With Orange Cash, we can grow our portfolio even further, developing new services around mobile shopping and payment. That's why we are working with our partners long-term — both retail partners and Wirecard, which provides the technical platform, payment processing and integrated value-added services. Orange Cash is a permanent part of our strategy and our company," said Nicolas Levy, head of mobile financial services at Orange France.
Partnering with payment powerhouses Visa Inc (NYSE: V), Mastercard Inc (NYSE: MA), American Express Company (NYSE: AXP), Bitkom and JCB helps gives the company credibility as well as allowing them to accommodate as many payment methods as possible.
Much of Wirecard's growth over recent years has come down to the company's unshakable commitment to providing value. With many payment services anathematized for hefty commissions, currency exchange rates and other hidden fees, Wirecard has managed to add value for clients rather than take away.
"Today we cover the entire payments ecosystem, from issuing through to acquiring, as well as value-added services. In addition, the globalization of the Wirecard platform has been advanced on a huge scale," concluded Stoeckl.
Related Links:
Coupa Software Teams Up With Nvoicepay To Make B2B Payments 100% Electronic
Paypal's Digital Payment Momentum Outweighs Risks
__________
Image Credit: By Travelarz (Own work) [CC BY-SA 3.0 pl (http://creativecommons.org/licenses/by-sa/3.0/pl/deed.en)], via Wikimedia Commons
View Comments and Join the Discussion!
Posted-In: American Express Bitkom Iris StoecklFintech News Exclusives Personal Finance Interview Best of Benzinga