Income&: Fintech Raising The Bar For Fixed-Income Investing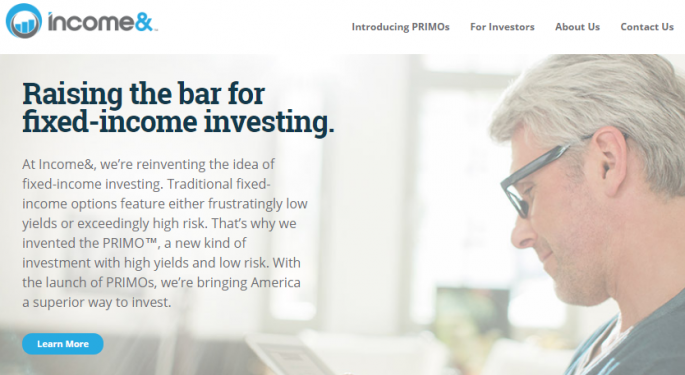 It's almost that time of year.
The 2017 Benzinga Global Fintech Awards is a competition to showcase the companies with the most impressive technology that are paving the future in financial services and capital markets.
To get you prepared for this year's awards, Benzinga will profile each fintech company that has applied. Want to get involved? Submit your company here.
For this installment, we spoke with Brad Walker, CEO of Income& (answers have been edited for length and clarity).
What does your company do? What unique problem does it solve?
With 10,000 baby boomers retiring every day, millions of Americans seek the safety of a low-risk, high-yield fixed-income product as part of a diversified portfolio. Until the launch of PRIMOs, nothing on the market satisfied this demand. Fixed income investors nearing or in retirement had to choose between frustratingly low yields or exceedingly high risk. That's why we invented the PRIMO, a new kind of investment with higher yields and lower risk. PRIMOs are the first retail-focused product in the mortgage-backed securities space.
Income& works exclusively with high-credit non-conforming mortgage loans from established name-brand mortgage lenders to bring accredited investors the opportunity to invest in fractionalized, high-quality residential mortgage loans on the PRIMO marketplace.
Income&'s next generation marketplace gives investors full visibility into individual loan data and performance, and the ability to only invest in the PRIMOs that fit their risk profile. Our online purchase process is easy and intuitive and allows investors the ability to fully customize their PRIMO portfolio.
Who are your customers?
We are focusing on individual accredited investors that come to us directly or through their Registered Investment Advisor. We will expand shortly to the full retail investor market, as well as institutional investors.
How long have you been in business?
We launched Income& as a company in September 2014.
Where are you located?
Our offices are in San Francisco.
Who is your company's leadership? What kind of experience do they have?
Brad Walker, Co-Founder And CEO.
Walker has more than 10 years of experience in sales, research and strategy for industry-leading investment firms. He is a recognized leader in emerging tech-enabled financial services including crowdfunding and peer-to-peer lending.
Vincent Phillips, Co-Founder And Chief Technology Officer.
Phillips has 17+ years of experience building fintech enterprises with an emphasis on portfolio accounting and trading systems. He built the world's first web trading system for Schwab.com and launched first-of-their-kind tech platforms including Copart Mobile, StreetSmart, CyberTraderPro and eSchwab.
Keith Meyer, Co-Founder And Chief Marketing Officer
Meyer has 20+ years of executive experience in marketing with an emphasis on financial services. His experience includes senior marketing roles at Charles Schwab Corp (NYSE: SCHW) and Visa Inc (NYSE: V), and at Prosper where he ran marketing for America's first peer-to-peer lending marketplace.
Anything else Benzinga should know about your company?
We have several recent accolades:
Finalist: SXSW FinTech 2016.
Finalist: PitchIt@LendIt 2016.
Finalist and Cohort Member: Fintech Sandbox 2016.
Finalist: LendIt Awards 2017: Emerging Real Estate Platform.
Contributor: NASDAQ.com, TheStreet.com.
_________
For another fintech profile, click here to read about how Validis, a cloud-based fintech, extracts and standardizes financial data.
If you're looking for cool fintech startups and access to top financial institutions, and are sick of attending stuffy corporate conferences, the Benzinga Global Fintech Awards is the event for you. From its first year in 2015, the competition grew to over 250 applicants and over 500 attendees in 2016.
Connect with us on social media — use the hashtag #BZAwards and #Fintech to spread the word!
________
Image Credit: Screengrab from Income&
Posted-In: Brad Walker Income&Fintech News Success Stories Personal Finance Interview General Best of Benzinga
View Comments and Join the Discussion!