Meet The Anti-Money Laundering Fintech Shaping The Industry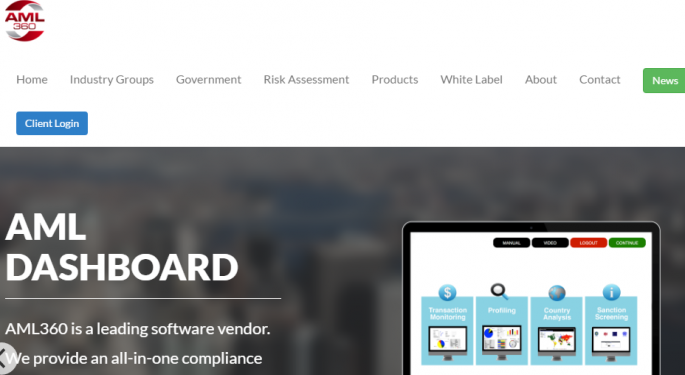 It's almost that time of year.
The 2017 Benzinga Global Fintech Awards is a competition to showcase the companies with the most impressive technology that are paving the future in financial services and capital markets.
To get you prepared for this year's awards, Benzinga will profile each fintech company that has applied. Want to get involved? Submit your company here.
For this installment, we spoke to Daniel Rogers, co-founder of AML360 (answers have been edited for length and clarity).
What does your company do? What unique problem does it solve?
AML360 is a specialist Anti-Money Laundering software company providing the tools necessary to carry out customer profiling, transaction monitoring, business risk assessments, compliance reviews, sanction and politically exposed persons screening, adverse media checks and country risks analysis. What makes AML360 stand out from its competitors is the simple user interface, the low cost and the streamlined application of data capturing, analysis and reporting.
Who are your customers?
AML360's target market are regulated entities including Tier 2 & 3 — small to medium banking and non-banking financial institutions and corporate professional services sectors. AML360 provides an end-to-end solution where the cost of service for larger suppliers limits affordability and access.
The AML360 solution reaches across our target market to coexist with strategic partners such as lawyers and accountants, advisory firms, compliance firms or anti-money laundering consultancies.
Where are you located?
Based in Singapore, AML360 has a global reach providing anti-money laundering solutions across financial action task force member jurisdictions.
Who is your company's leadership? What kind of experience do they have?
Co-founders Kerry Grass and Daniel Rogers have a breadth of experience across international and institutional banking, risk management and compliance, including being exposed to anti-money laundering regulations from the onset of the U.S. Patriot Act in 2001.
Rogers has specialized in institutional and global trade & transaction banking since 1996 and has alternated between the first and second lines of defense since anti-money laundering legislation was introduced in the United States in October 2001. Throughout his career, Rogers has managed global trade and transaction banking relationships with multi-national clients, top-tier corporate clients including both local and foreign government entities.
Grass has specialized in Risk Management for much of her career including as a financial crime expert at the U.K. Financial Services Authority, assistant vice president and deputy money laundering reporting officer at the Bank of New York (based in London). Grass worked with the Ministry of Justice to assisted in the drafting of New Zealand's anti-money laundering legislation and was the Anti-Money Laundering and Combating the Financing of Terrorism (AML/CFT) adviser at the Reserve Bank of New Zealand.
Grass designed New Zealand's sector risk assessment framework, which has been adopted by all three supervisory agencies and designed the initial Anti-Money Laundering and Combating the Financing of Terrorism (AML/CFT) sector risk survey for Reserve Bank of New Zealand, which was subsequently distributed to registered banks, non-bank deposit takers and life insurance companies.
Is there anything else Benzinga should know about your company?
AML360 has been recognized as one of 20 leading vendors in the anti-money laundering software market. This recognition comes alongside established names like Thomson Reuters, IBM and Oracle in Technavio's latest review of anti-money laundering compliance software. AML360 have been ranked in the top 20 for 2016 and 2017.
_________
For another fintech profile, click here to read about how Validis, a cloud-based fintech, extracts and standardizes financial data.
If you're looking for cool fintech startups and access to top financial institutions, and are sick of attending stuffy corporate conferences, the Benzinga Global Fintech Awards is the event for you. From its first year in 2015, the competition grew to over 250 applicants and over 500 attendees in 2016.
Connect with us on social media — use the hashtag #BZAwards and #Fintech to spread the word!
________
Image Credit: Screengrab from AML360
Posted-In: AML360 Daniel RogersFintech Topics Success Stories Personal Finance Interview General Best of Benzinga
View Comments and Join the Discussion!