5 Things Republicans Want To Change About Obamacare But Might Not Be Able To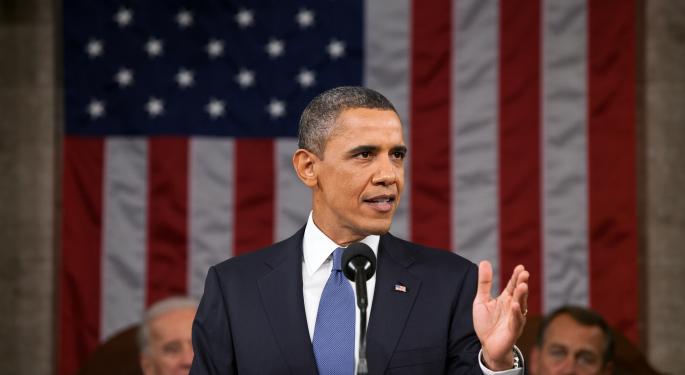 One of President Donald Trump's major campaign talking points was that he and the Republican-controlled Congress would repeal and replace the Affordable Care Act (ACA). Despite a major Republican election victory, that task may still be easier said than done.
In a research note, Height Securities' Spencer Perlman outlined five of the policies Obamacare opponents are specifically calling to be reformed. According to Perlman, meaningfully changing many of these policies may simply not be a viable option at this point.
"It is widely believed that most, if not all, of the insurance market reforms do not comply with the rules governing reconciliation and that repeal of these items through regular order is almost certainly impossible in the current Congress," Perlman explains.
Related Link: How Would George Washington's Economic Policy Compare To Trump's?
Obamacare policies Height believes Republicans are likeliest to target, but that may prove difficult to amend:
1. The Essential Health Benefits (EHB) requirement
If the EHB requirement is eliminated, insurers could potentially provide cheaper "skinny" plans that don't cover all 10 EHB categories.
2. Age-rating bands
The age-rating band is a ratio that limits the price that older consumers can be charged for insurance relative to what younger consumers are charged. Currently, the ratio stands at 3:1, but expanding that ratio to 3.49:1 could alleviate some of the financial stress on the system.
3. Actuarial value requirements
The actuarial value of a health insurance plan is a measure of the percent of the standard population's medical expenses for essential health benefits. Today, those percentages range from 60 percent for Bronze plans to 90 percent for Platinum plans, but the current allowable variance of +/-2 percent could be raised to +2/-4 percent.
4. 90-day grace period
Eliminating or reducing the grace period for individuals who fall behind on their premium payments would be good news for insurers. Insurers are currently only required to pay claims made during the first month of the grace period.
5. Special enrollment periods (SEPs)
There have been plenty of calls to crack down on abuse of SEPs, which are temporary enrollment periods which allow enrollment outside of the typical annual open enrollment period.
At the end of the day, Perlman believes meaningfully amending many of these provisions may be nearly impossible for Republican lawmakers.
"This will be very difficult to do since these policies likely do not qualify for inclusion in reconciliation," he concludes. "The difficulties Republican policymakers face in dismantling the ACA is why we continue to believe that the final product will likely look very similar to the existing law, albeit with some very moderate alterations."
In other words, Republicans would likely need Democrats on board to gain the required 60-vote supermajority for Senate passage under regular order. "Repeal and replace" may have made for a fun campaign season hashtag, but Republicans are now finding out that unilaterally undoing many of the least popular Obamacare provisions may prove to be nearly impossible.
The Health Care SPDR (ETF) (NYSE: XLV) is up 8.7 percent since Election Day.
View Comments and Join the Discussion!
Posted-In: Affordable Care Act Height SecuritiesSector ETFs Health Care Politics Top Stories ETFs General Best of Benzinga