How Would George Washington's Economic Policy Compare To Trump's?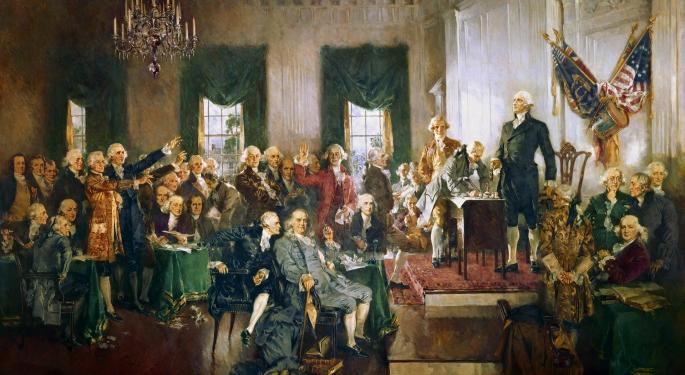 Wall Street got a rare day off this week in honor of founding father and first U.S. president George Washington. Many President Donald Trump supporters think Trump is just the type of Washington outsider that the country needs to stand up to the status quo, similar the way Washington stood up against the British. Trump critics believe he poses a major threat to the types of freedoms the founding fathers fought for more than 200 years ago.
In honor of Washington's birthday, Benzinga took a look at how some of Washington's attitudes and policies compare to those of the new president.
Some Points Of Agreement
In terms of policy similarities, Washington and Trump would likely see eye-to-eye on several issues.
Trump has taken a lot of heat from his disruption of free trade agreements and isolationist policy goals. However, Washington was an isolationist himself.
Related Link: Trump Cheers The Market's Bull Run, But How Optimistic Are We?
"The great rule of conduct for us, in regard to foreign nations, is in extending our commercial relations to have as little political connection as possible," Washington once said, warning that the U.S. should "steer clear of permanent alliances with any portion of the foreign world."
Points Of Contention
On the other hand, Trump and Washington would likely be polar opposites on immigration. Trump recently instituted a 90-day ban on travelers from seven majority-Muslim countries.
"I had always hoped that this land might become a safe haven and agreeable asylum to the virtuous and persecuted part of mankind, to whatever nation they might belong," Washington once said.
Along the same lines, Washington would likely disagree with Trump's aggressive approach to federal spending. Trump's plans to invest $1 trillion in infrastructure in the next decade, dramatically cut corporate taxes and ramp-up military spending is projected to add nearly $10 trillion to the national debt over the next 10 years. Investors seem to think this aggressive spending will boost the economy and the SPDR S&P 500 ETF Trust (NYSE: SPY) as well.
"As a very important source of strength and security, cherish public credit. One method of preserving it is to use it sparingly as possible," Washington said.
However, Washington would likely agree with Trump that higher taxes are not the solution. Washington once urged Congress to pay down the public debt by selling land so as to "save the necessity of burthening our citizens with new taxes."
'I Cannot Tell A Lie' Vs. Up For Interpretation
Of course, other famous Washington quotes are open to interpretation, depending on how much each American trusts Trump's words and intentions.
"I hope I shall possess firmness and virtue enough to maintain what I consider the most enviable of all titles, the character of an honest man," Washington once said.
According to Trump's Politifact scorecard, 69 percent of his statements are either false or mostly false.
View Comments and Join the Discussion!
Posted-In: Donald TrumpBroad U.S. Equity ETFs Education Politics Top Stories Economics ETFs General Best of Benzinga